Services
Surviving the Storm
A tornado demolished Geri and Steve Toth's Billings home, but their storm shelter saved their lives. Make sure you and your family are prepared for 417-land's tornado season.
By Sara Eaker
Mar 2011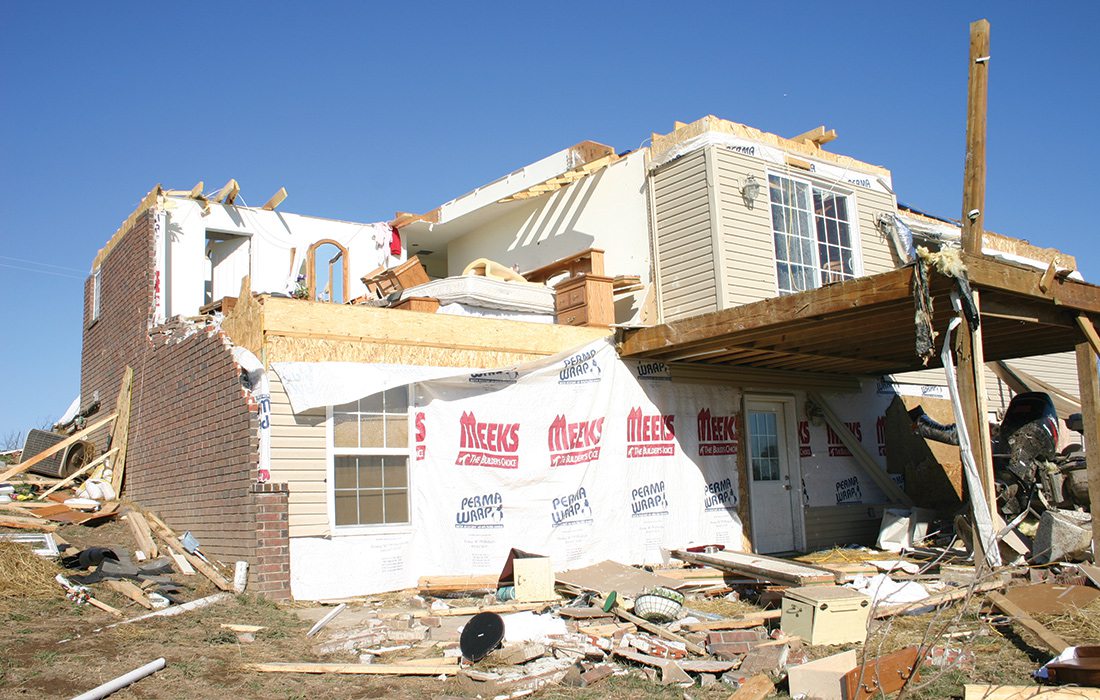 When Steve Toth moved to the Midwest from Anaheim, California, he asked his wife, "What are the odds we'll ever need a storm shelter?" In March 2006, and a couple of years and a highly debated storm shelter later, the rain started to fall on Geri and Steve Toth's house in Billings. News reports warned of storms. Alarms sounded. A tornado watch was in full force as Steve and his family hurried to their shelter. Once inside, they heard the rain, a faint wind and something that sounded like hail. Something metallic hit the lid of their shelter, but then there was silence.
The strange quiet lead Steve to venture out. It was dark and eerily still. With a key chain flashlight in hand, he began to assess their home. The roof was missing. The master bedroom was vaporized. The porch looked like broken toothpicks jutting from the earth. The family room ottoman now sat in the yard. The family crawled out of the shelter fearing an explosion, as the smell of propane from an overturned tank permeated what was left of their home. Steve recalls asking, "What now? Where do we live? How do we live?" The family had survived a major disaster. Their home, and all of their belongings, were gone forever.
For many storm survivors, the worst isn't losing their house. Steve recalls the anguish of reconstructing his life. For the next six months, the Toth family spent a fortune living out of hotel rooms, eating out and re-buying basics, all while answering endless questions from claims adjusters: "How many blouses did you have? When was each blouse purchased? What color were they? How much did you pay for them?" The Toths spent months itemizing losses, faxing, making phone calls and compiling reports.
Rebuilding life was a hassle. There was a lot to do, and there was no comfort of going home to relax each night. But despite these troubles, the Toths were thankful to have a life to live. They were thankful that they decide to purchase that storm shelter. There shelter came from Stronghold Safe Rooms (1845 S. State Highway MM, Springfield, 417-725-0055, strongholdsaferooms.com), which is  part of the National Storm Shelter Association. Texas Tech University puts every shelter through a debris impact test and a 250 mile-per-hour wind test. There are steel and concrete shelters. The steel shelters are aboveground, weighted and anchored to the ground to withstand 14,000 pounds of pressure, and the concrete shelters come in three varieties: aboveground, 2/3 in-ground, and completely underground. Prices at Stronghold Safe Rooms begin at $3,095, which is a small price to pay for the safety they provide.


---
Be Prepared
Prepare for tornado season by making sure you have these items in your storm shelter:

Batteries
Battery-powered radio
Battery-powered flashlight
Battery-powered fan
Glow sticks (candles may ignite gas)
Clean clothes
First-aid kit
5–10 gallons of water
Non-perishable foods
Any additional items that may help you feel comfortable


Tips from Toth
Tornado survivor Steve Toth shares a few precautionary tips for surviving tornado season in 417-land.

1. Get a storm shelter. We are living proof [that they save lives].
2. Consider a second storm shelter for your prized possessions, including photographs, documents, IDs and jewelry.
3. Close your eyes and try to list every item in your living room, and the value for it. Can you do it? It's not an easy task, especially after the emotional troubles of losing your home. Be sure to get organized by itemizing every item in your home and documenting it with photographs in case of an emergency.