Going Garden Green
From conserving water to growing your own food, local experts share environmentally friendly gardening tips to help you show a little love to Mother Nature.
By Sandy Clark
Mar 2012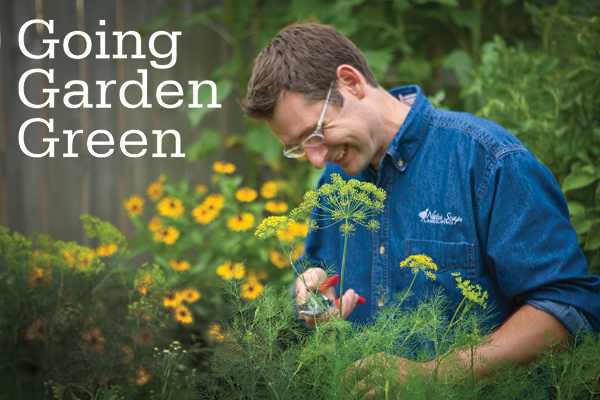 We all know about energy-efficient light bulbs, Energy Star appliances and reusable grocery totes. But how can you live a more environmentally friendly lifestyle outside of the home, in your very own yard?
Enter "green gardening." This environmentally friendly  trend has created a market for native plants and natural farm products in our corner of the state. It is a trend both Nate Luke, owner of Native Scape Landscaping (417-379-3786, nativescapelandscaping.com) and Paul Armstrong, co-owner of Smiling Sun Nursery (417-865-6118, smilingsunllc.com) have embraced. They shared a few tips that will help you green things up on your little piece of Missouri.


Grow Native
This first tip is one of the most obvious: Incorporate some native plants into your landscaping. Native plants make for a more resilient yard. They are attuned to the environment in 417-land. The Missouri Department of Conservation has an entire Grow Native project (learn about it at grownative.org) dedicated to increasing the use of Missouri's native plants. A few native options include buffalo grass, wildflower gardens, indigenous flowering shrubs and native perennials, and all bring beauty and life to your yard.

Get a Little Wild
Native plants can help you attract local plants and animals. Increasing biodiversity means more life in your own micro-environment. Luke has noticed the difference in his own yard, which has become a haven for diverse wildlife. Look for ways to plant not just what you want, but what the wildlife will want as well. Coneflowers, both blue and yellow, honeysuckle and butterfly milkweed on your property will attract hummingbirds and butterflies.

Say Yes to Cedar Oil
Using alternatives to chemical pesticides can support the biodiversity you have going. "We sell cedar oil products," Armstrong says. "They won't harm pollinating bugs, but they'll kill invasive species. They also make your yard smell like cedar." The choices you make here have an effect on water and soil quality.
Green the Soil
Switching to green fertilizer alternatives can grow your soil's natural fertility. Products that grow soil diversity and richness increase productivity over time. You can make "tea" from compost by soaking it in a 5-gallon bucket. Armstrong even sells a kit to do it. Spraying this tea over your garden spreads the natural organic matter quickly and can kick-start the growing season.

Watch the Water

Collecting and planting with water conservation in mind can have a powerful impact on water use. You can install rain barrels (available at Wickman's Garden Village, Home Depot and Lowe's Home Improvement) to gather and reuse the water collected by your house. Also, planting natives helps conserve water. After the first year, they use less water than plants from wetter environments.

Grow Your Dinner
Edimentals are edible and ornamental, and if used right, you can make your beds a source of both nutrition and
flavor, making a more efficient use of space and resources. A front yard herb garden can give you green beds and lots of fresh flavor to add to your recipes, and zucchini provides flowers and food. Done right, a yard can be nutritious,
delicious and beautiful.