Lofty Dreams
Dan and Melissa Scott find plenty of entertainment on their rooftop garden—from outdoor weddings and beautiful sunsets to summertime fireworks.
By Lauren Healey Photo by Edward Biamonte
Mar 2012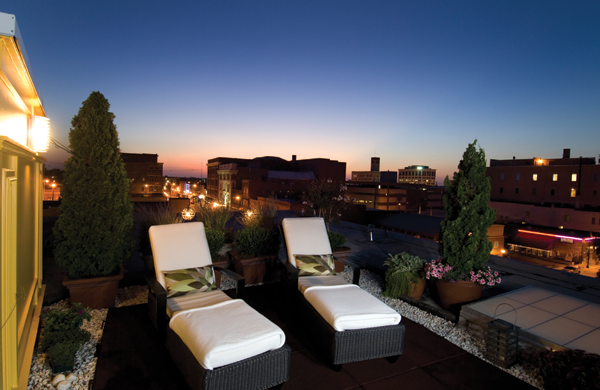 Dan and Melissa Scott are two of the lucky few who get to enjoy a private, outdoor sanctuary among the chaos of downtown Springfield. The couple's fourth-floor loft, located on the corner of Walnut Street and Jefferson Avenue, boasts an intimate rooftop garden with 360-degree views.
Melissa, who moved into the loft with her husband nearly seven years ago, says she has never lived anywhere that has given her such a unique perspective on the world. "There's so much variety," she says. "You see business people and homeless people. You see international students waiting on the Missouri State University shuttle. There's a nice international feel when I look out my window, which is unexpected in Springfield."
One of the most fun things in Melissa's view is a church, because it has gorgeous architecture, and she occasionally sees beautiful weddings. And because the garden gives the couple expansive views of the horizon, Melissa says they particularly enjoy watching sunsets and weather patterns. In the summer, the couple watches fireworks after baseball games at Hammons Field.
On the Horizon: The view from Dan and Melissa's rooftop garden is often filled with students, buildings, celebrations and even fireworks displays.