Outdoor Spaces
Outdoor Spaces 2012
Geoff Stanczyk and Tony Hawn's gorgeous outdoor space features layered English gardens, beautiful dining and entertaining areas and even a wine-tasting room.
By Savannah Waszczuk
Mar 2012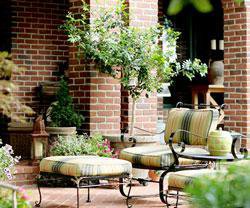 Geoff Stanczyk and Tony Hawn moved into their Highland Springs home in 2006. But Tony was familiar with the property long before then. He was formerly in the real estate business, and he was involved with selling the home to its prior owner. "During this time, I fell in love with the property," Tony says.

Soon after this, Geoff accepted a position that took the couple to Las Vegas for three years. But then they came back, and they were able to purchase the home, which was in need of some TLC. "The bones were pretty much here, but the landscaping was neglected and overgrown," Tony says. "It all had to be removed, and we had to start over."

The infamous 2007 ice storm happened just a few months after the two moved in, and it gave them even more of a reason to clear everything out. "That spring, we cleaned up, did a lot of removal and trimmed things up to see what we could work with," Tony says. The couple worked with landscaper Chad Gray of Creation Lawn & Landscape to create a gorgeous outdoor wonder world that contains several gardens, cozy spots for eating and entertaining and even a wine-tasting room. They describe its look as an English garden with a twist. "The front yard is a little more formal, and the backyard has a layered theme with a contemporary twist," Geoff says. And more than anything else, the space is always acquiring new plants and flowers. The couple says it will always be a work in progress and never "completed."
Lounge Area

Striped furniture makes the patio a comfortable spot to hang out, and a potted jasmine tree adds another layer to the space. "It's on its fourth year," Tony says.
Wine-tasting Room
Both Geoff and Tony like wine, and they wanted a special spot where they could enjoy it. They created a wine-tasting room in what looks like an English potting shed. The structure is surrounded by an abundance of beautiful landscaping and gorgeous flowers, including agapanthus (commonly known as lily of the Nile), viburnums and petunias. "It was inspired by our trips to Italy, France and Napa Valley," Tony says. "We wanted it to feel like a tasting room."
Resource Listing:

Landscape Designer
Chad Gray, Creation
Lawn & Landscape
Springfield
417-881-0087, creationlawn.com

Outdoor Lighting
Nightworks Lighting
Springfield
417-773-2627
nightworkslighting.com

Annuals
Steinert's Greenhouse & Gardens
234 W. Farm Rd. 192, Springfield
417-882-4441

Turf Fertilization and Weed Control
The Outdoorsman Lawncare
3441 W. Moark St., Springfield
417-888-0711
outdoorsmanlawns.com

Lawn and Tree Care
Ryan Lawn and Tree
2296 N. Arbor Creek Ln., Springfield
417-865-1600
ryanlawn.com

Flowers
Hilltop Farm
3307 N. State Hwy. F, Ash Grove
417-672-2259
hilltop-gardens.com

Furnishings
Maschino's
1715 S. Campbell Ave., Springfield
417-869-1513
maschinos.com

Landscaping
John Deere Landscapes
5236 S. Campbell Ave., Springfield
417-881-6675
johndeerelandscapes.com
Screened-in Porch
The screens used in Suzie Sullivan's screened-in porch are super fine, so they prevent a lot of rain from entering the space. The porch features stucco and brick walls and tile floors, making it a comfortable outdoor furniture and an outdoor dining table and chair occupy much of the space. Suzie says she enjoys sitting and reading in the space.
As she designed her home with builder Scott Landrum of Lifestyle Builders & Design, Suzie Sullivan knew that she wanted to create a very relaxing and private outdoor area. The two worked together to construct a magnificent space that is fully equipped with outdoor kitchen and dining areas, an in-ground pool, beautiful landscaping and a screened-in porch that features spots designed for both lounging and eating.

Sullivan moved into her east Springfield home in January 2011, and last year was the first time she was able to spend time in her new outdoor space. When it's warm enough, she enjoys swimming and getting sun in the morning and afternoon. She says the space has been great for entertaining, and she has hosted gatherings for both a group of her Bunko friends and for a group of girls who graduated from Glendale High School with her. "I plan to do more entertaining this year," Sullivan says. "I'm going to have my 8-year-old grandson's birthday party here this summer."

But the space isn't only used during the daytime. The pool is heated, and it features fiber optic lighting that looks gorgeous when lit up at night. And Sullivan says it's also a serene spot to be in the spring and fall. "It's a very calming, relaxing and private area, like an oasis of calm," she says.
Pool
Sullivan chose blue for the color of her Grecian-style salt water pool, and she chose neutral shades for the pool's decking, coping and finish. "I grew up on the West Coast, and I like the blue because it reminds me of the ocean," Sullivan says. She worked with Joni Mallinckrodt of Flowerwise to add large pots of flowers that act as pops of color, and she included with Carson's Nurseries flowerless shrubs to avoid attracting bugs to the area. "Also, we didn't want the pool to be around trees because of the leaves," Sullivan says. "I wanted it to be low-maintenance." A privacy brick fence blocks the pool from neighboring properties.
Outdoor Dining Area and Kitchen
If she's hosting a large group, Sullivan sets both the outdoor dining table and the screened-in porch dining table. She made the napkins on the outdoor table, and she bought the bright-colored plates at Pier 1 Imports. The large table, surrounding swivel chairs and deck furniture all came from Outdoor Home. The grill was custom-built into the outdoor kitchen space, which also features a fridge.
Resource Listings:
Home Builder
Scott Landrum
Lifestyle Builders & Design
5367 Castlebay, Springfield
417-839-9776

Flowers
Joni Mallinckrodt
Flowerwise, LLC
4450 Smallin Rd., Ozark
417-840-7322

Outdoor Furnishings
Outdoor Home
3107 E. Chestnut Expy., Springfield
417-869-0174, outdoorhome.com

Outdoor Furniture and Accessories
Pier 1 Imports
3110 S. Glenstone Ave., Springfield
417-886-6848, pier1.com

Pool
Clark & Sons Pools
Springfield
417-840-0562
clarkandsonspools.com

Pool Maintenance
Doug's Pool & Spa
5121 S. Campbell Ave., Springfield
417-882-7665
dougspoolandspa.com

Lawn Maintenance
Carson's Nurseries
6607 S. Campbell Ave., Springfield
417-882-5200, carsonsnurseries.com

Custom Ottoman
Cushion Upholstery
L&S Upholstery
4141 N. Pierce Ave., Springfield
417-833-1413
Outdoor Kitchen Must-Haves
You've got the grill—now it's time to invest in a few other things to make your outdoor kitchen over-the-top. We talked to a few local stores about their hottest outdoor kitchen appliances and accessories.

Must Have: Maverick #GL-400
Barbecue Light
Price: $59.99
Where to buy it: Maschino's, 1715 S. Campbell Ave., Springfield, 417-869-1513,
maschinos.com
Tired of rushing to finish up everything on the grill before the sun goes down? You can cook late into the night with this GL-400 barbecue light by Maverick. The light features 18 super-bright LEDs and provides three times more light than most barbecue lights, and it's designed to mount horizontally, vertically or angled to any style grill.

Must Have: ASKO D5954
Outdoor Dishwasher
Price: $3,999
Where to buy it: Metro Appliances & More, 3252 N. Glenstone Ave., Springfield, 417-833-1113,
metroappliancesandmore.com
This outdoor dishwasher by ASKO Appliances lets you forget about carrying all those dirty dishes in the house. The ASKO D5954 Outdoor Dishwasher is designed to withstand the harsh conditions of the outdoors, and it features a brushed stainless steel exterior cabinet that is suitable for built-in or free-standing installations. The interior features a quality stainless steel tank, a patented 7Spray washing system with a dedicated PowerZone system that focuses on tough-to-clean items. And it even comes with a special program to winterize the dishwasher before the cold season appears!

Must Have: Big Green Egg Pizza Peel
Price: $31.95
Where to buy it: Outdoor Home, 3107 E. Chestnut Expy., Springfield, 417-869-0174; 404 S. Massey Blvd., Nixa, 417-761-7611; outdoorhome.com
Everyone knows that grilling your pizza on a pizza stone on top of your grill makes for a delicious pie. But how do you get the pizza off of the stone to enjoy it? Big Green Egg makes a pizza peel for this exact purpose. It's stainless steel with a wooden handle that can be turned downward for space-saving storage.

Must Have: Maverick Remote Wireless Barbecue Rotisserie Thermometer
Price: $59.99
Where to buy it:
Countryside Cottage, 1316 E. Republic Rd., Springfield, 417-882-7997,
shopcountrysidecottage.com
This handy wireless barbecue rotisserie thermometer lets you select from four meat pre-sets and four doneness levels to assure you cook your favorite protein to the desired doneness. The transmitter clamps to your rotisserie handle and turns with it while the food is cooking, and the receiver beeps when your meat reaches the desired temperature. And you don't have to worry about standing by your grill the whole time; the thermometer can monitor your cooking temperature from 100 feet away.
When Rick and Dee Uebel moved to southwest Missouri from St. Louis, their goal was to build their dream property and create a performing venue where local, professional and student musicians could entertain small groups. Rick has lived in Europe, and Dee is a classically trained pianist and music teacher who toured internationally and was a founding member of local band
M-Dock. The two roughed out designs and created a modern-day castle whose outdoor space is complete with multiple decks, an inviting pool, an outdoor kitchen, a breezeway and comfortable lounging areas.


The couple's 10,000-square-foot, tri-level home sits approximately 200 feet above Table Rock Lake on Millcreek Cove. A nearly 180-degree view of the lake and Kimberling City can be enjoyed from the property. And just as the Uebels hoped, it makes a great performing venue. In addition to the interior's open living room with perfect acoustics and a bar where guests can perform, the outdoor haven's open-air breezeway is a great spot for performing. Dee has even used it as a concert hall to serenade guests. Married for 41 years, this "Villa Vista" fulfills the Uebels' vision of living in European style while bringing music into their
property.—Kim Swain
Coordinating stamped concrete was used around Rick and Dee Uebel's 16-by-32-foot swimming pool, located on a lower deck of their outdoor space. The custom planters and waterfall blend with the Old World feel of the home, and the pool equipment is stored out of sight underneath the pool. The trees covering the eight acres of land are pruned in an umbrella style that allows the lake to be enjoyed from the home without a lot of visibility to lakegoers.
Breezeway
The covered breezeway allows for shade and shelter and also functions as a walkway between indoor and outdoor kitchens. The stamped concrete is stained with three different colors to draw in the outside stone, stucco and trim.  The wood ceiling, which Dee originally thought was too dark, was hand-sanded to give it a distressed look and bring out the grain.
Inside Turret and Outdoor Kitchen
Rick is the primary user of the octagon-shaped outdoor kitchen, which allows him to cook and visit with guests at the same time. Built of masonry with granite counters, it has a drain in the floor, so it can be washed out. The stainless steel cabinets were powder-coated with the same color brown as the trim to make them blend with the house's facade.
Deck
To maximize the view from the various levels of the home, separate decks were built at different elevations. This allows for semi-private decks off of individual rooms and gives a variety of options for each area, such as a fire pit or hot tub. The brown deck railing matches the custom window trim. Three types of stone - cathedral, ashler slate and rubble - were combined to create the look, colors and textures that Dee wanted outside.
Resource Listing: 
Home Builder and General Contractor
Schaeffer Construction, Inc.
431 Hunters Glenn Ln.,
Kimberling City
417-739-4201

Brick and Stone Work
Fraley Masonry
2726 N. Biagio, Ozark
417-582-1715
fraleymasonryonline.com

Outdoor Appliances
Outdoor Rooms by Design
11966 State Hwy. 13,
Kimberling City
417-739-1019
outdoorrooms.net

Driveway and Patio
Concrete Work
Charlie Stills
Lampe
417-239-4614

Pool
Doug's Pool and Spa
5121 S. Campbell Ave., Springfield
417-882-7665
dougspoolandspa.com

Lumber & Windows
Meek's Lumber
518 State Hwy. OO
Reeds Spring
417-739-4830, meeks.com

Stucco Work
Clayman Plastering Systems
2131 W. Republic Rd., Springfield
417-886-7900

Iron Railing
Valentine Welding
13272 State Hwy. 13,
Kimberling City
417-739-5367

Lighting
The Light House Gallery
218 S. Commercial St., Branson
417-334-2175
thelighthousegallery.com

ElectrICian
All American Electric
200 Tomahawk Dr., Highlandville
417-337-1305

Plumbing
Ruby Plumbing, Inc.
298 Bealer Rd., Branson
417-335-1865

Architect
John L. Hoffmann
9028 Lowill Lane, St. Louis
314-842-6904