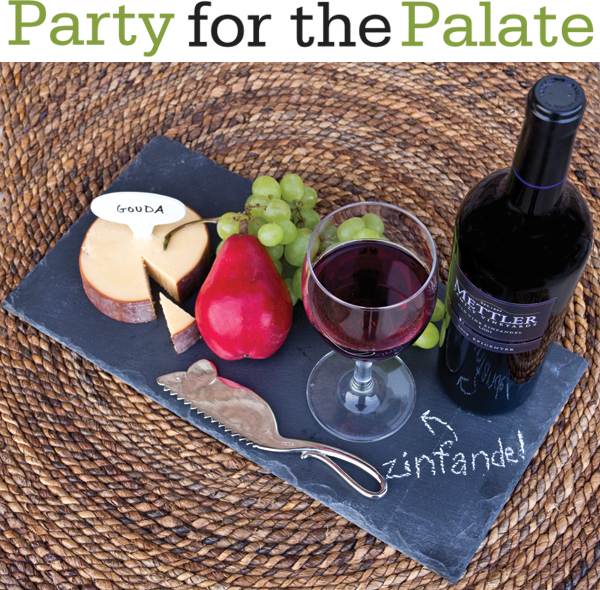 Looking for a creative alternative to your next dinner party? By hosting a wine and cheese tasting event at your home, you can travel the epicurean globe without ever leaving 417-land. And it's never been easier. A slew of wine experts in your own backyard can help make the planning of this tasty event a snap–even for novices.
To understand the appeal of wine and cheese pairings, you need to travel back in history to a time when both of these delectable products were produced on farms. "Basically wine started on the farm, just like cheese, and over time both developed natural complements to each other," says Matt Prchal, manager of the Brown Derby International Wine Center. "When pairing wine and cheese over thousands of years, farmers just figured out what works."
Hosting a wine and cheese event is relatively easy by dinner party standards, since there is no cooking involved. However, there are still some guidelines to follow regarding quantity and variety. A good rule of thumb is to plan for three ounces of cheese and wine per person, per tasting. Try to offer white and red wine, and a variety of flavors in your cheeses from strong to mild. When choosing pairings, think about "power versus power," according to Prchal. "A delicate wine and strong cheese won't work out," he says. Having a place to rinse wine glasses is also a good idea if you are moving from red to white. And have still or sparkling water available for your guests in between tastings.
Another key to the success of your party is to remember to take your cheese out of the fridge one hour before the guests arrive to enhance its flavor. Wooden, soapstone or chalkboard trays, along with cheese slicers in the shapes of mice can dress up your table. Enhance the ambiance with a selection of grapes, strawberries, French bread and water crackers that do not have a strong flavor.
There are almost no rules to follow regarding pairings. "Experimenting is what it is all about," says to Prchal. "There are guidelines, but the real test is what you personally like."
What to Serve
To help with the success of your own wine and cheese party, we have asked three 417-land wine aficionados to list their favorite pairings. All the wines mentioned will cost approximately $18–25 a bottle.       
    
Matt Bekebrede, owner, Vino 100, 2145 W. Republic Rd., Springfield,
417-883-8466, vino100springfield.com

> Dragonia Old Vine Garnacha
and Mild Smoked Cheddar
This is a medium to full-bodied red from Spain that has a smoky character to it—and pairing it with a smoky (not overly rich) cheese provides a nice combo.

> Gundlach Bundschu Mountain Cuvee and Bleu Jack cheese
This wine from Sonoma, California boasts soft, rich aromas and flavors of blueberry preserves, red currants and vanilla cream. Paired with this unique Wisconsin-made, semi-soft Monterey jack/bleu cheese blend, it creates a rich combination of flavors.

> André Scherer Pinot Blanc and Aged Parmesan
This full-bodied wine from France offers fresh scents of citrus and pineapple with notes of green fruit and a touch of vanilla, and nicely complements the thinly sliced aged Parmesan.  

Matt Prchal, manager, Brown Derby International Wine Center, 2023 S. Glenstone Ave., Springfield, 417-883-4066, brownderby.com

> Rusack Sauvignon Blanc and Goat Cheese
This is a pairing of light flavors blended together. There is a "grassy herbaceous-ness" to these California-produced products. Prchal recommends Cypress Grove Purple Haze cheese.
    
> Moscato d'Asti and Gorgonzola
This sparkling wine from Italy is paired with an Italian cheese, and they are produced 60 miles from each other. It is a fruity wine paired with a sweet-salty cheese.

> Rioja and Manchego Sheep's Milk Cheese
This firm cheese is gamier tasting than cow's milk cheese and pairs well with any of the medium-body red wines from the Rioja region of Spain. Both have a thick flavor that's not overpowering.
    
Hallie Sale, owner, WineStyles, 2640 S.
Glenstone Ave., Springfield, 417-882-4499,
winestyles.net/springfield

> Sivas Sonoma Pinot Noir and Triple-Cream Brie Cheese
The Saint André cheese is a very light cheese that pairs well with this softer California red wine from the Sonoma Coast that has a hint of smokiness.

> Mettler Zinfandel and Smoked Gouda
A spicy red wine paired with a smoky classic cheese. This would be a good pairing with pears and fruit.

> Silver Palm Cabernet Sauvignon and
AJ Barber's English Vintage Cheddar
This cheddar cheese hails from Great Britain and works well with this red cabernet.