The Great Outdoors
A couple of 417-land companies can transform your outdoor kitchen into an over-the-top beautiful space with custom-designed weatherproof cabinetry.
By Mike Cullinan Photo by Randy Colwell
Mar 2012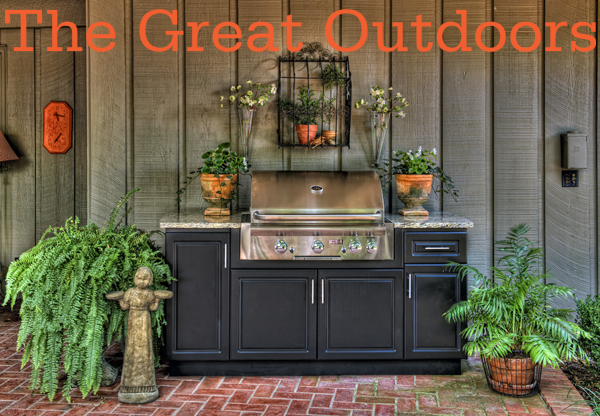 With winter's chill gone for another season, thoughts turn to outdoor barbecues on the back porch or deck. Those looking to make the outdoor kitchen space where they host their cookouts just as memorable as the delicious food prepared there have local options to help them out.
One Springfield-based company, Select Outdoor Kitchens (820 N. Cedarbrook Ave., 417-862-6512, selectoutdoorkitchens.com), offers a multitude of cabinet designs to make any grill the centerpiece of an outdoor kitchen. In particular, the business, which started in 2008 as a division of Polyfab Plastics & Supply, Inc., specializes in standard and custom-designed units for the Big Green Egg, a kamado-style ceramic charcoal cooker. As a longtime Big Green Egg fan, Mike Miller, Select Outdoor Kitchens president, was also essentially the first customer for the outdoor creation. Miller said the family-run company was the first in the country to provide custom cabinetry for the ceramic cooker, and everything the company used to create the cabinetry is manufactured locally. The cabinets, produced in eight colors and countless styles, are offered in standard sizes, but can also be customized to customer specifications. In fact, he says the company took more customized orders than standard for their outdoor kitchen designs last year. The cabinets are made of weatherproof material, which is a large part of their appeal.
KPC Tile & Stone (5311 N. 23rd St., Ozark, 417-581-8775, kpctileandstone.com) started dabbling in the outdoor kitchen products industry a year ago, says co-owner Kevin Pridemore. He says the company's been a little quiet on marketing its line of products, which include Outdoor Kitchen and MonoBase brands of weatherproof cabinetry. But he expects that to change this year. "In the last couple of years, we are seeing a huge growth in the outdoor kitchens," he says. "As people stay at home more, they like to entertain more."