DIY
A Shady Escape
With a little advice from local experts, you can build your own pergola and transform your boring old backyard into a shady retreat.
By Ettie Berneking
Mar 2013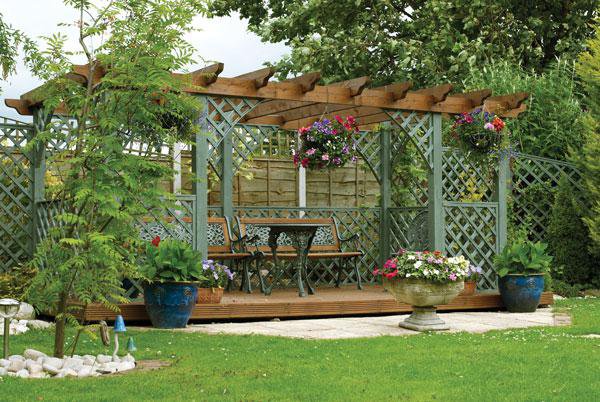 Backyard Addition: A local expert shares how to build your own functional pergola, just in time for spring.
Before you know it, it'll be summertime. That means it's time to start sprucing up that outdoor space that's been lying dormant all winter. Along with a few potted plants and a blooming flowerbed, adding a pergola to your backyard is a great way to turn a boring patch of grass into a second living room. We talked with Sean Brownfield, chief operating officer at Four Seasons Sunrooms, to get a few tips about how to build a pergola that is both functional and eye catching. 
Brownfield has been working with Four Seasons Sunrooms for nearly 15 years and has helped customers select an array of products aimed at renovating the backyard. And when it comes to selecting outdoor products that can give any backyard a facelift, the pergola might be king. "Pergolas help define any outdoor space," Brownfield says. But pergolas are more than an additional aesthetic. If built correctly, they can offer shade and a place to rest those tired feet.
There are a few things to keep in mind when constructing a pergola. If you're less concerned about the amount of shade provided and more interested in the ornamental value, this project won't require too much forethought. "But by considering where the sun hits the yard and how much shade you'd like to have, you can create a pergola that offers plenty of functionality," Brownfield says.
The key to completing this project successfully is to download a good set of plans, which can be found online (find a set at pooldeck-plans.com), Brownfield says. Once you've got a set of plans in hand and have settled on the level of functionality you'd like to get from your pergola, Brownfield says you should plan on committing 30 hours to completing the pergola. Grab your tools, and get to work.
Want an easier version of this project? Four Seasons Sunrooms sells kits starting at $4,000.
Want to build your own pergola? Here's what you need to build a 12-by-16-foot structure:
Lumber:
• 4 12-inch-by-12-inch posts, 10-feet long
• 4 2-inch-by-10-inch beams, 16-feet long
• 13 2-inch-by-6-inch rafters, 12-feet long
• 22 2-inch-by-2-inch runners, 16-feet long
Sonotube Pier Footings:
• 4 18-inch-by-24-inch round cardboard sleeves
• 20 bags of Sakrete or Quikrete
• 4 zinc-plated simpson clips for the top of  your footings
• 8 3/8-by-14-inch bolts
• 16 3/8-inch washers
• 8 3/8-inch lock nuts
Fasteners:
• 1 box of 3-inch ACQ torx head screws
• 10 10-inch ACQ torx head screws
• 1 box of 6-inch ACQ torx head screws
Miscellaneous: 
• Nylon line
• ¼-inch drill bit 10 inches long
• Torx bit 8 inches long
• Outdoor wood glue
• Stepladder
• Jigsaw
• Straight edge
• Posthole digger
• Putty knife
• Router
• Safety glasses
• Spade
• Speed square
• Hammer
• Miter saw
• Cordless drill
• Tape measure
• 4-in-1 screwdriver
• Level
The Steps
1| Using a 30-foot tape measure, measure and mark where your four posts will go with stakes and sturdy nylon line. (Measurements will vary depending on the size of the pergola.)
2| Dig the postholes a minimum of 2 feet deep and 18 inches in diameter. Place the cardboard tubes into the holes. Pour the concrete mixture until it fills an inch or so above grade (so that your posts are protected from the soil). 
3| Do not add posts directly into the concrete. Use a zinc-plated Simpson clip on top of the footing to attach your post. This will prevent the acids in the concrete from eroding the wood. Use some scrap 2-by-4s as bracing to hold your posts while the concrete is hardening. Allow the concrete to harden for a couple of days. 
4| Use a circular saw to cut off the tops of the posts until each post is the same height. 
5| Using a 10-inch drill bit, pre-drill the four 2-inch-by-10-inch beams to a depth of 6 inches. Re-measure the spacing on your posts, and transfer the post alignment to the top of your beams. Attach the beams to the top of the posts  using the 10 ACQ torx head screws. 
6| Find the center of the structure, and make a mark on top of the beams that were just attached. From your center mark, lay out the 2-by-6-by-12 rafters every 16 inches. Then attach the rafters using the 10-inch ACQ head screws.    
7| Attach the runners every eight inches to create a good amount of shade with plenty of ventilation. 
8| Take your wood putty and fill any holes that could collect water, if the holes are visible.
Call a Pro
Don't want to tackle this D.I.Y. project yourself? Trust these local pros, who can build a pergola for you.
Four Seasons Sunrooms 
2862 S. Glenstone Ave.,  Springfield
417-831-7666 |  springfieldsunrooms.com
Liberty Home Solutions, LLC
2026 West Vista St., Ste. A,  Springfield
417-889-3218 |  libertyhomesolutions.com
Marilyn's Nursery & Garden Center
27081 North Hwy. 5,  Lebanon 
417-532-9574 |  marilynsnursery.com