DIY
Door Décor
Using a little paint and a whole lot of talent, this 417-land artist can transform your garage doors from flat to fabulous.
By Becca Huff | Photos by Sara Huffman, Kevin O'Riley
Mar 2013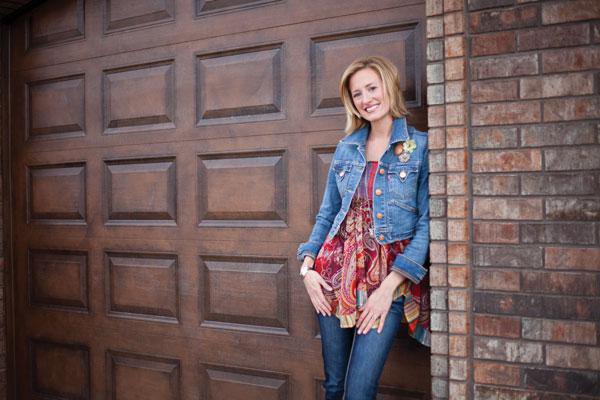 The high price tags that often accompany remodel projects sometimes scare people away from changing up their spaces. If you're one of those people, we have some good news for you—a little faux finishing can go a long way. 
Proof of this can be found in a recent project completed by Sara Huffman, owner of Work of Art (417-425-6958). Huffman refinished three garage doors on Donna and Kerry Pharis' home in Nixa. Before Huffman worked on the doors, they were a bland cream color. But after she worked her magic, the doors took on an entirely different feel. They're now a rich brown color with black shading, and they have depth. Huffman says the cost to refinish a single door typically starts at $500 (costs vary depending on the size of door and technique).
It took Huffman two days to transform the doors from blah to beautiful. She started by applying a base coat of latex exterior paint and letting it dry overnight. Next, she applied a black glaze worked with a damp terry-cloth towel. She then painted the doors with a dry-brush technique, pulling the paint while it was still wet and moving it to achieve the desired look. She used different brushes to create textures, and she used her paint of choice—Sherwin-Williams.
Huffman started her painting business eight years ago with the help of her husband, Justin, who chips in on her projects. Most of her projects are indoors, focusing on faux finishing, glazing and texturing walls. She also does a lot of decorative painting, and she really enjoys hand–painting designs. Check out her Facebook page, facebook.com/peacelovepaint, to see more.