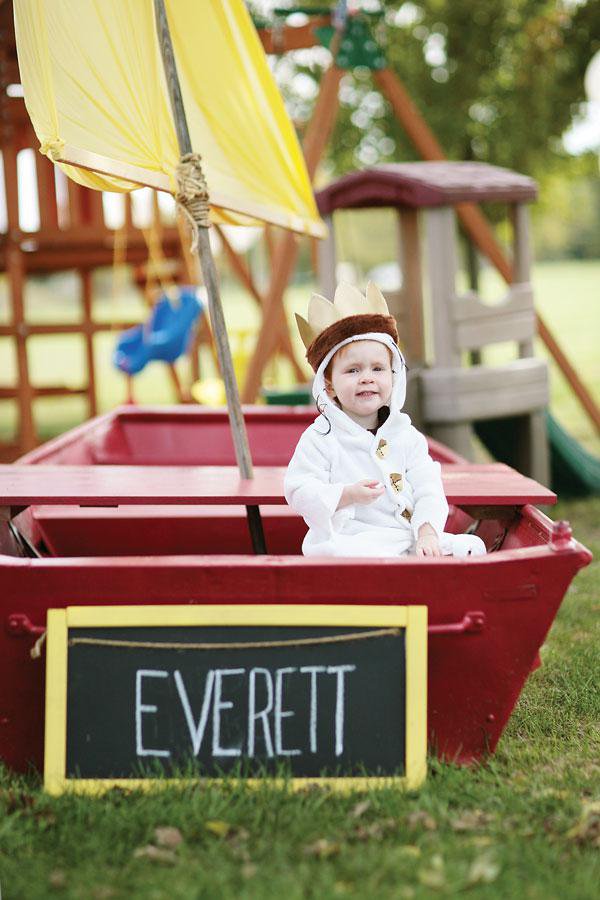 Playing host to everything from a circus-themed birthday party to an indoor campout, Cassie Darst is a party throwing pro. Not long after she became a stay-at-home mom, Cassie and her sister, Erin, began setting up scenes and taking photos of theiradorable red-headed children. Photo shoots soon grew to include games and activities, and eventually, Cassie was hosting parties fit with elaborate themes, games and costumes. 
For her son's second birthday party, Cassie took inspiration from one of Everett's favorite books, Where The Wild Things Are. She recruited family and friends to help her transform the backyard of her Willard home into a magical land where monsters roam free. Like all of Cassie's parties, the event was filled with many props, including a cozy Max suit (made by Cassie's mom, Everett's Grandma Charla) that transformed Everett into the king of the monsters. And so she didn't have to spend the day behind a camera, Cassie brought in photographer Amy Pennington to make sure every smile was caught on film. 
The Décor: Cassie's backyard was transformed into an untamed wilderness with monster masks for the kids to wear, a circus tent where Everett could hide from the other monsters and a repurposed fishing boat that Cassie painted red to look like the boat Max sails on in the book. Cassie even crafted a sail for the boat out of two yellow plastic tablecloths and a dowel rod (above).
Venue: The Darst's backyard, Willard
The Guest List:  A group of nearly 20 children and family gathered for the party. All of Everett's cousins joined in on the fun, as did several of his friends from playgroup.
The Invitation: Darst custom-designed colorful invitations, giving party-goers a preview of Everett's customized boat.
Food and Fun: Cassie and her niece, Savanna, decorated cupcakes to look like little monsters, and Cassie made a Moishe fondant cake and assorted snacks. Cassie and her husband, Matt, wore masks to fit the Where the Wild Things Are theme, and Everett wore a cozy Max suit that was specially made for him by his Grandma Charla (below). 
Fit for a King: Everett's Where the Wild Things Are party was complete with a circus tent where he could hide out from the other monsters.
Party Like a Pro
Cassie Darst shares five tips to make sure your tiny tyke will remember their special day forever.
1|  Make it Memorable. Whether your child is turning 2 or 10, you want to make sure they remember their special day for years to come. Create unexpected games, decorations or any other fun trinkets to make sure there are things that set this party apart from any others.
2|  Get a Photographer. It doesn't matter if you hire a professional photographer or ask your sister to snap some shots—just make sure you have someone besides yourself photographing the details of children playing, guests amusing themselves and all the other special moments you will be too busy to catch.
3|  Choose a Theme. Themes give you plenty of options for décor and food and act as a creative base. Plus, once you have a theme in mind, you can start planning costumes for the kids to wear. Long after the kids have gone home, they will still beg to play dress up in their outfit. 
4| Create Fun Props. If possible, create props that are both aesthetic and functional. For example, a boat with a sail can be a perfect place for presents during the party and can double as a great place for a picnic a couple of days later. 
5|  Frame Your Invitations. By using similar color palettes each year, you can make a collage of party invitations and display them in your child's room. This is a great way to save those memories.