Layers of Flavor
Learn a few tips on growing onions in your own backyard, then enjoy your homegrown creations at your next meal.
By Harrison Keegan
Mar 2013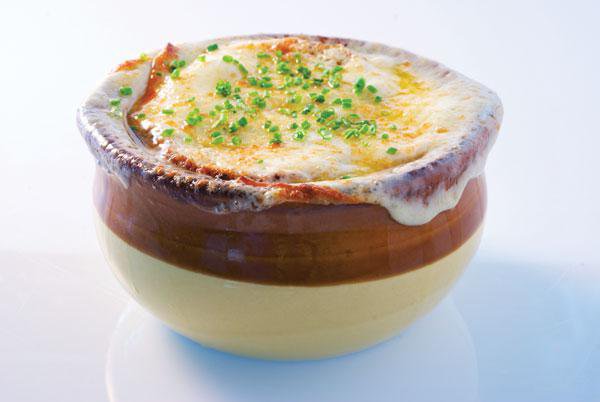 An onion's smell has a way of dominating a kitchen or clinging to your breath during a dinner party. This is no surprise to anyone who has grown the vegetable—an onion's defining properties actually start to develop long before it's harvested. In fact, an onion's bullying flavor can actually push nearby plants under ground. And when planted too close together, plants like pumpkins and cucumbers can sometimes take on the distinctive flavor of an onion.
But Kirk Erickson, owner and president of Hickory Gardens (1227 N. Farm Rd. 193, Springfield, 417-425-2020, hickorygardens.net) says that ensuring onions have enough space is the only tricky thing about growing them. If you're a new gardener, they're a great vegetable to try. "They are great, because you'll have good luck with them, and you won't get discouraged," Erickson says.
Erickson recommends starting with a set of onions as opposed to planting seeds. He says to space each onion plant about a foot apart, and plant them just deep enough in the soil to cover the bulb. Plant onions in direct sunlight, and water them every other day if it isn't raining consistently.
You can plant onions any time from March until June or July and harvest them about 60 days after planting. Erickson says smaller onions are generally sweeter, so he tries his best to harvest his onions before they grow too big.
And after you harvest your onions, try them out in one of these tasty recipes. Culinary Director Judy Sipe at foodchannel.com, an international website with recipes, articles and more, shares these tasty onion recipes. Each onion-heavy creation was developed with her direction in the Springfield-based Food Channel Test Kitchens.
The Recipes
Onion Soup  Gratinee
Ingredients:
2 tablespoons olive oil
4 large yellow onions, sliced
Salt and pepper to taste
2 cups low-sodium chicken broth
1 cup low-sodium beef broth
2 tablespoons fresh thyme, chopped (or 1 tablespoon dried thyme)
4 slices French bread, toasted
4 slices provolone cheese
4 teaspoons grated Parmesan cheese
1 tablespoon fresh chives, minced
To Prepare: Heat olive oil in large pot. Add onions. Cook over medium-low heat for 20 to 30 minutes, or until onions are well caramelized. Season with salt and pepper. Add chicken broth, beef broth and thyme. Bring to a boil. Reduce heat, and simmer for 15 to 20 minutes. Ladle soup into four oven-proof bowls. Top each with one slice of toast, one slice of cheese and 1 teaspoon Parmesan cheese. Broil until cheese is melted and bubbly. Serve garnished with chives.
Carmelized Onion Bacon Tart

Delectable Onions: It's a well-known fact that bacon makes everything taste better, so it's no surprise to find the salty ingredient making an appearance in this onion tart. 
Ingredients:
1 refrigerated pie crust
6 slices bacon
4 medium onions, cut lengthwise, sliced thin
1 cup ricotta cheese
1 egg yolk
1 teaspoon salt
1/2 teaspoon pepper
1/2 cup Parmigiano-Reggiano cheese
To Prepare: Preheat oven to 425°F. Unroll pie crust. Press crust into a dark, coated, 8-inch tart pan. Prebake shell for 10 minutes. Let cool. Lower oven temperature to 350°F. Cut raw bacon slices into cubes. Cook bacon in a medium frying pan over medium heat just until it starts to crisp. Place bacon pieces on a paper towel to drain. Caramelize the sliced onions in the pan with bacon fat until the onions become a rich, caramel brown. In a bowl, mix ricotta cheese, egg yolk, salt, pepper and 1/4 cup Parmigiano-Reggiano. Spread the egg yolk mixture over the pre-baked pie crust. Arrange the caramelized onions to cover the ricotta mixture. Sprinkle the rest of the Parmigiano-Reggiano cheese over the onions. Arrange bacon pieces on top. Bake for 40-45 minutes.
Extra-stout beer-battered Onion Rings
Serves: 2
Ingredients:
2 large Vidalia onions, peeled, cut into 1/2-inch thick slices
2 cups buttermilk
2 cups flour, divided
1 12-ounce bottle dark, extra-stout beer
4 cups canola oil
1 teaspoon California-style garlic pepper seasoning
1 teaspoon kosher salt
To prepare: Separate sliced onions into rings. Transfer to bowl. Cover with buttermilk. Combine 1 cup flour, garlic pepper and salt in bowl and stir to blend. Combine 1 cup flour and beer in bowl, and whisk to blend. Heat oil to 350°F in deep heavy pan or deep fryer. Remove onions from buttermilk and drain, working in small batches. Dredge in seasoned flour. Shake excess. Dip in beer batter. Drain excess. Carefully lower onion rings, one at a time, into hot oil (do not overcrowd). Deep fry until golden brown, turning several times during frying with tongs. Remove from oil. Drain on paper towels. Repeat process with remaining onion rings. Season with salt, if desired. Serve hot.