Gallery of Colors
Located in a gorgeous historic building in Joplin, Local Color Art Gallery & Studio provides a venue for 417-land artists to display their creations.
By Dayle Duggins | Photos by Kevin O'Riley
Mar 2013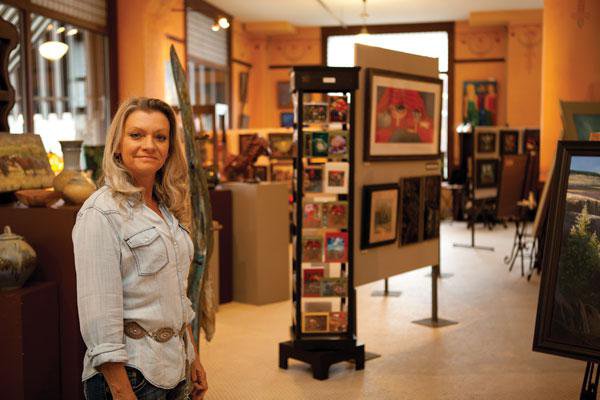 Local Color Art Gallery & Studio, 1027 S. Main St., Joplin, 417-553-0835, localcolorartgalleryjoplin.com, open Mon.—Fri., 10 a.m.—6 p.m., Sat., 11 a.m.—6 p.m.
The Founders
For two years, artist April Davis and six of her closest painting pals crammed into a one-room house in Joplin that served as their studio. Davis was practically born with a paintbrush in her hand—possibly because Lowell Davis, often referred to as the "Norman Rockwell of Rural Art," is her father. And others in the group, including Sue Dixon, Jesse McCormick, Margie Moss, Percilla Penner, Kristin Huke and Donna Roberts, all bring different artistic strengths to the table. While working out of the mini-studio, the group  of artists shared their talents by hosting art lessons. Davis liked the idea of finding a permanent workspace, and in 2010 when the artists got wind that the historic Gryphon Building in downtown Joplin was being restored, they formed a partnership to buy a spot in the space. Two years later, Local Color has grown to feature a group of southwest Missouri artists (there were 15 at press time) who each work half a day, one day a week creating art and teaching lessons—making the studio a true working gallery.
The Setting
Housed on the first floor of the Gryphon Building, which is listed on the National Register of Historic Places, Davis describes Local Color as beautiful and inviting. "I think it's one of the prettiest buildings in Joplin," Davis says of the gallery-studio hybrid that's lined by gold walls, dark wood molding, embellished columns and large steel sash windows. Not only can visitors absorb a wide variety of artistic mediums from the comfort of plush couches, but they can also watch creations come to life in the back of the art-deco gallery. 
The Stuff for Sale
The majority of art in the gallery is canvas-based, but it does not stop there. Numerous artists are featured at Local Color, their work lining the walls. "We specialize in variety and quality," Davis says. Variety is endless with stoneware, tempered glass cutting boards, jewelry, oil paintings, porcelain buttons and more. Remnants of the Joplin tornado can even be found in the form of wooden furniture repurposed by Jack Divine. Paintings on paneled displays are found toward the back of the gallery, where working artists and those in training are sure to be found as well. "We do try to move everything around every three to six months," Davis says, noting that it makes each trip to the gallery more exciting for repeat customers.  
The Summary
A place for art lovers, creators and observers alike, Local Color has something for everyone. If you're looking for handmade home décor or a gift, or if you want to let your inner artist run wild with lessons, this Joplin shop is sure to draw you in.