Surviving the Storm
From a steel form that can be planted underground to a concrete shelter that can be installed almost anywhere, local storm shelter experts offer a wide range of refuge options to keep you safe when the weather takes a turn.
By Dayle Duggins | Photos courtesy Shutterstock, Red Zone Storm Shelters
Mar 2013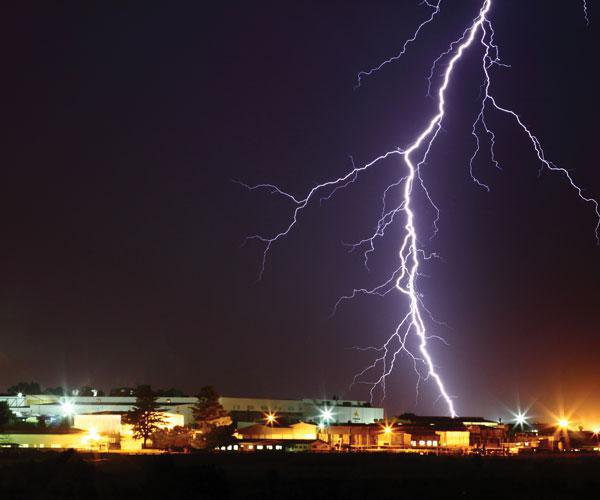 With winds circulating as fast as 300 mph and a destruction path one mile wide and 50 miles long, a tornado is hardly something you want to be left defenseless against. Known as nature's most violent storms, tornadoes can destroy everything in their path in an instant—something Joplin learned firsthand on May 22, 2011. The Joplin tornado's impact not only reverberated throughout 417-land, but also across the nation as a reminder of life's fragility and vulnerability. 
Casey Stengel and her family, like many others, were so responsive to the Joplin tornado's damage that they set out to buy an underground storm shelter. After purchasing a Smart Shelters storm shelter in Oklahoma City, the Stengels opened Red Zone Storm Shelters (5121 S. Campbell Ave., Springfield, 417-881-9663, redzonestormshelters.com), a business specializing in in-ground storm cellars that can be installed almost anywhere. These shelters are made with 10-gauge steel walls and boast three-ton hydraulic jacks to ensure a safe exit, and they come complete with battery-operated, filtered, forced-air ventilation and lighting. 
Tight Fit: 
Storm shelters come in a variety of sizes and materials and can be tucked away in small areas, like this shelter from Red Zone Storm Shelters that is installed in a garage floor (below).
While Red Zone specializes in in-ground shelters, above-ground protection is also an option. According to the National Weather Service, the lower you are to the ground or the more walls between you and the tornado, the better. 
Storm shelters, while not an absolute guarantee of protection from a tornado, can improve the odds of survival and reduce the possibility of injury. Jeff Olsen of Missouri Storm Shelters (1839 N. Commerce Dr., Nixa, 417-725-0055; 701 S. Rangeline Rd., Joplin, 417-782-4444, missouristormshelters.com) says these safe havens aren't just metal boxes used once in a blue moon—they're a multi-purpose investment, fit for use as a panic room or a giant safe to lock up valuables. And as an added bonus, many are even portable.
Olsen says getting a storm shelter is a good idea for many reasons. "And, let's face it, if people think they don't need storm protection after the Joplin tornado, they're out of their minds," he says.
Along with a selection of bolt-together safe rooms that can be quickly assembled in tight spaces, Missouri Storm Shelters has both concrete and steel storm shields complete with a National Storm Shelter Association seal. Concrete shelters are most often installed outdoors with in-ground, partially in-ground and above-ground options, and steel "safe rooms" that are anchored to a steel-reinforced concrete slab can be installed indoors and outdoors.  
Robert Rayl, owner of Missouri's distributorship of FamilySAFE (221 W. North St., Republic, 417-732-6500, familysafemo.com) says its steel, above-ground safe rooms provide a safe place during storms, mostly for people who don't have a basement to go into. "FamilySAFE gives an above-ground option to protect our families," Rayl says.
All of FamilySAFE's units feature return air vents, electrical boxes and a "SAFE-T Door" that allows the shelter to be opened in a variety of ways.
All of the featured storm shelters have been certified by Texas Tech University's Wind Science and Engineering Research Center and can withstand winds as fast as 250 mph and come in a variety of sizes. These steel and concrete refuges protect you and your family from storms that often strike with little or no warning.