A Concrete Decision
Instead of replacing damaged concrete, businesses in 417-land are raising it back to its original place.
By Harrison Keegan | Photos courtesy The Concrete Lifter
Mar 2014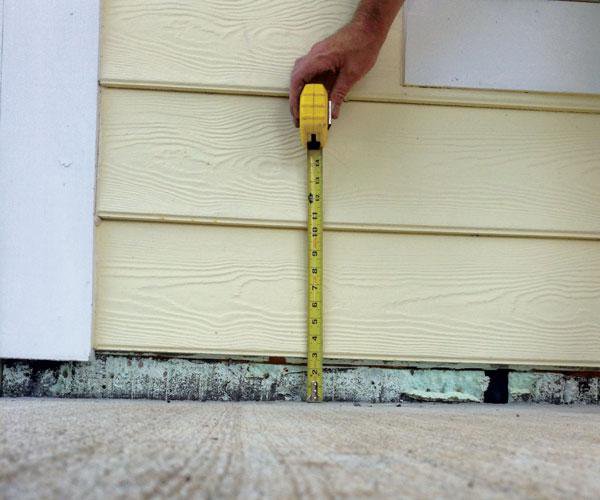 When Eric Ferguson was helping his mother do some work around the house, one project that had seemed simple to him was proving to be a lot more difficult.
Part of her driveway had sunk down about 4 inches, so Ferguson went out to find someone to lift the concrete back to its original position. But he soon became frustrated with the lack of options in 417-land. That's when he had an idea.
Ferguson, who had recently downsized from his job with an auto auction, was looking for a new project. "It was kind of an accident," Ferguson says. "I had some time on my hands, and I really started taking a serious look at this business."
Ferguson started his own company, The Concrete Lifter (2755 W. Chestnut Expy., Unit H, Springfield, 417-315-6949, theconcretelifter.com) in May 2013. Instead of removing and replacing cracked or sunken concrete, Ferguson lifts the concrete back to its original position by drilling dime-size holes into the concrete and strategically injecting environmentally friendly polyurethane beneath the concrete to even things out. That means Ferguson's method is not only faster, cheaper and less intrusive than digging up the old concrete, but it's also better for the environment.
"Concrete is actually considered a hazardous material," Ferguson says. "When you break it up, it turns all that stuff into fine dust particles. It creates a mess and somewhat of a health concern."
While getting all new concrete poured can take days and fill your yard with heavy machinery, Ferguson only needs a few hours and one truck. And while he says this method of lifting concrete has been around for some time, it is more popular in other parts of the country. To best serve his customers, Ferguson sought out experts in Wisconsin to learn the finer points of the trade. "Oftentimes, when people watch it, they think 'Gosh that looks easy,' because I am just standing there with a gun, injecting," Ferguson says. "But there's a real art to it."
Ferguson isn't the only one repairing concrete in 417-land. Structo Foundation Repair (216 Barbed Wire Lane, Ozark,  417-581-5750, foundationrepairstructo.com) is another local company that's raising concrete. Owner Brad Corp says Structo specializes in mudjacking, steel piering and water blocking.
Corp says sometimes concrete can be too damaged for lifting to be effective, but that's rare. He says concrete lifting is less intrusive during the repair process, and it doesn't stand out afterward.
"What would take a company typically two days would take us maybe half a day, and there's no jack hammering," Corp says. "It's all pretty much instant."

Before and After: This concrete walkway sunk a few inches, but Eric Ferguson with The Concrete Lifter was able to raise it back up.
More Resources
Concrete Repair Companies 

in 417-land

 

The Concrete Lifter 
2755 W. Chestnut Expy., Unit H, Springfield
417-315-6949, theconcretelifter.com

Structo Foundation Repair 
216 Barbed Wire Lane, Ozark
417-581-5750, foundationrepairstructo.com

Midwest Floor Restoration
1300 W. Poplar St., Springfield
417-869-4621, midwestfloorrestoration.com

A&M Crete
1660 W. Skyline Ave., Ozark
417-581-6999; amcrete.net

MTS Contracting
2110 E. Rockhurst St., Springfield
417-865-9991, mtscontracting.com