Aging With Grace
Local designers stay one step ahead of the baby boomer generation by specializing in design that's friendly to aging homeowners.
By Julie Sedenko Davis | Photo courtesy Nancy Dahlberg
Mar 2014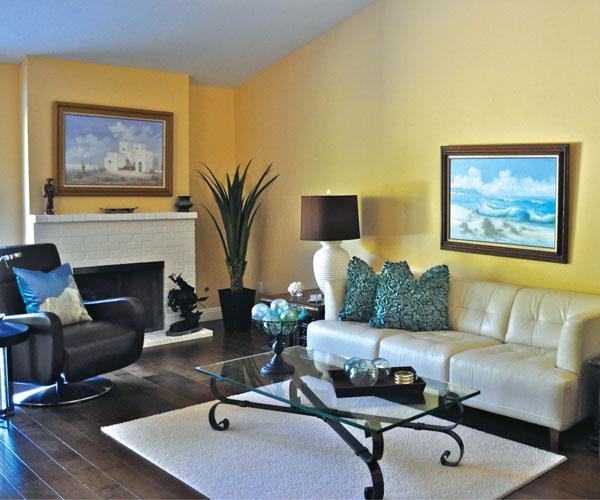 Our youth-obsessed culture doesn't exactly love the topic of aging. But, with the senior population about to double in size (thanks to baby boomers), aging cannot be ignored. Local designer Nancy Dahlberg is tackling the taboo subject with a plan called "aging in place." The idea is to allow people to spend their golden years in style and, more importantly, in their own homes.
Dahlberg spent most of her life as a registered nurse. Today she enjoys a second career as an interior designer through Dahlberg Design Studio. Her nursing background offers special insight into the needs of older clients. She says seniors want to stay in their own homes, and with the right design, it's often possible. 
Dahlberg says the key is planning. If there's a remodeling project on the horizon, incorporate "aging in place" ideas. Shannon Pennell of James Décor agrees. "We all have aging parents or grandparents, and they will come to visit," Pennell says. "You want them to be comfortable in your home."
Floor plan is the first thing to consider, says Dahlberg. Incorporating 3-foot hallways and doorways is essential. Also, think about having your main living spaces on one floor. If the master bedroom is upstairs, decide how a bedroom could be incorporated on the main floor. And all rooms, including bathrooms, should have a 5-by-5 turn space. While bathroom grab bars may not be necessary now, adding reinforcements in the walls can be invaluable later. Taller seated toilets and curbless showers with room for a seat are also good investments.
Since falls are common among seniors, Pennell advises using one type of flooring throughout the home to keep thresholds flat. Flooring needs to be smooth, non-glare and slip-resistant. Carpet should be no more than a half-inch thick, and area rugs should be avoided or strategically placed and taped down. Also, be sure to secure electrical cords away from traffic areas.
In the kitchen, it's a good idea to replace drawer pulls with cup-shaped handles. And when it comes to appliances, side-by-side refrigerators, wall or side-swing ovens and counter-height microwaves are also helpful. Adjustable-height counters and roll-out trays are more options to consider. 
Lighting is also a key factor. Dahlberg says kitchens, bathrooms and reading areas need two to three times the light as other living spaces, and Pennell says hallways should have ambient lighting. 
Furniture choice is critical when thinking about aging in place. Overstuffed furniture is difficult to maneuver. Pennell says you can have beautiful upholstery; simply get a firmer cushion, and make sure arm heights offer good support. 
And while considering it all, be sure to remember that people spend more time at home as they age. It's important to have a space that is not only functional but also beautiful. "There's a way to do this and have it look really nice, so that it elevates peoples' spirits," Dahlberg says. "For most people, the more independent you can keep yourself, the happier you are."