Asparagus Recipes
Small in size but big in flavor, asparagus is a true garden must-try. Curtis Millsap of Millsap Farms shares tips for harvesting the tiny spears, and The Food Channel offers recipes for enjoying them.
By Ettie Berneking | Photos courtesy The Food Channel-foodchannel.com
Mar 2014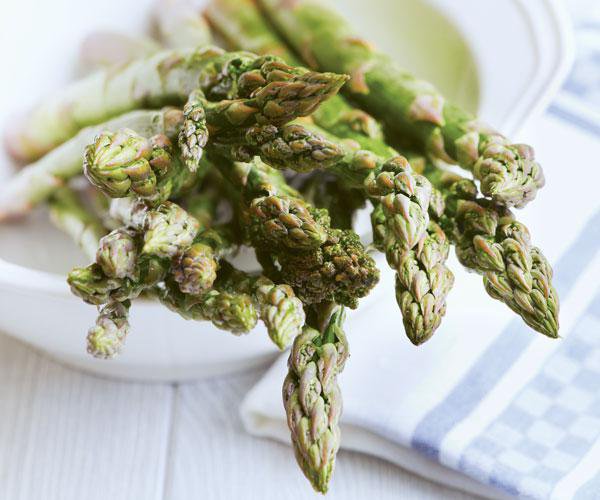 Spring is finally here, which means it's time to shake the dust from your garden hose, pull on those dirty old sneakers and get back to work. A favorite healthy treat, the asparagus, takes a little more gardening know-how than other delicious veggies, and Curtis Millsap offers some growing advice. Millsap is the owner of Millsap Farms (6593 Emu Ln., Springfield, 417-839-0847, millsapfarms.wordpress.com) and tends to nearly 800 asparagus plants, or crowns, as he calls them.
"Asparagus take three years to mature before you can harvest it," Millsap says. "Once it's ready to eat, it's best to harvest it in April or May." You'll know the asparagus is ready to harvest once the plants start shooting up spears that have a thicker diameter than a pencil. "We usually let our plants get about a foot tall before we harvest," Millsap says.
You can usually get eight to 10 cuts off each plant before the season ends and the spears get too small to cut. At that point, Millsap suggests letting the plants branch out into ferns, so they can rebuild their energy stores for next spring. Asparagus is a perennial plant, so once the last frost has thawed, be ready for another crop. After you grow your own asparagus (or just pick some up at a local farmers' market), give these recipes a try. They were developed in the Springfield-based Food Channel Test Kitchens. 
Asian Chicken Salad with Red Peppers and Asparagus
Ingredients:
1 bunch asparagus, trimmed and cut into thirds
½ cup vegetable oil
2 tablespoons apple cider vinegar
3 tablespoons soy sauce
1½ tablespoons dark sesame oil
1½ teaspoons honey
1 garlic clove, minced
1 teaspoon fresh ginger, peeled and grated
1½ tablespoons white sesame seeds, toasted
¼ cup smooth peanut butter
1 teaspoon kosher salt
½ teaspoon black pepper
1 rotisserie chicken, pulled apart into bite-sized pieces
1 red bell pepper, sliced
2 scallions, thinly sliced
1 package mixed baby lettuce 
To prepare: 
Bring a large pot of salted water to a boil. Add the asparagus to the water, and cook until the asparagus spears are bright green and tender. When asparagus is cooked, submerge it in a bowl of ice water to stop the cooking. Drain, and set aside. Make the dressing by whisking together the vegetable oil, vinegar, soy sauce, dark sesame oil, honey, garlic, ginger, sesame seeds, peanut butter, salt and black pepper. Whisk until the peanut butter mixes in completely. In a large bowl, add the chicken, asparagus, red peppers, scallions and dressing, and toss well to combine. Place the lettuce on a large serving platter, and pile the chicken mixture on top. Serve immediately.
Orange Roasted Asparagus
Ingredients:
2 bunches asparagus, trimmed
1 orange, sliced
¼ cup olive oil
2 teaspoons fresh thyme, minced
1 teaspoon kosher salt
½ teaspoon coarse-ground black pepper
To prepare: 
Preheat oven to 400°F. Combine asparagus and the orange slices in a large bowl. Add the oil, thyme, salt and pepper, and toss to evenly coat. Spread the asparagus onto a baking sheet. Roast in the oven for 20 to 25 minutes or until the spears are tender.
Garden Fresh Asparagus with Dijon Vinaigrette
Ingredients:
2 bunches asparagus, trimmed
2 tablespoons tarragon vinegar
2 teaspoons Dijon mustard
1 teaspoon fresh parsley, chopped
½ teaspoon kosher salt
¼ teaspoon black pepper
¼ cup extra virgin olive oil 
To prepare:
Bring a large pot of salted water to a boil. Add in the asparagus, and cook until the spears are bright green and tender. When the asparagus is done cooking, submerge it in a bowl of ice water to stop the cooking process. Make the vinaigrette by whisking together the vinegar, mustard, parsley, salt and pepper until well blended. In a thin stream, whisk in the oil. Toss the chilled asparagus in the dressing, and serve. 
5 Fun Uses for Asparagus
Curtis Millsap of Millsap Farms shared a few fun ways to enjoy this great green veggie.
1. Grill it. Brush it with olive oil, sprinkle on your favorite seasonings and place it on a hot grill for a few minutes.
2. Turn it into soup. Creamy asparagus soup is a sippable, slurpable favorite.
3. Mix it in pasta. Chopped up and paired with baby squash, Parmesan, olives and green onions, asparagus tastes great in pasta. 
4. Chomp on it raw. Fresh out of the ground, this veggie is sweet, crunchy and delightfully nutty.
5. Try it on pizza. Sprinkle a few spears onto a pizza along with artichoke hearts and cream sauce.