DIY
D.I.Y Wall Garden
Don't let your lack of green space stop you from developing your green thumb. Local gardening pro Rebecca Nickols shares how to build a vertical herb garden that looks great in your home.
By Ettie Berneking | Photos by Jamie Kalil
Mar 2014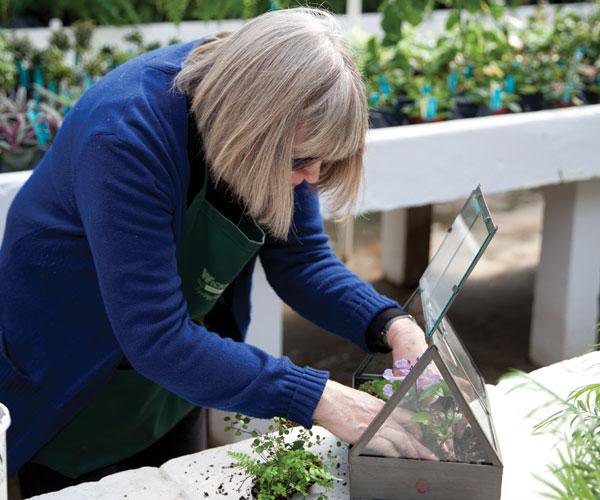 You might not have umpteen acres of fertile farmland or even much of a backyard, but that doesn't mean you can't enjoy fresh herbs snipped from your garden. Urban gardeners truly in a space pinch can try building this vertical herb garden that can take root in their very own homes.
Rebecca Nickols, owner of Rebecca's Bird Gardens (rebeccasbirdgardens.com) and a master gardener through the Greene County Extension, shared a few tips and tricks for completing this project. Nickols and her husband, Jeff, specialize in building living roof birdhouses, living wreaths, vertical gardens and container gardens. The two even sell all of their products at Farmers Market of the Ozarks, so they are the perfect experts to share advice. "There are a few tips for this type of container gardening," Nickols says. "First, herbs need tons of natural light, so place this garden on a wall that gets six to eight hours of light. Second, don't over-water. Since the Mason jars don't have holes in the bottom, you only want to moisten the soil."
If you're up to the challenge, stock up on supplies and favorite herbs, put on your work gloves and get to work.
​Step 1
Cut the boards to 42-by-7 inches.
Step 2
Attach the hose clamps to the board with screws. Leave 10 inches between each clamp.
Step 3
Fill each Mason jar with 1 cup of gravel. The gravel is essential for drainage, because the jars don't have any holes in the bottom.
Step 4
Add the herbs to each jar, packing them in with the growing medium.
Step 5
Position the jars in each hose clamp, and tighten clamps securely with a screwdriver.
Step 6
Place the vertical garden by a window that gets six to eight hours of sunlight daily.
Step 7
Be sure to rotate the jar every three to four days to ensure uniform growth of the plant. 
Where to find herbs
Urban Roots Farm
823 W. State St., Springfield, 417-597-4858, urbanrootsfarm.com
Red Barn Herb Farm
at Farmers Market of the Ozarks, 417-732-1510, redbarnherbfarm.com
Wheeler Garden & Florist
601 N. Fourth St., Ozark, 417-581-6794, wheelergardens.com
Wickman's Garden Village
1345 S. Fort Ave., Springfield, 417-862-3707, wickmans.com
Find tips on growing herbs indoors online at extension.missouri.edu or by calling the Master Gardener Hotline at 417-881-8909.