Easy and Elegant Apps
The next time you entertain a crowd, greet your guests with appetizers that are easy, elegant and homemade. Local caterers share gourmet recipes that can be prepared with ease.
By Savannah Waszczuk | Photos by Jamie kalil
Mar 2014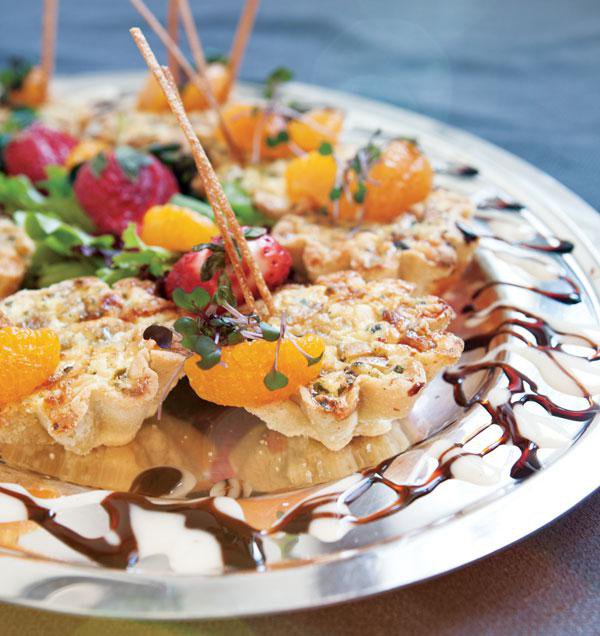 The Tower Club
Granny Smith Apple Caramelized Onion Tart
Recipe developed and prepared by Chef Brad Lyons 
Ingredients: 
3 3-inch tart shells
1 medium yellow onion, sliced and caramelized
1 medium Granny Smith apple, diced small
1 cup bleu cheese crumbles
2 tablespoons fresh parsley, chopped fine
Pinch each of salt and pepper
6 eggs
1 cup heavy whipping cream
Mixed greens and raspberry vinaigrette for garnish
To prepare: 
Place tart shells on a baking pan, and layer onion, apples, bleu cheese and parsley in shells evenly. Add a pinch of salt and pepper to each tart. Add the eggs and cream to a bowl, and whip until smooth. Slowly pour the mixture in the tart shells. Bake at 350°F for 20 to 25 minutes, until firm in middle. Garnish with mixed greens, lightly sprinkled with raspberry vinaigrette. Serve.
425 DownTown Events & Catering
Bacon-Wrapped Stuffed Peppers
Recipe developed and prepared by General Manager Aaron Lachapelle
Ingredients:
20 small jalapeno peppers
2 8-ounce packages cream cheese
1 tablespoon dried basil
1 teaspoon parsley
1¼ small sweet red onions, diced very small
20 slices hickory-smoked bacon
Montreal steak seasoning to taste
Skewers 
To prepare:  
While leaving peppers whole, cut around the top of each pepper stem, and remove stem, seeds and core. In a stainless steel mixing bowl, combine cream cheese, basil, parsley and onions. Mix well. Using a pastry bag, fill peppers with the cheese mixture. Wrap a piece of bacon lengthwise over the peppers, and secure. Place the peppers on a skewer, and season with steak seasoning. Grill peppers over medium heat, rotating one-quarter turn every few minutes. Cook until the bacon becomes crisp. Move to the hottest part of the grill to finish. Peppers can also be cooked in a conventional oven at 425°F until bacon is crisp and darkened to your liking.
Infused Catering
Bruschetta Three Ways
Recipes developed and prepared by Jill Barron
Ingredients:
For the tomato basil bruschetta: 
7 ripe roma tomatoes, chopped fine
2 cloves garlic, minced fine
1 tablespoon olive oil
1 teaspoon balsamic vinegar
2 tablespoons fresh basil, minced
Salt and pepper to taste
1 baguette, sliced and toasted 
To prepare tomato basil bruschetta: 
Combine tomatoes, garlic, olive oil, balsamic vinegar, basil and salt and pepper in a large bowl. Chill. When ready to serve, spoon mixture on toasted baguette. 
For the fruit bruschetta: 
2 tablespoons honey
1½ cups fresh strawberries, diced
¾ cup fresh peeled peaches or mango, diced
1½ teaspoons fresh mint, minced (optional)
½ cup mascarpone cheese
1 baguette, sliced and toasted
To prepare fruit bruschetta:
Combine honey, fruit and mint in a large bowl. Chill. Spread a layer of mascarpone cheese on bread, and top with a large spoonful of fruit mixture. Serve. 
For the pesto mozzarella bruschetta:
1 baguette, sliced and toasted
1 jar pesto
1 log fresh mozzarella cheese, cut into ½-inch slices
1 bunch fresh basil
To prepare pesto mozzarella bruschetta: 
Spread each baguette slice with one tablespoon of pesto. Place one mozzarella slice on each piece of bread. Garnish with basil leaves, and serve.