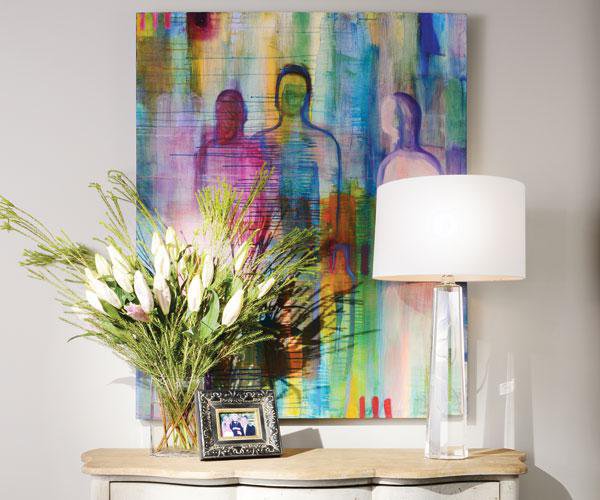 Stephanie Cramer
Bright, vibrant, active and larger-than-life paintings have been Stephanie Cramer's passion since she was a young girl. Cramer discovered a talent for art when she was in the fourth grade and has been transforming colors into engaging scenes ever since. "I work from my mind," she says. "I start with covering the canvas in large strokes of color and then direct the scene." Most of Cramer's pieces run on the large side, and you can see more of her work at Obelisk Home or by visiting obeliskhome.com and clicking on "Gallery Artist."
Josh Mitchell
If you're not already familiar with photographer Josh Mitchell's work, plan on making a pit stop at his Springfield studio along Cherry Street. Mitchell has transformed an old service station into a cozy artist's haven. The walls are covered with his photos from smaller frames to massive three-panel pieces. Most of Mitchell's work focuses on nature, but he lends his creative touch to each image, so a tree is never just a tree. You can see more of Josh Mitchell's photography at his studio at 1424 E. Cherry St., Springfield, 417-860-2121, joshmitchell.com.
Alyce Cox
If your walls are in need of something bright and welcoming, Alyce Cox's oil, acrylic and pastel paintings might be what you need to bring some extra cheer into your home. Bright landscapes and seaside views make up a bulk of Cox's work along with canvases that burst with vibrant flowers. And because Cox especially loves plein air painting, she captures those gusts of wind and soft summer suns with blurred lines and forgiving angles. You can see more of Cox's work at the Midtown Carnegie Branch Library from March to May.
Justin Gault
For that abstract piece of art that displays different scenes for each viewer, Justin Gault's colorful pieces are just the thing. The viewer never knows what they'll see next, and neither does Gault. "Essentially I allow the method to define the final outcome," he says. "I start with a blank canvas and a meditative mind, then I just start moving pigments around." Sometimes the result resembles an animal or a landscape, and sometimes Gault blends Masonite into his pieces to give them a sense of movement. See more of Gault's work at justingaultstudios.com.
Tyler Estes
It's not every day you can decorate your walls with psychedelic cave graffiti. That's what Tyler Estes calls his artwork. Estes has been painting for eight to nine years and uses everyday objects and paints in his works. "There's a lot of lines and colors and bold statements in my work," he says. "People have my stuff in kids' rooms, kitchens and in their businesses." His work ranges from as small as a sheet of paper to full-size murals. To see more of Estes's work, stop by Arts and Letters or Springfield Brewing Company.