Designed With Purpose
A team of 417-land building and design experts prove that aesthetics and accessibility can work hand-in-hand.
By Jennifer Adamson | Photos by Randy Colwell
Mar 2015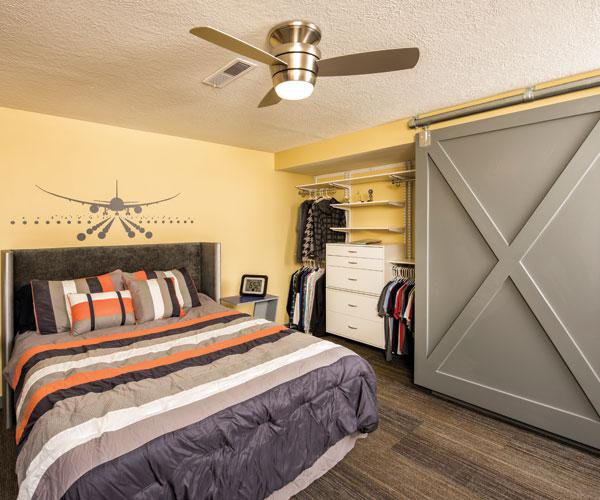 Levi Decker spends most of his time in a wheelchair. Born with cerebral palsy, his muscles are too weak for him to stand or walk on his own. Even ordinary tasks take an extraordinary amount of time. But a major renovation to his family's home is changing that. Their 1,300-square-foot basement, once difficult to access and enjoy, is now fully handicap accessible, giving Levi the freedom he deserves.
"We were really just interested in creating a life where he could be as normal as possible," says Julie Mercer-Kidd, Levi's mother.
When Kidd and her husband, Chip Kidd, bought their Battlefield home in 1999, Levi was still crawling. As he grew, they realized the place wasn't suited for a wheelchair and walker, and with most of their time spent downstairs, it became difficult to safely transport the growing boy. Having lived in the house for many years by the time Levi graduated from high school, they didn't want to move, but they knew some changes needed to be made for Levi to have his own space to thrive. 
The Kidds called in Jason Bekebrede, owner of Monticello Homes & Development. Together, they worked with Levi's physical and occupational therapists to draw up plans for a basement completely remodeled in accordance with the Americans with Disabilities Act. Narrow doorways were expanded, ramps were added, and other modifications were made to create a place where Levi can feel safe and comfortable. 
Dale Peer of Dale Peer Home Design was the architect on the remodel project, and interior designer Kelli McDowell of Mark McDowell Design incorporated an aviation theme throughout, a nod to Levi's love of travel and fascination with airplanes. "A lot of the process was putting ourselves in his position and trying to make sure he would be able to use everything," Bekebrede says.
Levi now spends most of his time downstairs while his parents live upstairs. He makes his own bed, has friends over, and runs on his own schedule. "Our big thing has been for him to make sure he's as independent as possible and confident and socialized with the rest of the world," Mercer-Kidd says. "I think this means everything to him."
The remodeled basement now features artwork that matches Levi's interests. A chalkboard in the guest bathroom gives Levi a place to share personalized messages.
In designing the kitchenette, durability and functionality were key. Upper cabinetry was too high for Levi to access, so lower cabinets with large, easy-grip pulls were added. An open basin below the sink gives Levi leg room to use the faucet, which only has one handle to make it easy for him to find the right water temperature. Quartz countertops will resist wear and tear, while porcelain tile is good for withstanding damage from water that gets sloshed in from the pool out back.
In the bathroom, a shower ramp, toilet safety rails and grab bars give Levi a sense of security as he moves about the space. Bekebrede says that when framing a room where grab bars will be mounted, plenty of blocking should be installed behind the walls to increase anchor points. Other elements in the room, like mock plane windows above the towel hooks, continue the aviation theme, making Levi feel as if he's inside an airplane.
The living space was kept open as a thoroughfare to other rooms downstairs, as well as for family and friends to gather. Laminate flooring provides a hard, smooth surface that won't show wear as Levi rolls in his wheelchair. The staircase was upgraded with a handrail and stairlift, giving Levi the ability to transport himself without assistance. The heights of light switches and outlets were adjusted to accommodate his reach. "Always work with contractors that understand ADA regulations," Bekebrede recommends.
Just off the bedroom, the media room is perfect for hanging out with friends or catching up on television. Levi can operate all his entertainment devices, including his gaming station, from one remote control or tablet. Seats reclaimed from a Branson movie theater are reminiscent of seats in an airport terminal. This room also serves as a storm shelter, with two heavy barn doors Levi can close to block the sound.