DIY
D.I.Y Terrarium
Experts at Wickman's Garden Village share how you can create your very own terrarium.
By Savannah Waszczuk | Photos by Brandon Alms
Mar 2015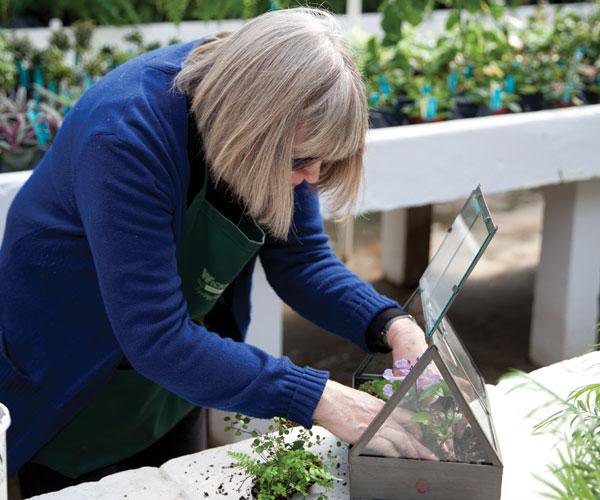 Created to grow and display plants, terrariums are beautiful little enclosed containers in which you can grow a host of botanical creations including mosses, ferns, palms, succulents and more. The handmade pieces  are the perfect way to bring a little bit of the outside indoors, as they look gorgeous and are easily maintained with light watering. Also, they're easily customizable, because there are literally thousands of options and combinations when it comes to choosing the plants and decorative items that will go inside. 
If you want one for yourself, you can buy completed terrariums and custom-ordered versions at a handful of local spots, including Wickman's Garden Village (1345 S. Fort, Springfield, 417-862-3707, wickmans.com). There are three experts who create the bountiful terrariums sold at Wickman's, and the creations start around $20. 
While some designs are built from custom orders through the flower shop, there are often other terrariums up for grabs, too. "Terrariums are for sale year round here, but during our busy spring season, it's sometimes difficult to keep many on display," says Nikki Petitt, nursery manager at Wickman's Garden Village. If you want one for yourself, have no fear: The pros at Wickman's shared step-by-step directions so you can build your own. 

SUPPLIES
Glass container of choice
Pea gravel or pebbles
Charcoal
Sphagnum moss or coffee filters 
Soil mix or sand
Plants of choice 
Decorative items such as rocks, shells, driftwood and ornaments
Directions 
1. Arrange your supplies on a table or large work surface. Line the glass container with a layer of washed pea gravel or pebbles. This layer will act as the drainage area.
2. Add a layer of charcoal over the gravel. This layer helps keep the odor under control.
3. Add sphagnum moss or coffee filters to create a barrier and prevent the soil from washing down into the drainage area.
4. Add a layer of soil mix or sand, depending on the type of terrarium you are making.
5. Now it's time to plant! We suggest pairing plant varieties that demand the same type of sun, moisture and growing conditions. Plants that stay small or grow slow are the best options.
6. Time to accessorize! Add decorative accessories of your choice such as rocks, shells, driftwood or ornaments. 
7. To maintain, water plants with a turkey baster or mist them with spray bottles.
Terrarium pairing options:
Low Light Plants:

aglaonema
dracaena
philodendron
mother-in-law tongue
nepthytis
parlor palm
peace lily
spider plant

 

Bright Light Plants:

cactus
shamrock
succulents
croton
kalanchoe
venus fly trap
sun dew

 

Moist Soil:

aluminum plant
arrowhead
artillery
baby tears
Chinese evergreen 
creeping fig
venus fly trap
sun dew
carnivorous
English ivy 
nerve plant
fittonia
mosaic plant
podocarpus
prayer plant
airplane plant
Swedish ivy
wandering jew

Medium Light Plants:

epicia-flame violet
fittonia-nerve plant
ivy
prayer plant
pepperomia
pilea-panamiga
podocarpus
violet
streptocarpus
ficus
begonia
fern
pothos
string of hearts
dracaena
spider plant

 

Light Watering Plants:

violets
asparagus fern
begonia
flame violet
strawberry begonia
podocarpus
croton
parlor palm
pepperomia

 

Dry Soil:

airplant
hen & chicks
jade
devil's backbone
mother-in-law tongue
dracaena
philodendron
haworthia