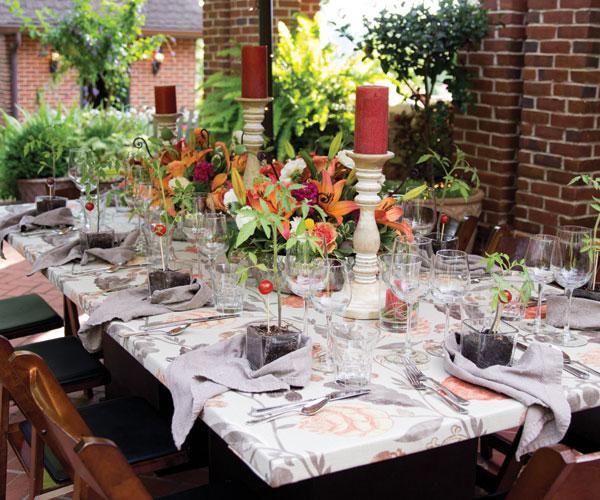 When you have the perfect tree-lined backyard that drips with charm and ambience, dust off that patio furniture, invite the friends and open a bottle (or two) of wine. Good times are sure to follow.
And if you need pointers on how to throw a truly fabulous backyard bash, just ask Tony Hawn and Geoff Stanczyk. The Springfield couple is well seasoned in outdoor entertaining. In fact, they throw a garden party every year, and last July the couple upped their game by bringing local Chef Craig von Foerster and his wife, Tamara, on board. The result was a six-course meal that lasted late into the night.
"We wanted to step it up and raise the bar," Hawn says. And the two did just that. With the help of the von Foersters, the couple's traditional garden party went from ordinary to extraordinary. Custom invitations designed by Tamara were mailed to friends. The yard was sectioned off into two dining areas, so guests first enjoyed cocktails and appetizers in the decorated front lawn. Out back, a table was set and decorated with fresh flowers, candles and perfectly assembled place settings.
Each of the six courses was paired with a wine. There was even a sommelier present to answer any questions, and Chef von Foerster made an appearance to introduce each course. As the sun set against the lush backdrop, guests ate their way through basil-infused cherry tomatoes, Hawaiian blue prawns, goat cheese fondue, quail BLTs, braised short rib ravioli and finally strawberry soup with basil panna cotta and crème fraiche ice cream. In between bites, the friends shared stories about times long gone or adventures on the horizon. "Do we live like this every day? No," Stanczyk says. "This was a way to celebrate our friends."

Eat, Drink and Be Merry: Geoff (pictured left) mingles with guests and enjoys signature cocktails at the outdoor party. Dinner included six courses (top left) in Tony and Geoff's backyard (above right), which served as the party backdrop for the evening. Each guest brought a bottle of wine that was tied to a story or memory, and they shared the wine and stories with other guests (right). Tamara von Foerster made custom invitations (above left) for the night's event.

English-Inspired: Tony Hawn and Geoff Stanczyk host a garden party for their friends each year, and use their English-style yard as inspiration for the big event.

Behind the Scenes: As guests mingled out back, Chef Craig von Foerster was busy in the kitchen preparing each of the six delectable courses. 

Itty Bitty Bites: The menu featured an array of foods prepared with fresh ingredients from the von Foerster farm.

Dining by Candlelight: The back patio was decorated with fresh flowers and candles to create an elegant atmosphere. 

Snack Attack: Guests were welcomed with hors d'oeuvres and custom cocktails that were made with fresh basil from the von Foresters' garden.

All in the Details: Chef von Foerster worked with the couple to plan a seasonal menu that featured local produce, and Tamara designed the custom creations.
Worthwhile Upgrade: Tony (pictured) and Geoff wanted to upgrade their annual garden party by making the event more than a traditional outdoor barbecue. 

Cozy Setting: Tony and Geoff love relaxing in their backyard, so it seemed natural to invite their friends.

Cheers:Each of the meal's six courses was paired with wine.

Outdoor Dining: Tamara von Foerster decorated and helped plan the night's event. She even brought in a custom-made table to seat the whole party.

Seasons in the Sun: Even though the dinner took place in the middle of summer, the heat of the day melted away, and a cool night's breeze made dining outside ideal.