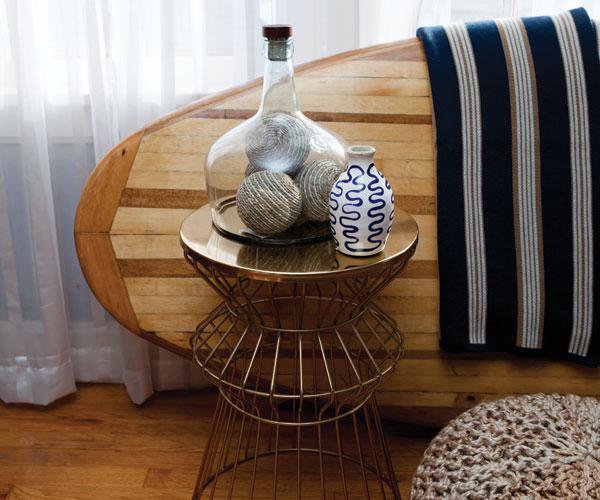 Paddleboard, $1,500 at Nomad; handpainted stoneware vase, $17 at Ellecor; twine balls, $6 each at Ellecor; Europe 2 You Demijon Cloche clear tin, $138 at Ellecor; Troy cotton throw, $200 at Obelisk Home; Deco pouf, $130 at The Market. Find more lake-inspired home décor on p. 40.
1. Belgravia accent stool, $275 at Obelisk Home 2. Barrister clock, $125 at Obelisk Home 3. Starboard rope lamp, $280.99 at Countryside Cottage 4. Lauren white textured pillow sham, $75 at The Market 5. Villa natural pillow with buttons, $85 at Ellecor 6. Blue tassled pillow, $129 at James Decor 7. Harper "Bliss" duvet cover, $265/queen size at The Market 8. U.S. Naval blanket, $225 at Obelisk Home
Paddleboard, $1,500 at Nomad; C and F striped pillow, $38.50 at The Market; lake house pillow, $52.99 at Countryside Cottage; ampersand pillow, $80 at Obelisk Home; Barefoot Dreams "Baja" blanket, $100 at The Market; The Ian Collection striped queen-size quilt, $265 at The Market
Santorini lamp, $425 at Obelisk Home; anchor vase, $44.99 at Countryside Cottage; propeller vase, $34.99 at Countryside Cottage; Mermaid bookends, $56.99 at Countryside Cottage 

Gold propellers, $55–125 at Nomad; blue glass vases, $69–119 at James Décor

"Fun for the Whole Family" metal sign, "Where Nature Casts Her Spell" metal sign, both $94.99 at Rusty Moose Lodge Decor; Giftcraft large glass jar, $54.99 at Countryside Cottage; lake pillow, $31.50 at Me and My House; camel mohair cable throw, $225 at Obelisk Home

Knollwood Lane flyfish pillow, $44 at Grayson Home 2. Locally made down pillows, $55 at Grayson Home 3. Vintage canoe paddles, $285–439 at Obelisk Home 4. Driftwood ball, $89 at Obelisk Home
LOCAL SHOPPING RESOURCES
Love this collection of nautical home accessories? Scoop up these items and more at the following 417-land stores.
COUNTRYSIDE COTTAGE
1316 E. Republic Rd., Springfield, 417-882-7997, shopcountrysidecottage.com 
ELLECOR
2144 E. Republic Rd., Ste. A100, Springfield, 417-720-2602, ellecordesign.com
GRAYSON HOME
404 W. Walnut St., Springfield, 417-299-0227,
JAMES DÉCOR
1324 E. Republic Rd., Springfield, 417-883-2616, jameshomedecor.com
THE MARKET
2628 S. Glenstone Ave., Springfield, 417-889-1145
ME & MY HOUSE
3405 E. Battlefield, Ste. 128, Springfield, 417-720-1291
NOMAD
318 W. Walnut St., Springfield, 603-530-2586
OBELISK HOME
214 W. Phelps St., Springfield, 417-616-6488, obeliskhome.com
RUSTY MOOSE LODGE DECOR
1722 S. Sieger Dr., Springfield, 417-890-7777, rustymooselodgedecor.com