Mindful Design
Eco-friendly designs don't have to be limited to clean lines and modern structures. Lela Panagides and Mark NeSmith teamed up with interior designer Gina McMurtrey to remodel their home and give it a sustainable interior design.
By Rose Marthis | Photos by Jeremy Mason McGraw
Mar 2015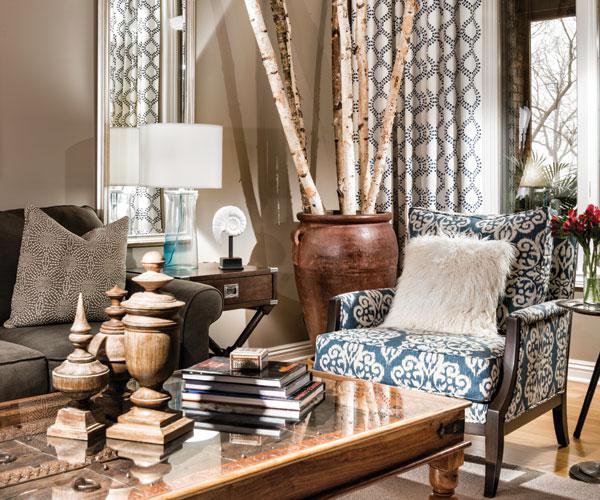 When Mark NeSmith and Lela Panagides moved into their east Springfield home in spring 2013, they couldn't change the structure to build their perfect eco-friendly space. To solve that problem, they focused on creating an eco-friendly interior. Being all-natural became the inspiration for every design choice they made. Panagides wanted her home to have as little impact as possible on her family's health and the health of Mother Nature, so she dug deep online and pored over design books to find everything she could do to make her home sustainable.
Improving Air Quality
Panagides researched the impacts of environmental quality of living spaces on health and psychological health, and she wanted to reduce the amount of pollutants in her home. "Since you spend so much time in your home, it has to be healthy and it has to help you feel your best," Panagides says.
Panagides looked into the problem areas for air quality and worked with interior designer Gina McMurtrey to find all-natural fibers for her upholstery, rugs, curtains, linens and furniture. She also painted her walls with paint that didn't contain volatile organic compounds.
The couple held sustainability as a high priority and found every opportunity to use reclaimed and repurposed furniture. The coffee table had previously served as their dining room table and as a door, and the new dining room table is made from wood salvaged from an old barn. When Panagides needed a new look for her sofa, she reupholstered it with a natural linen fabric and found throw pillows stuffed with recycled filling. 

Fresh Air: Indoor plants were brought in to help filter the air quality.
Since her family loves being close to nature, Panagides brought in indoor plants, which she says help filter the air.  She also installed a waterfall in the backyard. The waterfall flows into a pond and contains no chemical cleaners, so it is a natural water source for wildlife in the winter. Panagides also avoids using pesticides on her lawn to preserve an organic landscape. 
Lowering Energy Costs
To reduce energy costs, NeSmith installed a panel that controls the lights and heating and cooling systems that can be controlled by a phone app. Panagides also put a solar tube where the dining room and kitchen meet to increase natural light and save electricity. The couple also sealed against leaks around the outlets and doors and installed an industrial-grade air filter after assessing their home energy rating. 
By focusing on how every element of the home impacted personal and environmental health, Panagides, NeSmith and McMurtrey accomplished a peaceful space that showcases the couple's cultural style and their desire for a home their family and friends can be happy and healthy in. 
6 Ways to make your home more eco-friendly
In addition to using recycled materials and untreated natural fibers, use these extra tips from Lela and Gina to update your interior design and make a space friendly for the health of you and the earth. 
1. Save energy. Save energy costs by installing ceiling fans to improve airflow and help cool your home in the summer. You can also switch to high-efficiency light bulbs and install dimmer switches to lower energy use when possible. 
2. Buy responsibly. When selecting furniture, find manufacturers that use certified eco-friendly products without chemical treatments. Look for rapidly renewable resources, like bamboo and eucalyptus. 
3. Use green cleaning products, or make your own with ingredients like vinegar, baking soda, lemon juice, and water (check out "Chemical Free Cleaning," p. 34). A good rule of thumb is to be able to pronounce and recognize ingredients of purchased cleaners. 
4. Pay attention to your floors. Instead of wall-to-wall carpeting, use hard flooring made out of reclaimed wood, bamboo, cork or concrete, and then use area rugs made from wool or hemp. When cleaning carpets, find companies that use green-certified cleaners and avoid chemicals. 
5. Go organic. Get your beauty rest with organic bed linens and pillows filled with recycled materials, such as plastic bottles. 
6. Ditch your shoes. Make a house rule to leave shoes at the door to avoid bringing in dust, dander and chemicals you picked up outside. This helps keep down allergies and makes your home easier to clean.