Retailers
Stop in and Shop at The Polish Pottery Shoppe
The Polish Pottery Shoppe sells a beautiful variety of pottery, blown glass and other handcrafted works of art.
By Savannah Waszczuk
Mar 2015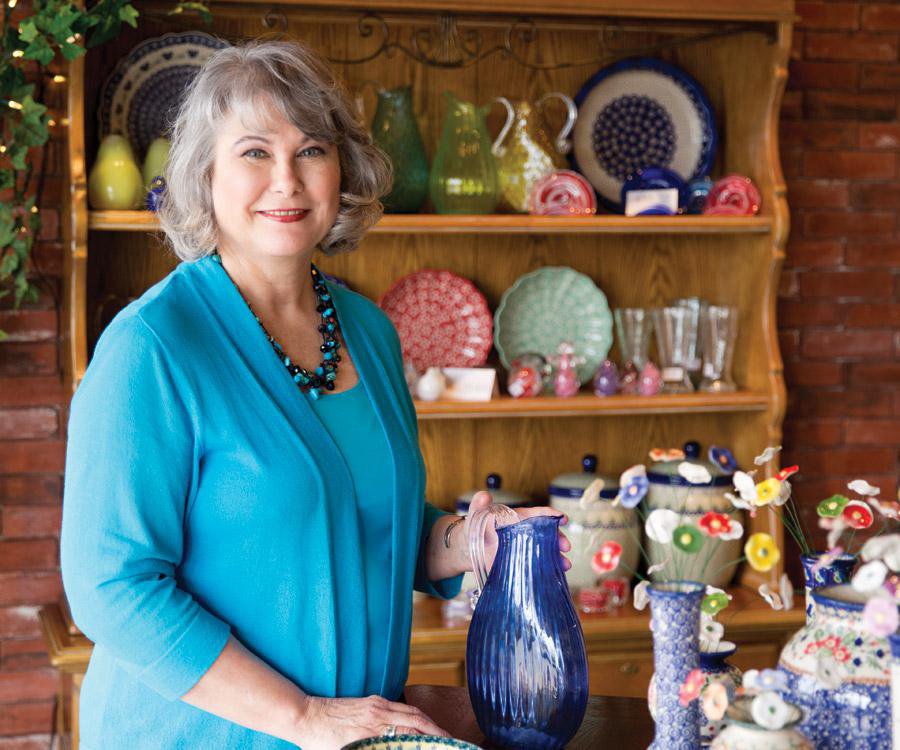 The Setting
The perimeter of The Polish Pottery Shoppe is lined with shelves that are loaded with beautifully painted plates, mugs, baking dishes and other hand-crafted works of art. Each and every piece boasts its own design displayed in vibrant shades of blue, with accents of red, yellow green and more helping bring them all to life. There are also pieces arranged in table settings, and even various pieces of fiber art displayed on the walls. For those who love hand-crafted works of art, the place is a dream. It's the perfect spot to get lost for a couple of hours while you casually stroll around studying every piece.  
The Owner
Cindy DeLong opened The Polish Pottery Shoppe in August 2014. DeLong has degrees in journalism and clothing and textiles, and she even has her masters degree in textiles and quilt studies. She has a love for all handcrafted arts, which is what led her to open The Polish Pottery Shoppe. "A friend of mine first introduced me to Polish pottery," DeLong says. "I bought a set of six salad plates, and I noticed that they were extraordinarily durable." After developing her concept and working with the Small Business & Technology Development Center at Missouri State University, she had her business plan.  
The Stuff for Sale
Just as the name implies, all of the pottery in the shoppe comes from Poland. It's made with a fine-grain clay that is mined from a riverbed in Boleslaweic, Poland, specifically for making Polish pottery. After the clay is mined, it is cleaned, refined and thinned and then hand-poured into molds. Next it is fired, hand-painted, dunked in glaze, fired again and then finished. The pottery comes in four varieties: Traditional Patterns, which are the simplest in design and color and are the least expensive; UNIKAT Designs, which feature more complex designs and a wider array of colors; and Signature and Premier Designs, which are both designed and painted by master artists. The Premier patterns are the most elaborate, and they are exclusive to The Polish Pottery Shoppe. The durable pottery is oven-, microwave- and dishwasher-safe, which makes it just as functional as it is beautiful. 
In addition to pottery, DeLong has expanded her inventory and brought in other handcrafted works of art made from local artists, which is something she planned on doing from the first stages of her business plan. This includes fiber art by local fiber artist Judith Ferguson and hand-blown glass by local glass artists Terry and Gabe Bloodworth of Springfield Hot Glass (Editor's Note: Since the initial publication of this article, Springfield Hot Glass has closed). 
The Summary
If you're a lover of art and beautiful dishes or serving pieces, you'll drool over many of the items at The Polish Pottery Shoppe. If you want more than you're able to buy at once, you can even make a registry list and tell your friends and family about it! The shoppe also offers bridal registry, and it's the perfect spot to buy a gift. Enjoy!