The Papercrete Potter
Highlandville resident and former mayor Lee Coates is mixing and molding ceramic pottery from trash.
By Ren Bishop | Photos by Kevin O'Riley, courtesy Lee Coates
Mar 2015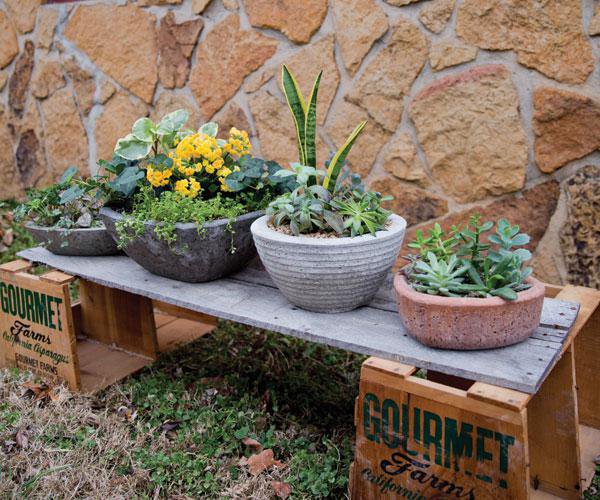 Lee Coates is good at making two things: jokes and pots. But both sets of his creations are inspired by the world around him.
"There's nothing new under the sun," says 66-year-old Coates. "The walls of Jericho were made with a similar recipe to how I make my pottery. We're just adding and adapting modern ingredients into an old recipe."
Eight years ago, Coates wanted to display the dwarf Bonsai-style Japanese maples he raised. As a co-owner of Peggy's Flowers, Coates had many resources at his fingertips, but every container he could find was too expensive or not quite right. He then decided to search for a D.I.Y. solution online, and he found a fellow gardener in Croatia who had developed a new recipe for an ancient form of concrete. Coates took that recipe and played with it for six months until he got it just right.
"We shred newsprint and soak it in water for a few days," says Coates, who is also known as the papercrete potter. "Phone books work great for this process. Any newsprint works great. If you've got junk mail, you've got a flower pot."
After the newsprint is well-soaked, Coates turns the slush to pulp by mixing it with an electric drill and a small paint mixer. Portland cement and perlite are added, the substance is mixed one more time, and then the pulp can be molded into any shape.
"I have the artistic ability of a slug, so I have to have a mold to put slush into," he says. "I can build anything out of wood, but I always need a mold for pulp."
Coates and his wife, Peggy, travel around the country selling papercrete creations at garden and vintage shows, and the papercrete potter and his creations' popularity continues to grow. In December, Coates was featured in The Dallas Morning News after receiving much regional press. 
It all keeps the semi-retired gardener busy—last year, Coates taught more than a dozen classes on the papercrete method at gardening events across the region, and he made and sold more than 2,500 ceramic pots made from recycled materials of all shapes, sizes and colors. 
"America's only growing resource is trash," he says. "Anybody can make these pots. I've taught the papercrete method to students all over the country ages 5 to 93. It's mud pies for big kids, and if you can recycle, repurpose or reuse something, it just benefits everybody."
Buy it Now
The papercrete potter sells his pieces by request for an average of $20 at Garden Adventures Nursery (1900 W. Mount Vernon St., Nixa, 417-725-3223, gardenadventuresnixa.com). See what's for sale or view his upcoming classes on his blog, thepapercretepotter.blogspot.com.