Advice
A Day with a Trim Carpenter
Everyone knows that trim puts the finishing touch on a home. We go behind the scenes with a local trim carpenter to see how the magic happens.
By Rose Marthis | Photo by Brandon Alms
Mar 2016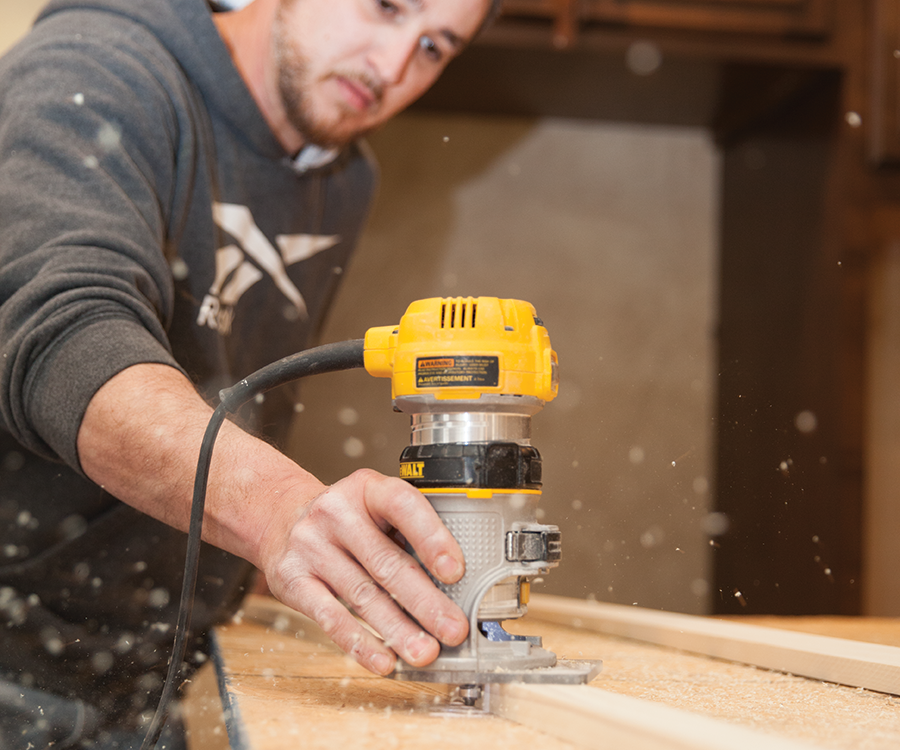 When you build a custom home, you know who your builders and interior designers are, but do you know who perfects all the details that give your house character? Enter Sam Parker, a  local trim carpenter with SPCustomWoodworking. I visited him at a custom home to learn what goes into his job—one that's often overlooked.


Closets
We started our day by finishing a custom closet in the master bedroom. One of Parker's favorite things to do is closets. In spec homes, he's found a system that works and sells, but in custom builds, he likes to personalize them to the homeowners' tastes. 
While working on the closet, I watched Parker measure and install the last few shelves before moving on to the trim. This closet had paint-grade trim, which is the basic, cost-effective model, as opposed to stain-grade trim, which can be thicker and requires precise installation. He sometimes uses a pocket screw system to join the pieces so they won't separate. Once the master bedroom closet was finished, we moved on to the coat closet. It just needed one more shelf, so Parker measured twice, cut once and installed. Good to go.


Pantry
The other big project in the house that day was the pantry. Similar to closets, pantries are another space that deserve close attention, Parker says. "Invest in closets and pantries, because you'll use them every day," he says. He was starting the pantry that day, so the very first step was cutting boards to size and sanding them. Then he built the pantry boxes and drilled holes for adjustable shelving.


The Rest of the House
The only thing Parker doesn't do is cabinets, because a factory is faster, he says. But he can do a lot more than just trim. He's done pocket doors, soffits, doggy doors, corbels, pergolas, beams, stairs, flower boxes, shutters and even decks. 
This all comes from his experience in construction, framing and working with lumber companies. What makes him so good at his job? He's an innovator. "Trim work isn't knowing every process," he says. "It's knowing the basics and being able to problem-solve." Parker says homeowners rarely realize that he's the only one doing all those projects, but to him, it's a vital part of what makes a house interesting.