Projects
Artificial Outdoor Grass
Artificial outdoor grass has come a long way since AstroTurf, and one local company is ready to install it in your backyard.
By Matt Lemmon
Mar 2016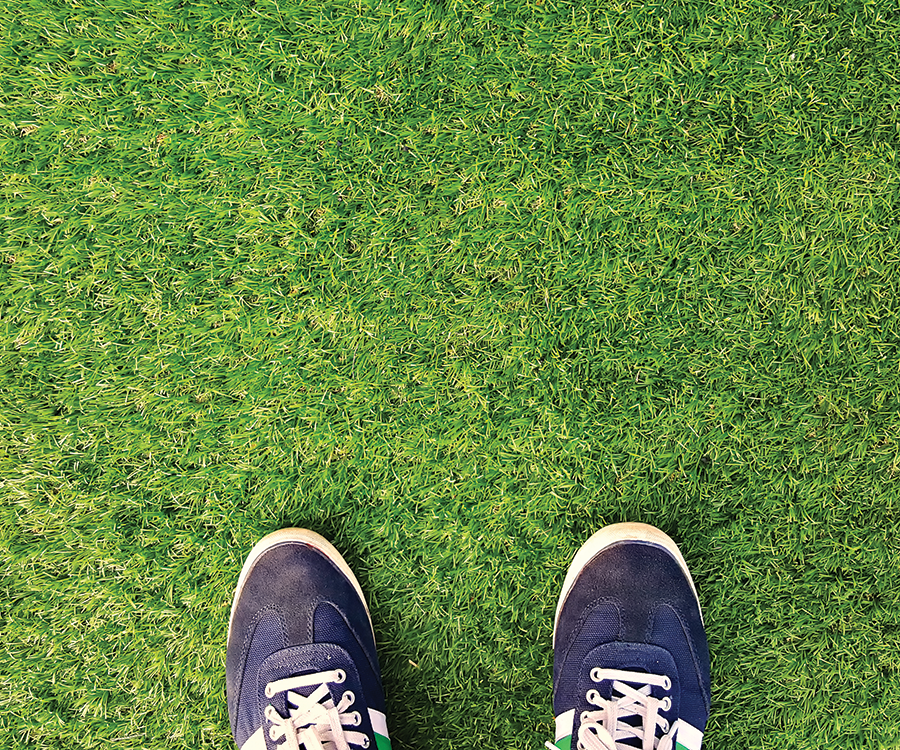 Anyone who's seen an episode of The Brady Bunch has wondered: How did those kids not scar up their knees playing on a thin strip of AstroTurf? Still, Mike Brady had the right idea. For outdoor spaces—particularly those of limited size—turf can be a convenient option. And besides, who has time to mow with one kid, much less six?
Thankfully, your options have improved significantly since the late '60s. But when it comes to finding a local pro who installs the stuff, we called many companies and didn't have much luck. Then we talked to Kevin Runyon, owner of 417-land's Custom Creations Landscaping & Lawn (417-840-2863, customcreations417.com), and learned he's one of the perfect guys to contact if you want that picture-perfect yard without all the work.
Runyon says there are all sorts of materials and lengths available. Modern turf can be made of vinyl, nylon or recycled plastic and installed in lengths from super-short (for, say, a private putting green) to an inch-and-a-half or two inches for a more natural look.
More popular, Runyon says, is turf for a small entertaining space where you might set a kitchen area or an intimate patio arrangement, and want to enjoy the feel of soft grass under your feet year round. "This is very different from what people might have experienced with turf in the past," Runyon says. "This stuff is very realistic and durable."
Though it's quite popular in southwestern desert and drought-prone climates, Runyon says it makes up a small part of his business in 417-land. But that doesn't mean it isn't a smart decision for the right space.
Turf is priced—both for materials and installation—much like carpeting, with cost varying based on the type and quality. Installation can cost anywhere from $1 to upwards of $3 per square foot, with materials going for 30 to 75 cents per square foot. 
When it's time to install, professional installation is your best bet unless you're handy with machinery. The pros can do a normal-size job in a day, while do-it-yourselfers should plan on a multi-day project involving several stages. The last step is to spread a sand or milled rubber infill throughout the turf, which provides not only the base to make the blades stand up, but also a bit of cushioning. This infill must occasionally be raked or re-added, particularly if the turf is on a slope, but overall this is the extent of maintenance. 
If you're worried about your pooch, don't be: the turf isn't toxic to dogs. But it's not recommended if you have pets who like to dig, as it can be destroyed once they get a few paws deep. 
But if Fido isn't a worry and you're ready to ditch the dreaded yard work, give it a shot—that very Brady lawn is just one project away.