Outdoor Spaces
Backyard Sauna
Marionville-based Alpine Wood Products has been well known for its cabinetry for years, but it recently started manufacturing a new product in the home world: saunas that are customizable—from their size to their function.
By Peyson Shields
Mar 2016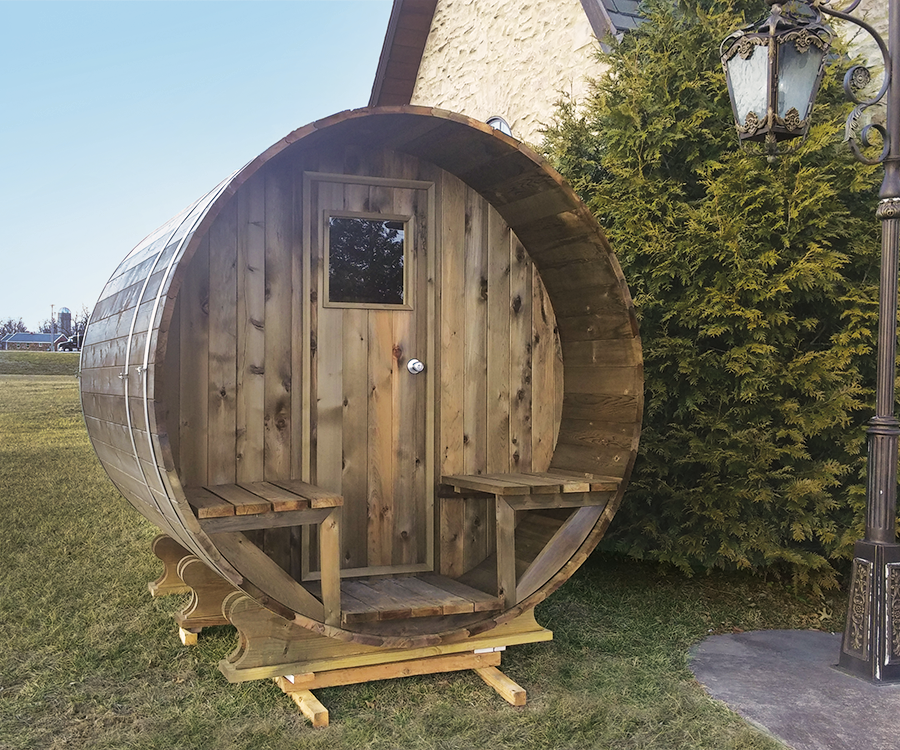 Saunas don't just have to be ski trip special. Adding a sauna to your home can allow for a healthy and relaxing end or beginning to the day. Plus, they're customizable, so they can suit your needs.
John Boyd, owner of Marionville-based Alpine Wood Products (417-258-2584, alpinewoodproducts.com), wants to bring the sauna trend to the Ozarks. He says his saunas, modeled after popular styles in Canada and Europe, look like oversized wine barrels. They are  seven feet in diameter, and very aesthetically pleasing. "The whole thing is held together with a stainless steel band," Boyd says. Made of cedar, the barrels are made to sit outside of your home, to be both luxurious and pretty.
Alpine's saunas have cooling porches with built-in benches, and they come in two sizes. There is an 8-foot version with enough room for four, as well as a 12-foot version large enough for eight. The circular design works almost like a convection oven, with 25 percent less space to heat. "There are no corners for heat to get caught in," Boyd says. Speaking of toasty temperatures, the heaters built into the saunas are one of the best in the world and come from Finland, says Boyd. The coal-based heater works like one you might have seen in a spa or locker room, using water. Plus, it's made of stainless steel to keep it rust and maintenance free. 
Customization doesn't stop at the size—they double as whatever your heart desires. Boyd says the saunas can be used as a camp house or even a potting shed in the summer, or when not in use. Depending on your needs and wants, shelving units for plants or even bunks can be built into the sauna. Electricity can also be a personalized detail.
Besides the relaxing atmosphere of a sauna, unwinding in the heat can actually provide a slew of health benefits, says Angie Hart-Dodson, head instructor and studio manager at Sumits Hot Yoga. Hart-Dodson says spending 15 to 20 minutes in concentrated heat like a sauna increases blood flow to the lymphatic and endocrine systems, as well as muscles and joints. By sweating you're not only detoxing, but if you add in movement, your heart rate will increase, creating that cardiovascular stimulation.
Hart-Dodson recommends meditating or even doing seated stretches while in the sauna, since heat makes your muscles more pliable. She says you can do seated stretches like lotus or butterfly, or even a forward fold, by sitting on the bench, extending your legs and then bending at your hip. She also stresses the importance of staying hydrated while in such a concentrated heat environment. 
Boyd's draw to introduce 417-land to custom saunas is simple. "Number one, they're good for you, and number two, they're very unique looking," he says.  
Adding a custom sauna to your home will start around $6,000 for a four person unit. They can be build ahead of time, or assembled on site.
If a custom sauna isn't up your alley or in your price range, an indoor unit may be the perfect compromise. Several locations offer different varieties, built as kits, to fit your needs and budget.
Harry Cooper Supply
605 N. Sherman Pkwy., Springfield
Spa Place Inc.
1011 Kenneth St., Nixa
ValaRiea Wellness Center
4121 S. Fremont Ave. #104, Springfield