Home Profiles
Christina Pike's Place
Eclectic furnishings and a bit of original charm make the dining room in Christina Pike's downtown Springfield loft a space to be admired.
Savannah Waszczuk | Photo by Brandon Alms
Mar 2016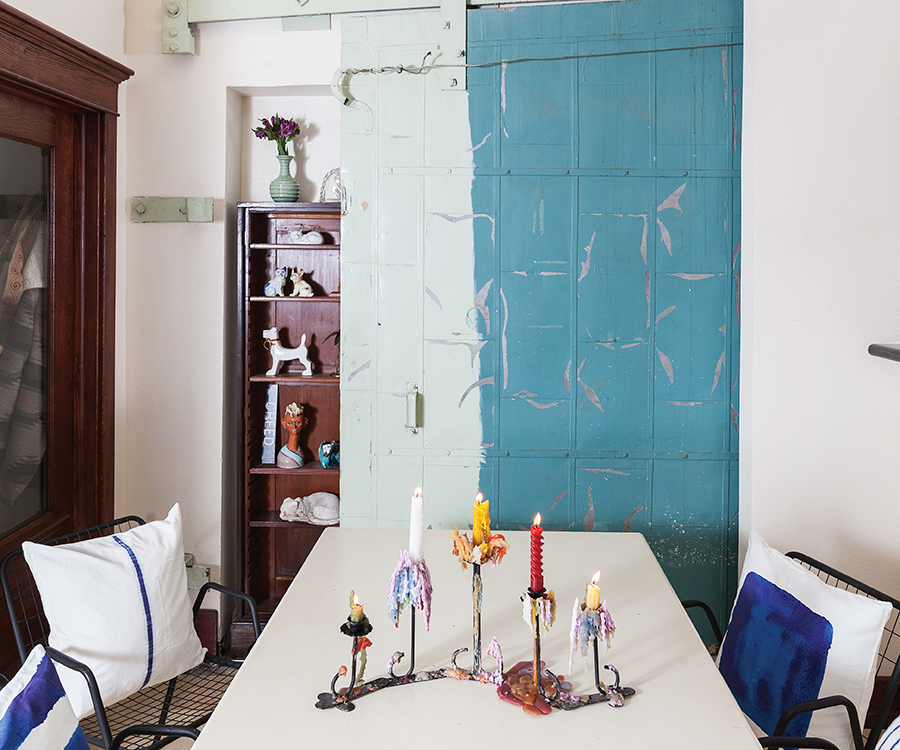 When it comes to her home, Christina Pike likes change. "I'm constantly moving all of my furniture around in here," Pike says of her downtown loft on Park Central Square. Located in a three-story building from the late 1800s, the loft was renovated by Springfield designer Jim Faulkner, and it's now the perfect 1,473-square-foot space for Pike to showcase her style.
"If i were somewhere with permanence, i would have an area to allow a giant wax collection."—Christina Pike
We particularly love Pike's dining room, which combines old with new thanks to fresh paint, travertine flooring and a beadboard ceiling. An old firewall in the room is original to the loft, and it brings in weathered shades of seafoam green and aqua along with natural wear. Behind the wall is a bookshelf—perfect for showcasing Pike's treasured collectibles—and a table with vintage metal chairs and plump throw pillows. "Every time I go to Ikea, I get myself a new set of throw pillows and covers," Pike says. "You can never have too many pilows. I like these for their Grecian, summertime-y, warm-weather vibe."
An old candelabra completely covered with wax from dozens of candles steals the show on the table. "People are always mystified by that thing," Pike says. "If I were somewhere with permanence, I would have an area to just allow a giant wax collection. When I first saw the idea I thought, 'What a freeing thing to be able to be messy and beautiful at the same time.'"
Pike says she loves the room just as much for its function. "My favorite thing about the dining room is the idea of it always having people in it," Pike says. "I love to have people over.