Outdoor Spaces
Courting a New Sport: Bocce Ball
Bocce ball courts require little maintenance and supply endless fun, and they're popping up in lawns all over 417-land.
By Ettie Berneking | Photos by Kyle Davis
Mar 2016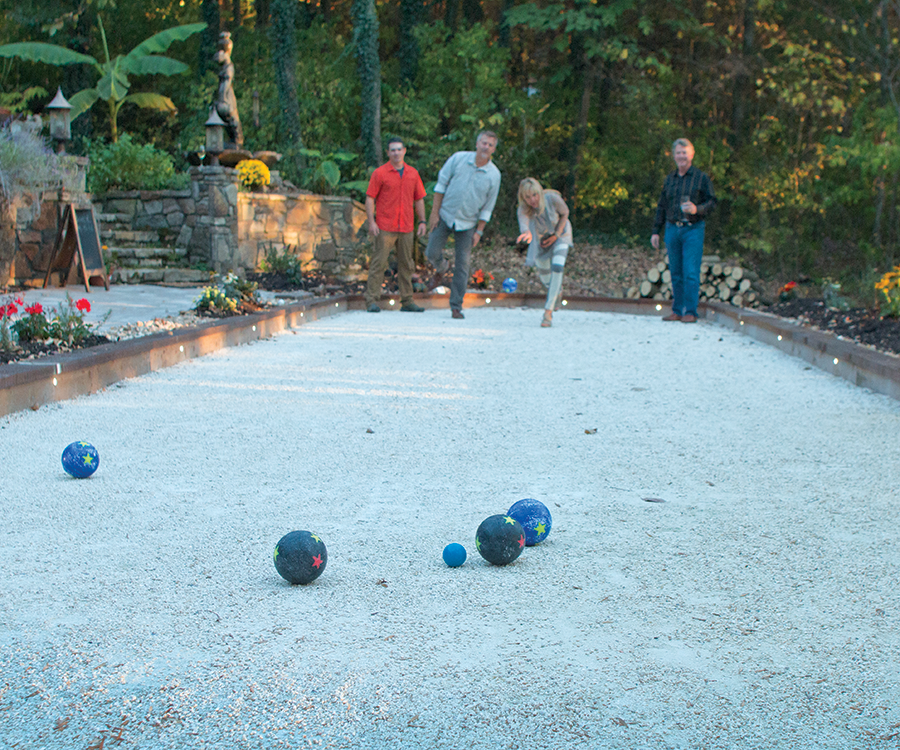 Think watersports and hiking are the big kahunas of outdoor fun here in the Ozarks? Well, you wouldn't be too far off, but one other sport in particular is also gaining popularity: Bocce ball!
Over the last year new bocce ball courts and leagues have popped up around Springfield, and now at-home courts are making an appearance. One couple in particular, Ron and Marilyn Hill of Euro World Design (euroworlddesign.com, 417-581-6057), are especially interested in the game, in part because they have their eyes set on starting their own bocce league. "We first experienced bocce ball during our travels to France and Italy," Marilyn says. "We saw how much fun they were having, and then I started seeing some courts in the U.S." After returning to Springfield and discovering friends who had their own at-home bocce ball court, the Hills decided to repurpose that swatch of grass in their backyard.
"Marilyn was back and forth between a pool and a bocce ball court," Ron says. "But once we put a court in for our friends, she said, 'Okay, we're doing this.'" For Marilyn, that meant making the court as authentic as possible with crushed oyster shells on top, pavers looping the perimeter of the court and built-in lighting to make evening games possible.
"The installation process is pretty simple," Ron says, and he should know after installing two other bocce courts around town, with five more set to be put in this year. "We cut into the ground about 8 inches and poured in a bed of gravel, topped that with sand, followed with crushed oyster shells." The different layers help the court drain well during rainfall, and besides the occasional raking of the court to smooth out any bumps and divots, maintenance is minimal, but the entertainment is endless. 
"I love that anyone can play at any age," says Jane McElvaine, who, along with her husband Rick, had Euro World Design install a bocce court in their backyard. While regulation courts can reach up to 90 feet in length, the McElvaines had theirs built to 76 feet in honor of the year they were married. "You don't need to know anything about the game beforehand," Jane says. "You can still come out and play."




Live It Up Outdoors: A perfectly arranged  outdoor dining area gives players a place to retreat to—and snack at—during breaks.


That sociability factor was a big draw, because the Hills frequently entertain family and guests out on their back patio. At Thanksgiving, everyone filed outside for a few rounds of bocce while they waited for dessert, and friendly games out back have turned into spirited competitions, especially with Bruno Gargiulo (owner of downtown Springfield's Bruno's Italian Restaurant), who currently reigns undefeated over the Hills' court.
"People will come over and say, 'Ah, we don't want to play,' but once they're down there, there's a real sense of competition," Ron says. "Even the kids can play."
When it comes to pricing and materials, bocce can be played almost anywhere and on almost any surface. The 60-foot by 12-foot court behind the Hills' home cost around $5,000, but that price tag can be cut pretty drastically depending on the material used. "You can make a court as cheap as you want," Ron says. "In fact, you can play on the grass. You can use AstroTurf or build a synthetic course." Or, if you're not yet ready to dig up your backyard, you can head to one of the bocce ball courts around Springfield. There are two courts at Doling Park and Family Center (301 E. Talmage St., Springfield, 417-837-5900), and each summer Mother's Brewing Company (215 S. Grant Ave., Springfield, 417-862-0423, mothersbrewing.com) hosts a weekly bocce tournament out on its grassy lawn.  
In the meantime, the Hills haven't given up on that bocce league of theirs. Ron is in the process of designing a carrier for their balls so that the next time Marilyn sees a bocce court in Italy, she just might be able to use her own star-studded balls.




Play Up an Appetite: The Hills take their game up a notch by hosting outdoor dinner parties with a side of competition.

Bocce 101:
Clueless about bocce ball? Check out these FAQs to get rolling:


What is bocce ball? 
Bocce is a two-team game in which players toss a small ball (the "pallino") down the court and then roll larger balls as close to the pallino as possible.
How do you score? 
Each player gets one point for each ball that is closer to the pallino than the opposing team's balls. 
What's the strategy?
There are two. Players can focus on rolling their balls closest to the pallino, or they can try to knock the opponent's balls away.
How do you win?
The team with the closest balls to the pallino scores each round. The length of a game varies, but it's typically from 7 to 13 points.
Want your own bocce court? These 417-land pros can help.
Custom Bocce Court Design:
Ron Hill, Euro World Design
Site Preparation-Backhoe:
Doug Pitts, Doug Pitts Construction
Patio Pavers, Fire Pit Installation:
Bocce Court Installation and Finished Landscaping:
American Lawn Professionals, LLC
Rock Delivery: