Food
Morel Mushrooms
How to spot, store and enjoy one of spring's most delectable crops: morel mushrooms.
By Ettie Berneking
Mar 2016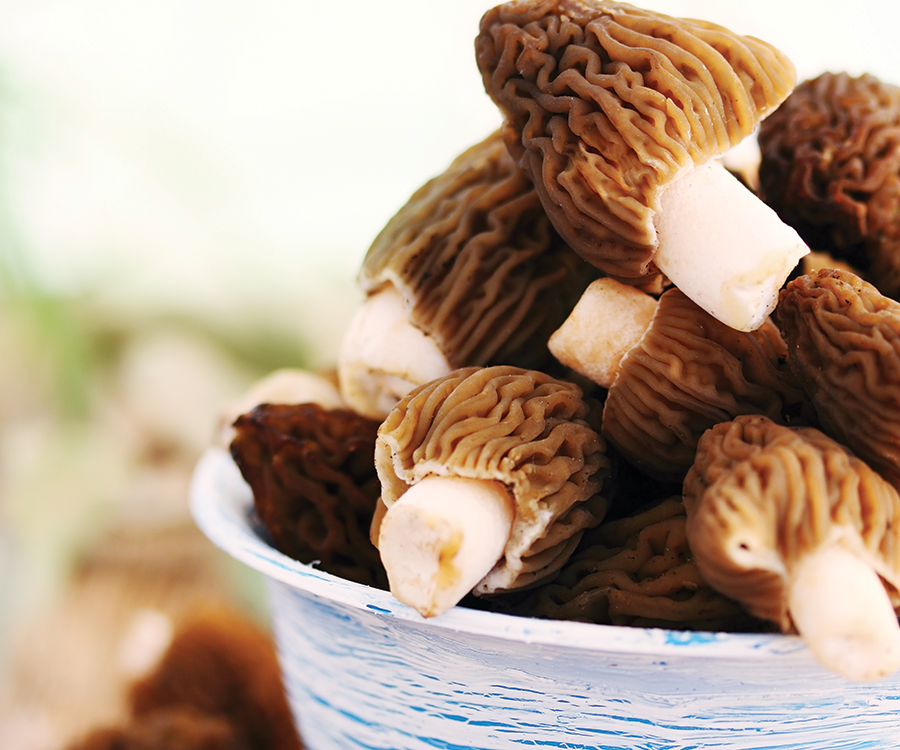 Here in the Ozarks, surrounded by endless natural beauty, any walk in the woods is enjoyable, but in the spring, there's one particular way to improve that jaunt. Spot a morel.
Each April, chilly temperatures and light showers provide these tender wild mushrooms with the perfect growing conditions, but don't be fooled. This elusive fungus is not an easy hunt. Track down a prime morel spot, and you don't even consider sharing your find with others. Instead, you haul your bounty home and enjoy each tender bite whether it's deep-fried, sautéed or, if you're Matt Trammell, mixed into a  creamy pasta.  
As the co-owner of Trammell Treasures Mushroom Farm (508 W. Mill St., Humansville, 779-875-4927), Trammell has spent the last several years growing and hunting Missouri mushrooms of all kinds and sells his crop of mushrooms at Farmers Market of the Ozarks. But unlike so many other foragers on the prowl for these sponge-topped fungi, Trammell didn't get hooked while out in the woods. Instead, his interest in mushrooms was piqued while at home.  
"We found mushrooms growing in our apartment after coming back from vacation," he says. A leaky washer and absorbent carpet had created a breeding ground for mushrooms, and just like that, Trammell was on the hunt. The first year was a bust, and Trammell went home empty-handed, but by the second year, Trammell was hauling home 15 to 20 pounds of mushrooms. The key to his success: spotting elm trees.
"You want a tree that's just died," he says. "Then start looking around the root system. It takes a lot of patience, but once you find one, you stop in your tracks." Spot one, and you're likely to find more. Buried under leaves, growing on the side of logs or under piles of decomposing bark, morels can grow in abundance. Of course, so can false morels. "If it's not hollow, don't swallow," Trammell says. True morels are hollow inside, which helps distinguish them from non-edible false morels.
With the prime season in 417-land running from April to early June depending on the temperature, enjoying the earthy flavor of morels is easy to do. Once picked, the mushrooms keep in the fridge for about a week. Right before use, soak them in a salt water bath for 20 minutes to kill any unwanted bacteria. From there, how you enjoy each morel is up to you. Flash fried, chopped and sauteed with butter and garlic or sliced thin with goat cheese, morels are one of spring's finest crops. It just takes patience and a keen eye to pull in a new year's harvest.
---


Buy Them, Or Grow Your Own!
You can pick up morels from Trammell Treasures Mushroom Farm at Farmers Market of the Ozarks. Prices vary through the season, but typically range from $20 to $30 per quart.