Real Parties
Queen for a Day
From one-of-a-kind vintage plates and vases to countless fresh flowers and a delectable spread of food, Jillian Kane's 27th birthday party was one fit for royalty.
By Savannah Waszczuk | Photos by Heather Kane
Mar 2016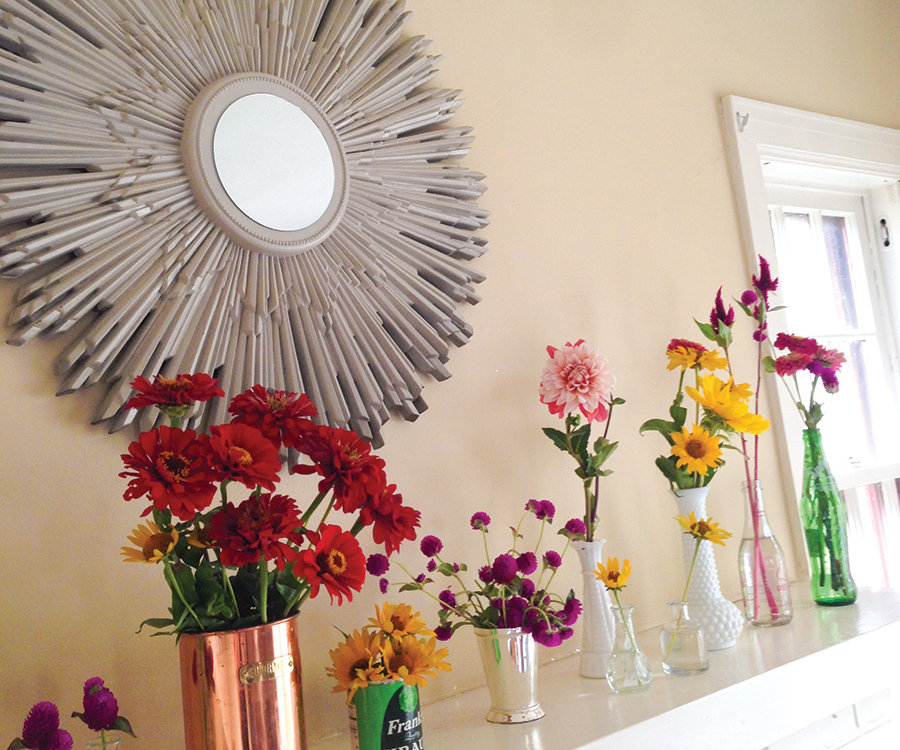 Whitaker Publishing Creative Director Heather Kane is no stranger to making things look pretty. From designing countless magazine pages every month to styling a plethora of photo shoots, it's the basis of her career. But her talents thrive far outside of the office, too, and proof can be seen in a recent birthday party she hosted for her younger sister, Jillian.  
The two first moved in together while they were both attending college, and they remained roommates for eight years. "Back then we were both single, and we were always hosting little parties for one another," Kane says. Their most recent home—a picturesque little bungalow in the Phelps Grove neighborhood—provided the perfect setting for a handful of events over a three-year period, including Jillian's 27th birthday celebration. "I've always thrown her birthday parties," Kane says. "We're best friends and have a lot of the same friends, so it works out." 
This year's underlying theme was a vintage tea party, with a 10 a.m. Sunday start time and tasty brunch fare up for grabs. Kane used vintage plates and cakestands to display the goodies, plus worked in many of her other personal pieces to help the space come to life. "We always use pieces that we have," Kane says. "A cute little party doesn't have to cost a ton of money." There were vintage trays for guests to hold their food, and vases, recycled bottles and cans held flowers all throughout the house. Black-and-white striped fabric on the tables helped create a sort of Mad Hatter look. "I love the way the stripes look with the bright colors," Kane says. And she was also a fan of all the mixed materials. "The mix of copper and silver creates a vintage-y look, but not too shabby chic—just like us," Kane says. 
To complete the elegant tea party theme, guests received hand-made crowns created by Kane's friend, Christina Pike. "I always make sure my parties have at least one special DIY element," Kane says. "When the guests came in, their crowns were ready." And even more than the yummy food and their adorable crowns, the Kane sisters and their 10 guests enjoyed the quality girl time together most of all. "We love this stuff," Kane says. "We've always loved entertaining our friends." 



Pretty Princess: 
Jillian Kane wore a homemade crown at her 27th birthday party.
Full of Flavor
Kane says the majority of the event's hype was focused around the food. The menu was planned around brunch and featured a collection of tea sandwiches with ham and mustard butter, cucumber and arugula and egg salad, all served on an array of freshly baked breads. Dessert trays were overflowing with homemade tartlets topped with strawberries and blueberries, cake and a collection of other goodies from local bake shops. "When I'm hosting, anything small goes," Kane says. "I like serving foods that are bite size."   

Fresh is Best
Kane stresses the fact that you don't have to spend a lot of money when you host. "We put fresh flowers in everything, from vases to copper coffee pitchers to recycled cans," she says. She purchased all of the flowers for the party at the farmers market that morning. "Getting flowers at the market is perfect in the right season," Kane says. If the market isn't open on your event day, Kane says any flowers can work—even those you find at the grocery store. "The key is breaking the bouquets up and placing them all around the house," she says. 
A Tasteful Variety
Some of the party's snacks—including macarons and meringue hearts from Elle's Patisserie—were displayed on Virginia Rose plates that were passed down to Heather and Jillian by their mother. The rest of the food was displayed on a hodgepodge of additional serving platters and cake stands from Kane's collection. When hosting an event, Kane stresses not to be afraid to mix and match.

Only the Best
Jillian's party featured a small crowd of 10. "We like to just invite our closest friends," Kane says.

Vintage Glam
Vintage trays acted as the perfect plates for the variety of goodies up for grabs.