Gardening
Spring Flower Splendor
Bring vibrant colors and plenty of blooms to your garden this year with floral recommendations that will flourish in the harsh summer heat of the Ozarks.
By Jessica Covert | Photos courtesy Shutterstock, Jenny Dobias
Mar 2016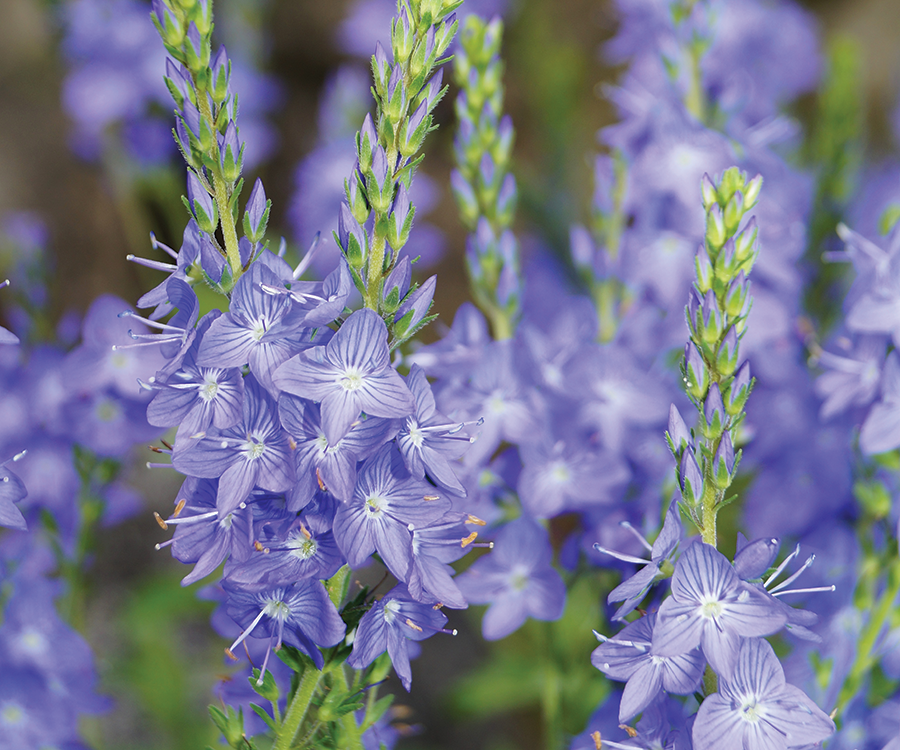 We may grow tired of the heat in the dead of a 417-land summer, but believe it or not, it's what makes certain flowers thrive. To learn what florals are perfect for our most hot and humid time of the year, we asked two of 417-land's garden centers and landscapers for the most season-tolerant annuals, perennials and blooming shrubs that you should plant this spring.

Sunpatiens
Sunpatiens are favorite annuals with Melissa Jenkins of Cedarbrook Garden Center (219 Notch Shopping Center Ln., Branson West, 417-283-8765, bransonlandscapeservice.com).These vibrant flowers come in a variety of colors, but Cedarbrook's most popular are electric orange and red. Dark green leaves create a backdrop for the blooms. They're bred for full to partial sun and hot weather, Jenkins says, but should be kept well-watered to prevent the flowers from wilting. During summer months, water about every other day. Don't worry if you forget a watering day—sunpatiens should bounce right back after a drink, Jenkins says.


Simply Beautiful: Vinca are easy to maintain, requiring water only a couple times a week.


Vinca
Another annual option is the vinca, a recommendation from Jenny Dobias of Nature's Image (1027 US 160, Nixa, 417-724-8774, naturesimagelandscapedesign.com). These also come in multiple colors, Dobias says, including a popular hot pink shade. Bright green, glossy leaves make the flowers stand out, giving landscapes a tropical vibe, Dobias says. Vinca thrive in heat and humidity and love the sun—the less sun they get, the less they bloom. Vinca don't like to be wet, so water about twice a week to keep them happy. Add slow-release fertilizer when they're planted and again about halfway through the season to keep them going, Dobias says.
Sunny Border Blue Veronica
Sunny border blue veronica is Jenkins' perennial of choice for summer gardens. Jenkins says the plant grows to about 18 to 20 inches tall with dark blue flower spikes and low growing foliage. The flowers bloom from June until the first frost, and removing old blooms encourages new growth. Sunny border blue veronica do best in landscape beds with full sun to partial shade, and they need watering about two to three times each week.


Flower Power: Pow wow wild berry echinacea aren't phased by heat, humidity, cold or drought.


Pow Wow Wild Berry Echinacea
Pow wow wild berry echinacea is Dobias' perennial suggestion, a plant that grows to about two feet tall and one foot wide. The bright pink flowers aren't phased by heat, humidity, cold or drought, Dobias says. Plant in soil that drains well between waterings, and pick a location where it will get lots of sun. Use a slow release fertilizer to keep the plant healthy during each growing season. Another perk for pow wow wild berry is it attracts butterflies and bees in the summer, while birds love the seed filled cones in fall and winter.
Hydrangeas
Hydrangeas topped the list of best blooming shrubs for both Jenkins and Dobias. Jenkins recommends the pistachio hydrangea for gardens and flowerbeds in part because of its uniquely colored blooms—they're trimmed in scarlet and pistachio, with blue in the center. Jenkins says pistachio hydrangea are a manageable size (three to four feet tall and three to five feet wide) and are best kept in landscape beds. Hydrangeas are often considered a shade plant, but Jenkins points out their need for sun to stimulate blooming. For the very best results, you should plant them on the east side of your home or anywhere that provides morning sun and afternoon shade, Jenkins says.
Dobias also suggests another uniquely colored variety of hydrangea called quick fire. They bloom earlier than most other hydrangea varieties and start out white, then change to pink and then eventually to a deeper reddish-pink shade, Dobias says. The blooms continue throughout summer and to fall on this fast-growing shrub.