Outdoor Spaces
The Koelkebeck Outdoor Sanctuary
From entertaining friends and family to cozying up around the fire pit, Steve and Debi Koelkebeck love this luxurious outdoor sanctuary at their Joplin home.
By Lillian Stone | Photo by Jeremy Mason McGraw
Mar 2016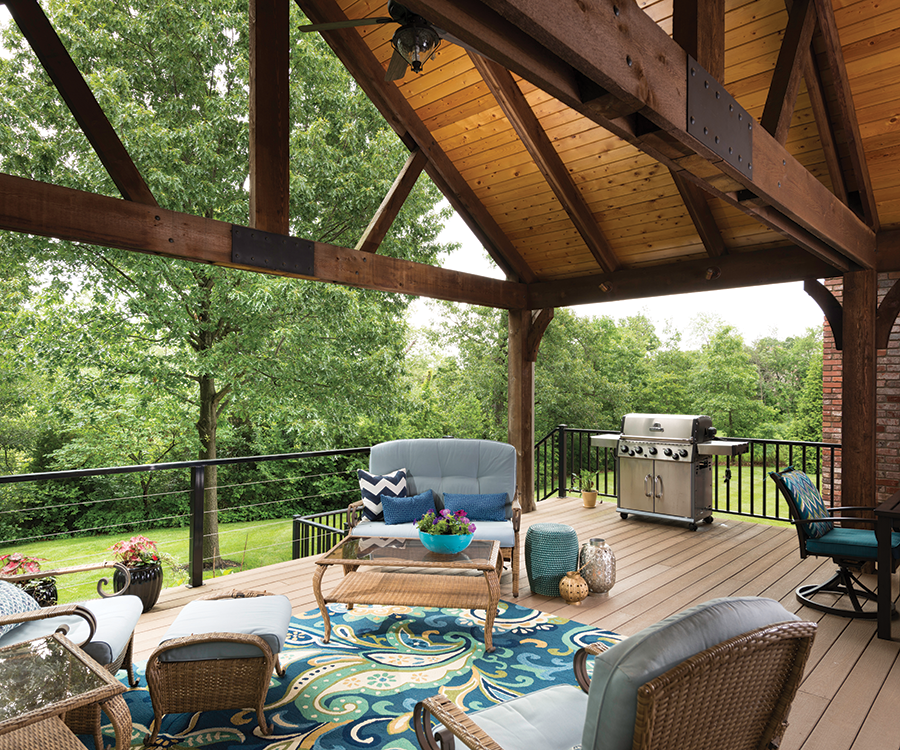 Although Steve and Debi Koelkebeck's house is situated inside a neighborhood in the Joplin city limits, their custom outdoor room allows a woodsy escape that feels private and secluded. The space faces a wilderness easement, which provides the outdoor appeal that Debi loves. The easement creates a sanctuary, as the Koelkebecks can't see other houses above the trees for most of the year. 
Open on two and a half sides, the room has a light, airy feel. The roof allows the family to enjoy the space even in bad weather. "It makes it comfortable in the summer as well," Debi says. "It keeps the heat off." The addition of a fire pit in fall 2015 extended the use of the space into the winter months.
The room also features a cozy seating area, which is perfect for entertaining. "It's a great gathering place for friends," says Debi. The vibrant pops of color keep the space fresh without overwhelming the woodsy theme. "I like to mix the different blues to get the feel for the sky and the sun all put together," Debi says.
Another major plus of the Koelkebeck's outdoor space is the surprisingly super low-maintenance aspect of the exposed area. The beamwork hasn't required any treatment, despite exposure to the elements. Overall, the Koelkebecks have created a gorgeous, low-maintenance space for their lifestyle. Perfect for entertaining friends or staging paintball battles for the Koelekebeck's 13-year-old son, the room provides a total escape.