Be Bold
Brighten up your spaces with graphic prints, vibrant hues and geometric-designed decor for a look that's as fearless as you are.
Styled by By Heather Kane | Photos By Brandon Alms
Mar 2017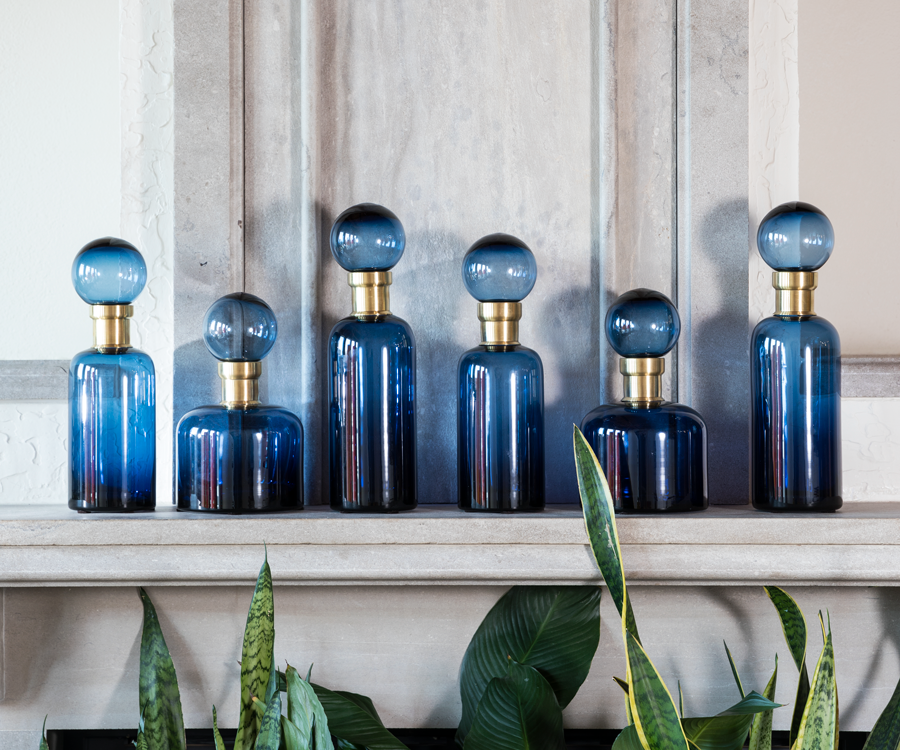 Glass bottles with lids (set of three), $189 at James Décor
1. Antonina Vella Kaleidoscope, $49.99 per roll at Seminole Decor Center Inc. 2. Cloud9 Design teal pillow, $119 at 5908 Home Funishings 3. Cloud9 Design rectangle pillow, $119 at 5908 Home Furnishings
1. Loloi Rugs Dr. G Kiwi pillow, $120 at Obelisk Home 2. Flock Raven square pillow, $160 at Obelisk Home 3. Hot Wave Siesta square pillow, $160 at Obelisk Home 4. Geometric rug, $36.95 at The Market 5. Dusty Rose leather rug, $69.95 at The Market
1. Fuchsia orchid phalaenopsis spray, $27 each at Obelisk Home 2. Accent Décor gold candle holders, $36–40 each at 5908 Home Furnishings 3. Global Views Baluster Old World Vase in celadon, $205 at Obelisk Home
1. Sagebrook Home Jerry Footed pot, $45 at Obelisk Home, 2. Capri Blue Muse aloha orchid candle, $32 at The Market 3. Cactus ring holder, $16.50 at The Market
---

If embracing boldness in your home doesn't come naturally, don't worry. Several local vendors have the goods that can make your spaces pop. 
Seminole Decor Center Inc.
1815 E. Seminole St., Springfield
417-881-5559, seminoledecorcenter.com
Obelisk Home
214 W. Phelps St., Suite 101, Springfield
417-616-6488, obeliskhome.com
The Market
2628 S. Glenstone Ave, Springfield
417-889-1145, themarketspringfield.com
James Décor
1324 E. Republic Road, Springfield
417-883-2616, jameshomedecor.com
5908 Home Furnishings
2144 E. Republic Road, Springfield
417-889-5908, facebook.com/5908Interiors