Services
Carpet Installation
There are a lot of household projects that homeowners can tackle themselves. Putting in new carpet is probably not one of them, which we discovered after following a team from Midwest Rug & Linoleum Co.
By Stephanie Towne Benoit | Photo by Vivian Wheeler
Mar 2017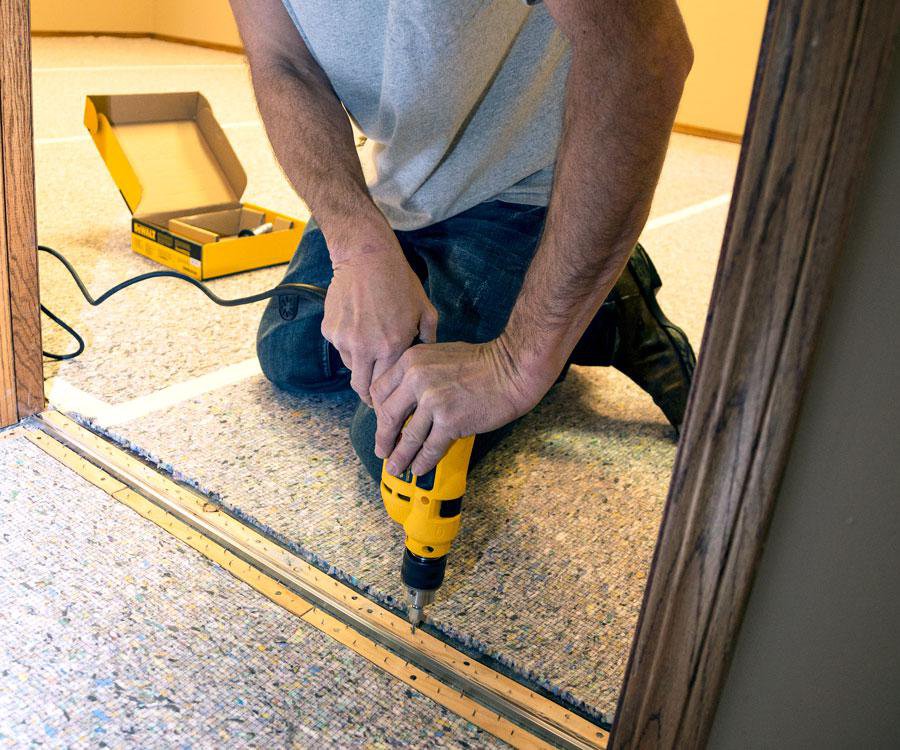 Carpet may not be the first thing that you notice in a space, but it undoubtedly plays a big role when it comes to the beauty and comfort of a home. And as I recently learned after observing the pros from Midwest Rug & Linoleum Co. one morning, gorgeous carpet has just as much to do with skillful installation as it does pretty patterns and quality materials. 

Blank Slate
This past winter, the company invited me to visit a job at a Springfield office complex. They noted that, generally speaking, there are few significant differences in process between home and office installations. When I arrived at the jobsite around mid-morning, I noticed a pile of rolled-up rugs outside, evidence of the hard work that a pair of crews had done in the hours prior when they were ripping out the old carpet.

Steven Whittle, a crew lead with more than 15 years of experience, explained that this stage can be when surprises emerge. "Always be ready for undiscovered problems when you are a homeowner," he says. "You don't know what's going to be underneath your carpet because you can't see that. And sometimes when we peel that back we find a lot of rotten spots."


A Firm Foundation
Inside the office, Whittle pointed out thin, nail-studded wood strips that ran beside the walls and were secured to the subfloor. These wooden pieces (called tack strips) are essential because the carpet is affixed to them once it has been stretched. "If this isn't sturdy, your whole installation will come up," Whittle says. "You will get wrinkles in your carpet." 
The crews had just finished spot gluing new pads to cushion the carpet (when a jobsite has a wood subfloor, the pads are stapled rather than glued). Whittle notes that if homeowners are looking to cut costs, padding is not a good place to cut corners. "Sometimes they'll try to save money on that," he says. "I would always suggest buying a better pad to go with your carpet."


Puzzle Pieces
There were several rolls of new carpet sitting inside the office even though it would be a few hours before Whittle and others would start installing it. "You have to let the carpet warm up, acclimate, [by] warming up to room temperature," Whittle says. 

Those pieces of carpet had already been measured and cut into the appropriate pieces back at the company's warehouse. Once the carpet is acclimated, which makes it more supple and malleable, the crews begin lining up those pieces and checking that their patterns and grains match up. "It's a puzzle," Whittle says. The installers will make some fine cuts on the job and adhere those pieces together by melting strips of glue beneath those seams with an iron (this is a process called burning the seams). 


Home Stretch
During the next few hours, the crews stretch those pieces and secure them into place. They pick a corner and start pulling the pieces tight with a power stretcher (pictured to the right), after which they hand-trim excess material, leaving just enough to tuck the remainder under baseboards. "Laying carpet is like making a bed," he says. "When you start in one corner, you work your way all the way to the other corner."

Before heading out, I asked Whittle if he thought homeowners had any misconceptions about the carpet-laying process. "They assume it's a lot easier than what it is until we get there, and then they are like, 'Oh wow, you have to do that?'" he says. After seeing all the steps and expertise—not to mention physical strength—required throughout the process, I left the jobsite with a whole new appreciation for the floor beneath my feet and the pros who install it.