DIY
Creating a Budget Friendly Wallpaper
A Springfield mom created a stunning, budget-friendly wallpaper for her son's bedroom.
By Ettie Berneking | Photo courtesy Emily Johnson
Mar 2017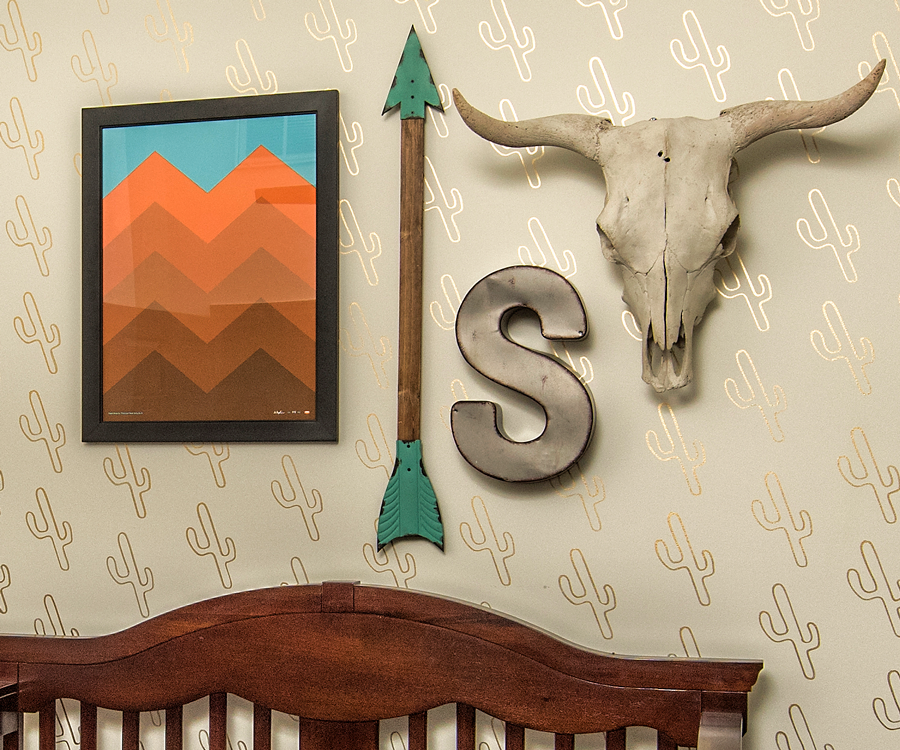 For a daily dose of creative inspiration, Emily Johnson, associate creative director at the Marlin Network, starts her day with a cup of coffee and a perusal through creative blogs and websites. It was during this morning ritual that Johnson clicked on the DIY cactus wallpaper project shared by the lifestyle blog A Beautiful Mess, which she visits weekly for inspiration. 
Simple, inexpensive and hands-on, the project was exactly what Johnson had been looking for to decorate her 2-year-old son's new bedroom. "The room has tons of natural light from the transom window," Johnson says. "I wanted a feature wall that was interesting but not dark." The DIY wallpaper also kept with the modern cowboy theme Johnson and her husband wanted, which centers around an antique toy horse Johnson's husband grew up with and a longhorn skull mount found at Camp Flea Antique Mall.
With a couple of days off work to complete the project, Johnson sent the kids off to school, locked herself in with a good audio book and got to work on the wallpaper. 
Instead of covering all four walls, Johnson focused on a single accent wall and finished the project in two days with a budget of about $10. "I don't think I've stenciled since second grade," she says. "But I loved it. I would definitely recommend this for anyone who wants the look of wallpaper without the price."
---
Make Your Own Cactus Wallpaper 
Supplies:
Three Krylon gold leaf pens, depending on how much wall space you stencil (available at Michael's)
Two pieces of craft foam (Emily Johnson created two stencils from card stock)


Steps:
1. Create your stencil by choosing the shape and size of your cactus. Trace the cactus on your craft foam or card stock and carefully cut out the cactus. Johnson drew her cactus at an angle for more visual appeal. 
2. Stencils can be trickier than you think. Johnson suggests taping a scrap piece of paper to the wall for test runs of the stencil and gold leaf pens. 
3. Start in one corner of the wall and trace your stencil. Be sure to note the space between each stencil to keep your "wallpaper" uniform. To make her accent wall look like real wallpaper, Johnson planned the top row of cactus to not be the full height. To accomplish this, Johnson staggered the heights and did the top row last. 
4. Swap stencils as each one gets wet. This way any paint on the stencil can dry instead of getting smudged on your wall.
5. Take breaks! Even though Johnson stenciled just one accent wall, she found herself needing to take breaks to keep her focus. She worked on her stencils for an hour at a time before taking a quick break. "You start losing your focus," she says. "That's when you make minor mistakes."
6. Choose a good background noise. Johnson listened to the audio book of Harry Potter and the Goblet of Fire. "You need to focus, but this should also be fun," she says. "I'm the 35-year-old who is just now getting into the Harry Potter series."