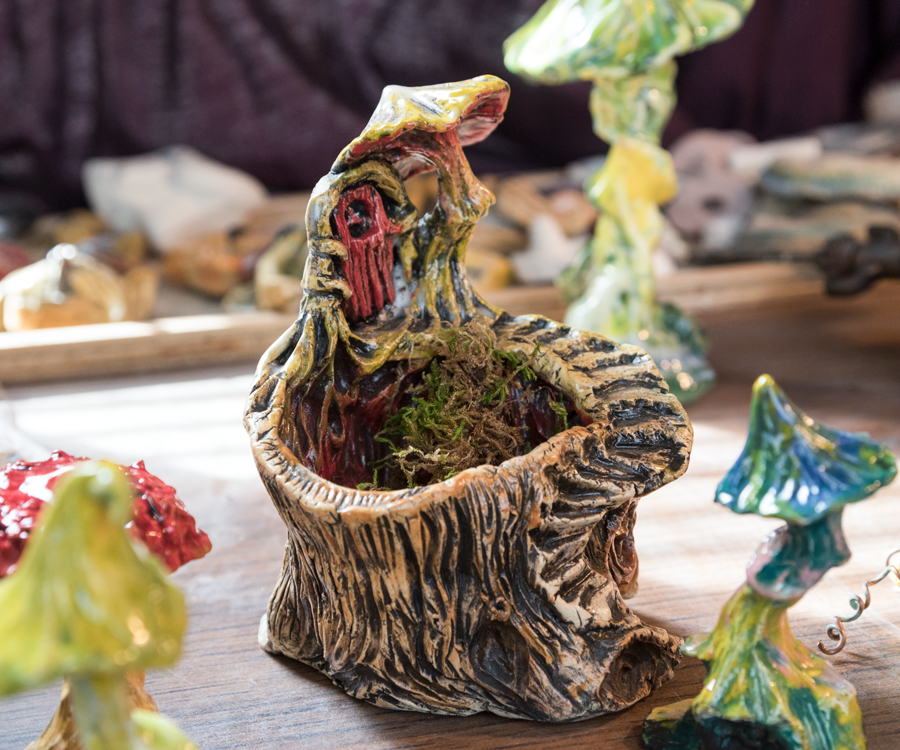 Art is unexpected by nature. The same can be said of artists—especially these four local women whose creative journeys are as fascinating as their sculptures. One carves organic materials, one sculpts with clay and two work with paper. They have little in common save the passion each brings to her work and a conviction that everyday homes are enriched by original art.
---


ALL THE WORLD'S A CANVAS: Cheryl Edstedt carves her designs into wood, as well as more nontraditional materials like ostrich eggs.


A Cut Above
Cheryl Edstedt is a carver of wood. And eggs. And old ivory, old bones—even metal. On items as diverse as cabinet doors and ostrich eggs, her intricate carvings create visual stories full of shadow and depth. 
On a bigger scale, her chainsaw-carved cedar logs provide original outdoor pieces for homes and offices. They are all part of her business, Carver of Wood n' Ivory.
Before Edstedt and her husband retired from the Ford Motor Company and moved to Nixa in 2004, Edstedt didn't draw, paint, carve or sculpt. It's like she woke up one day and said, "I think I'll become an artist."
She needed something to keep her hands and mind busy, Edstedt explains. Moving close to Branson with its craft culture, she realized wood-carving was a good place to start. Today her works are purchased and commissioned locally, nationally and from countries around the globe, including Ireland, England, Scotland, Turkey and Canada. 
It was just a hobby at first. She entered her first piece, wood-carved praying hands, at the Ozark Empire Fair. When she won first place, Edstedt says, "I thought, well, I guess I can do this."
She's won many awards since and isn't afraid to try new things. "Everybody always says to me, 'How do you know how to do this?'" Edstedt says. "I don't. I just try it, and if it doesn't work out, it doesn't work out."


AN ARTISTIC SPACE: Cheryl Edstedt's studio has all the tools needed to create works like this carved ram's horn.


People started sharing her work online, and it took off through word of mouth and reference, she says. Today she has a backyard workshop for making large pieces, for instance using a chain saw to carve the house numbers or names into cedar logs. She also carves seasonal items like log pumpkins.
Relief work, delicate carving and scrimshaw designs happen in a dining room-converted art studio. Her husband installed a sandblasting cabinet for when she uses her 500,000 RPM drill. She can carve or wood-burn designs on anything including cabinet doors and wood furniture. Her purely decorative pieces include wooden wall-hangings (one features a frame that holds nine interchangeable carved wood tiles) and the intricately carved ostrich eggs.
Asked why people seek her work, Cheryl says, "They want collection items. They want something that nobody else has. I do unique pieces that you won't find in a store. You won't find them anyplace else." 
---


PARTNERS IN PAPER: Joan Gentry and Carol Chappell are creative partners with as much humor as artistic talent. 


Mixing It Up
A smorgasbord of color greets visitors to Joan Gentry's Springfield home studio where mixed-media papier-mâché sculptures and vessels cover practically every surface. 
Some of the pieces by Gentry and her creative partner Carol Chappell are adorned in beautiful handcrafted papers of turquoise blues and sunset reds. Others are covered in bright paint or wrapping paper; one vessel features torn pieces of instrumental music. A paper bowl holds colorful papier-mâché balls; a tall vase nearby sprouts artificial florals. Beads, wire and curved vine wood are incorporated into most of the duo's pieces.
The line of work is the most recent evolution in a 17-year creative partnership Gentry and Chappell call CJ Art. Sitting down with Gentry and Chappell, it's clear the women are more than work partners; they're close friends. One week they create at the house Gentry shares with her husband; the next week they meet at Chappell's.
They've known each other since 1978 when Gentry started teaching seventh grade science at then-Study Middle School. Chappell taught art, and soon the teachers were collaborating on classroom projects. By 2000, both had retired and Chappell suggested she and Gentry create upcycled decorative furniture. CJ Art was launched and has since evolved several times over.


WASTE NOT: The duo's paper creations are made from recycled materials.


For a while they were represented by Waverly House, and sales were brisk. But then, the market for their furniture creations dropped off, Chappell says, so they looked for something new.
Around 2007, Springfield Regional Arts Council sponsored storefront artist spaces downtown. Gentry and Chappell joined the effort and moved their operation. From there they started creating "funny, wacky" sculpted women. (Chappell stresses they were not "dolls" as some called them.) "We loved it, and we laughed all the time making them, but they weren't very popular," she says.
They evolved again, this time into metal sculptures. They were doing steampunk before they even knew what steampunk was, the artists say. Although their sculptures won a People's Choice Award at Art in the Park one year, the art was hard to transport. "We got older, and the metal got heavier," Chappell says. So they explored something smaller and lighter. 
Enter papier-mâché mixed-media birds, which led to their current line of vessels. One stunning piece incorporates a necklace belonging to a friend who had died. Using personal, special items as part of an art piece is just one possibility, the artists say. But incorporating original art of any kind enhances a home or business environment. 
"It adds a splash of something different than just a chair to sit on," Gentry says. "It adds personality to your home."
---


THE CERAMIC MENAGERIE: Linda Passeri's table is covered in pieces that reflect her penchant for verdant fantasy and whimsical steampunk.


Fantastic Clay Beasts (And Where to Find Them)
Linda Passeri is greeted by grins whenever she opens a kiln full of cats. Ceramic cats, of course.
"I like all my work to kind of smile at me," she quips, holding a wide-grinning, whimsical steampunk feline, one of many lively sculptures in her live-work home studio in the Moon City Creative District near Commercial Street.
In addition to steampunk cats, birds and even rabbits, her business, Moon City Arts, features a line of carved porcelain vases. Longtime interests and new experimentations are also evident in her working studio. Among them are pieces of fairy garden art—little doors, bridges, paths and ponds that work with potted plants or outdoor gardens. 
She's experimenting with carved and sculpted tile to be used in home or commercial installations. And she's working with molds of original ceramic pieces to create resin replicas, for instance little cat-face magnets. No matter what she's creating—she also paints!—Linda says her style leans to the fantastical, and it shows in the art that is displayed throughout her house. 
Passeri opened her studio about six years ago, but she's always had artistic jobs, first with a screen-print shop, then with a sign painter. After taking a ceramics class at Springfield Art Museum, she started sculpting whimsical mushrooms. Her first foray into selling was at the Japanese Fall Festival. 


LIFE ON THE MOON: Linda Passeri is a member of a group of artists living and working in Springfield's Moon City District, so her studio is also her home.


Fantasy mushrooms soon morphed into a series of steampunk mushrooms. She fell in love with the style that merges the organic with the mechanical, she says. 
Steampunk lent itself to her latest favorite subject: cats. Passeri has childhood memories, she says, of the sculpted cat her grandmother brought home from Italy. "That ceramic cat was kind of the only toy—even though it wasn't a toy," she says. "So the cat was always a symbol for me of nostalgia and whimsy." 
Her elegant, detailed carved vases are entirely different. "I think Mayor Bob [Stephens] said there are four or five mayors who he's given my vases to," she says. "I kidded with him and said the next ones I do, I'm going to call them the 'mayor's line.'"
Passeri is active in the art community and is proud of the collaborative "Dr. Tickle Memorial Sculpture" she designed in 2016, working with other artists.
The beauty of original art, she stresses, is that it's one of a kind. "People have so diluted the 'one-of-a-kind' term that I really think it does escape people," she says, pointing to her steampunk rabbit, a fairly new studio resident. "There's not any resin in that piece. That's it. If it drops, it breaks. I can make another rabbit but it's not going to be that rabbit."