Retailers
J. Martin's Charming Accents
Add the finishing touch to any room's decor with one of these accent pieces from Springfield's local home furnishing line.
By Ettie Berneking | Photos by Colby Morrell and Linda Huynh
Mar 2017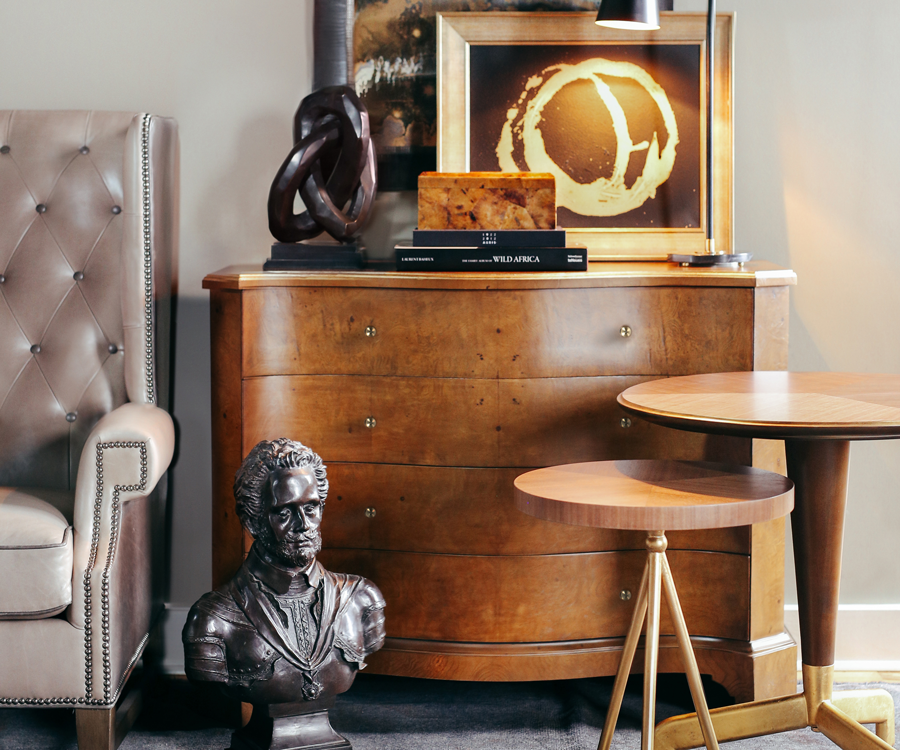 For years, home furnishings were packaged in cookie-cutter sets. Headboards matched adjoining chests of drawers and armoires while the living room coffee table and entertainment set were practically twins. If this matching decor made shopping simpler, it also stamped out most personal design and style. Today, designers and homeowners are embracing more eclectic accent pieces, and one local line by Obelisk Home is here to help add that finishing piece to any room.
The new J. Kent Martin Home line, designed and sold by Obelisk Home, launched in October 2016 with the store's co-owner J. Martin designing and manufacturing the line's elegant and timeless collection of end tables, accent tables, drawers and chests. "I love accent furniture and utilizing it in homes," Martin says. "You can do so much with it from a design standpoint." The line's current collection features masculine undertones and elegant combinations of wood, metallic leafing and antique mirror, which allows each piece to be easily mixed and matched to accompany your current furnishings and at an approachable price. The current collection starts at $400. That versatility doesn't take away from the line's bold style where sharp angles and sweeping curves give even a seemingly ordinary end table a sense of life and movement. Martin is already working out plans to expand into upholstery and larger pieces, like the now available Orian Bookcase with its floating glass shelves and prominent plaid inlay of mahogany, walnut and ebony veneer. So, for those who aren't ready to ditch that matching bedroom or living room set, maybe start small, like with an accent table—a stylish one! 


---
Q&A with J.
417 Home: Are you on Pinterest?
J. Martin: No.
417:  What was the first thing you designed?
J.M.: I've been drawing since I was a kid. I designed a house when I was in eighth grade for a project. My drawings have always been home related, but in the seventh grade, I did design a casket for the lady who cut my hair. She didn't want to lie down. She wanted to sit up, so she asked me to do this. That's one of the weirdest items I've been asked to design.
417: What design trends are you excited about?
J.M.: The thing that excites me the most is that the general population has started to embrace a more casual interior. For so long, people thought your living room had to be formal, and then it never got used. People are embracing this comfortable, collected, livable home environment. From a design aspect, it makes it much more appealing and much more practical.