Outdoor Spaces
Outdoor Spaces
Our annual "Outdoor Spaces" feature has showcased homes with some of the most beautiful backyards in 417-land. This year, we found a nature-inspired renovation on the James River, a retro retreat in central Springfield and a sprawling estate near Branson.
By Jennifer Adamson
Mar 2018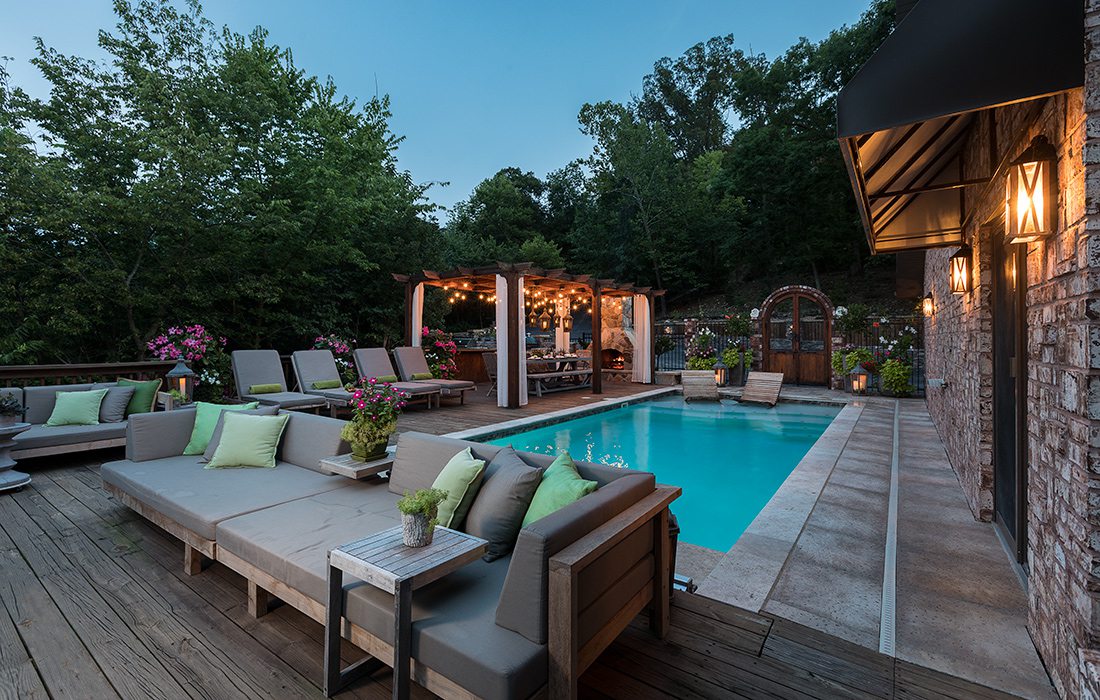 Adam Carver and his wife, Angela McNeal, did the first thing you assume most people do when they buy a new home. They furnished it—but not the way you might expect. Instead of making sure the inside was comfortable, they set their sights on the outside, envisioning their 6,000-square-foot deck as a year-round social spot for family and friends.
"We bought our outdoor furniture before we even had furniture inside," McNeal says. "We wanted to be in the pool, and we wanted to create an outdoor space that we could really, really use."
As Arkansas natives moving to the Ozarks, their home on the James River in Nixa is the only house they toured before signing a contract. Built in the early 1990s, the home required several safety upgrades, a hefty financial investment and a sizable time commitment, but the property was a perfect match for the growing family.
Included among the renovations were reinforcing old decking, creating room for an outdoor kitchen, replacing the existing pool and restyling the Tuscan theme to match their nature-inspired, modern-industrial aesthetic. Four years later, the couple has a gorgeous outdoor living space with unobstructed views of the rolling hills surrounding them—part of a fancy tree house of sorts, where the ladder leads to dreams coming true.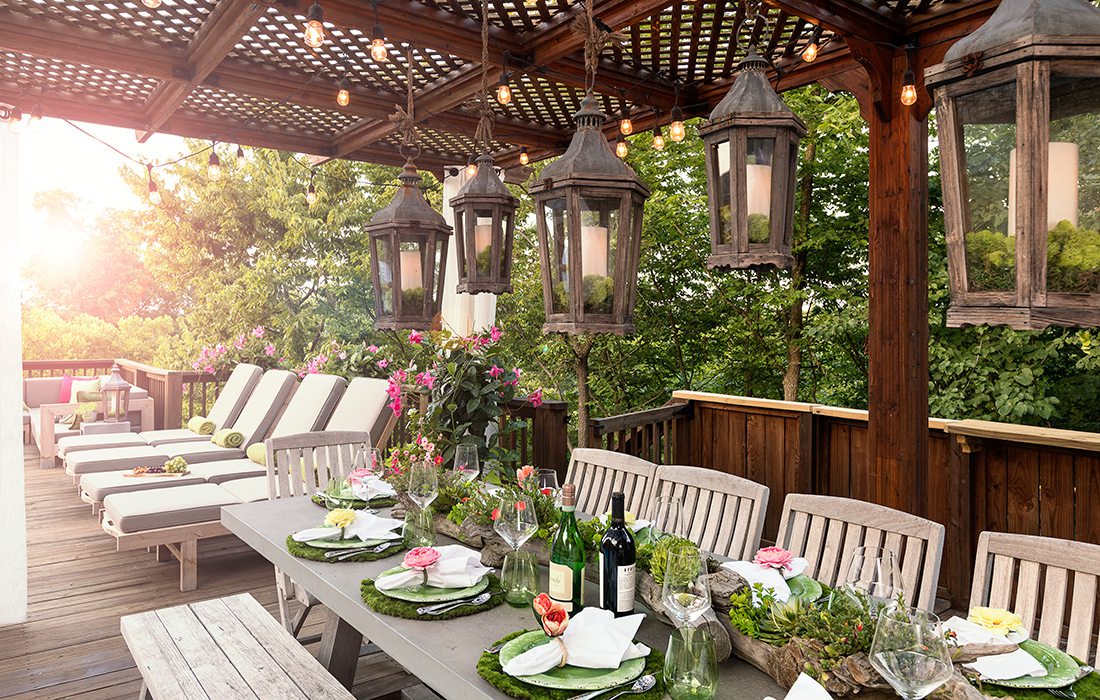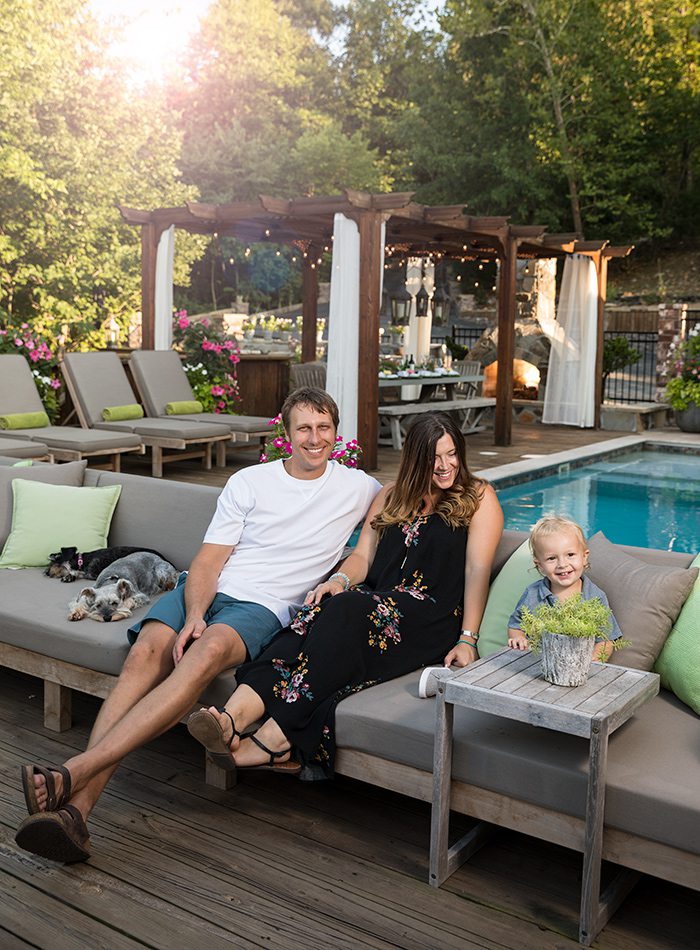 Photo by Brandon Alms
A Family Affair: The couple never lets busy schedules get in the way of family time, even if just sitting poolside. Carver, an ophthalmologist, and McNeal, a chiropractor and temporary stay-at-home parent, savor every moment with Bodhi, pictured, and William, born three months after this photo was taken. Their fur babies, Nola and Lily, find the streamlined furniture relaxing, too.
Purchase Photo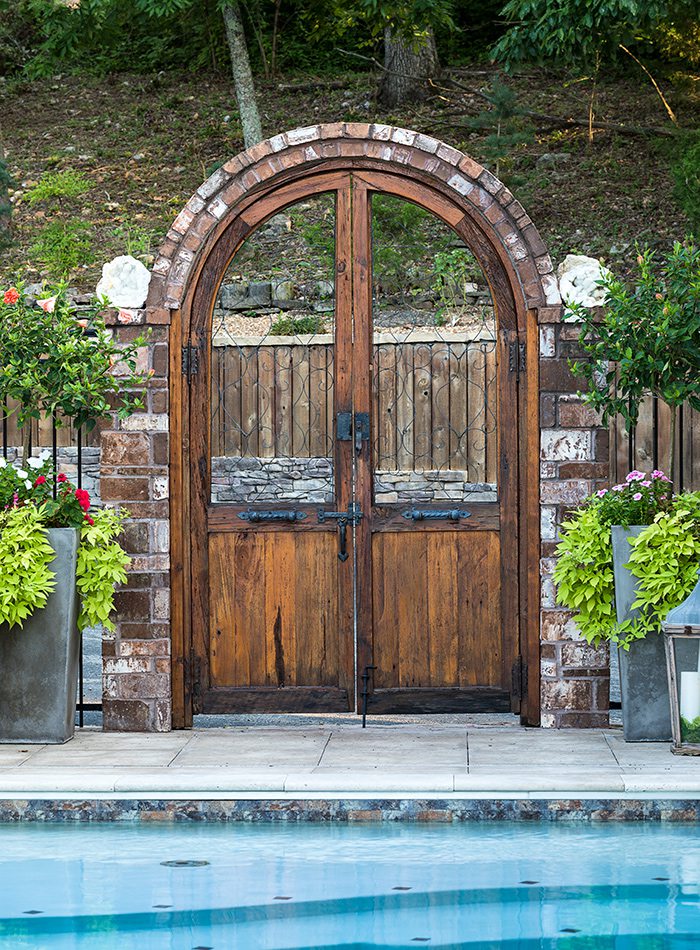 Photo by Brandon Alms
Antique Arches: The homeowners hired carpenter Jody Christy to restore this ornamental arched door. He replaced old balusters and installed an antique weighted pulley system to guarantee it closes automatically. McNeal chose metal handles to match scrolling ironwork on the upper portions. Two 3-foot-tall concrete planters changed out seasonally give the dramatic look even more balance.
Purchase Photo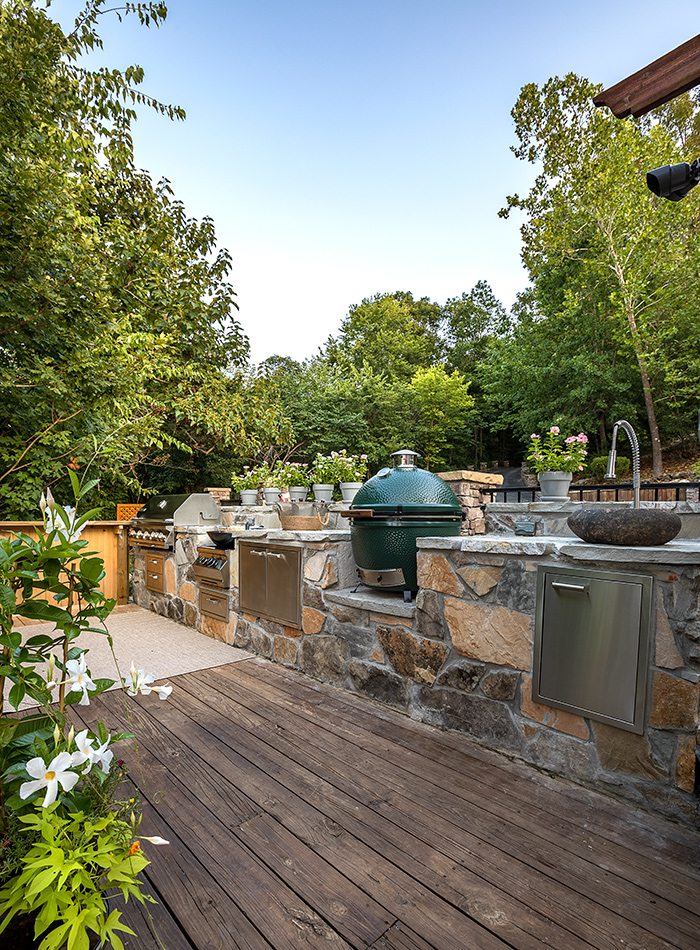 Photo by Brandon Alms
Easy Eating: The main focus in putting together the outdoor kitchen was functionality, so Dahlberg executed an alleyway-style layout. Built into an all-stone countertop to match the fireplace, every piece of hardware has a designated station. Next to the gas grill, a powerful side burner with a removable cast-iron grate serves as a stovetop and a wok spot. With multiple storage drawers, even accoutrement have a place. To make cleanup as breezy as the autumn air, a vessel sink was installed. The kitchen is also equipped with outlets to plug in speakers, so Carver can cook with his favorite ingredient: music.
Purchase Photo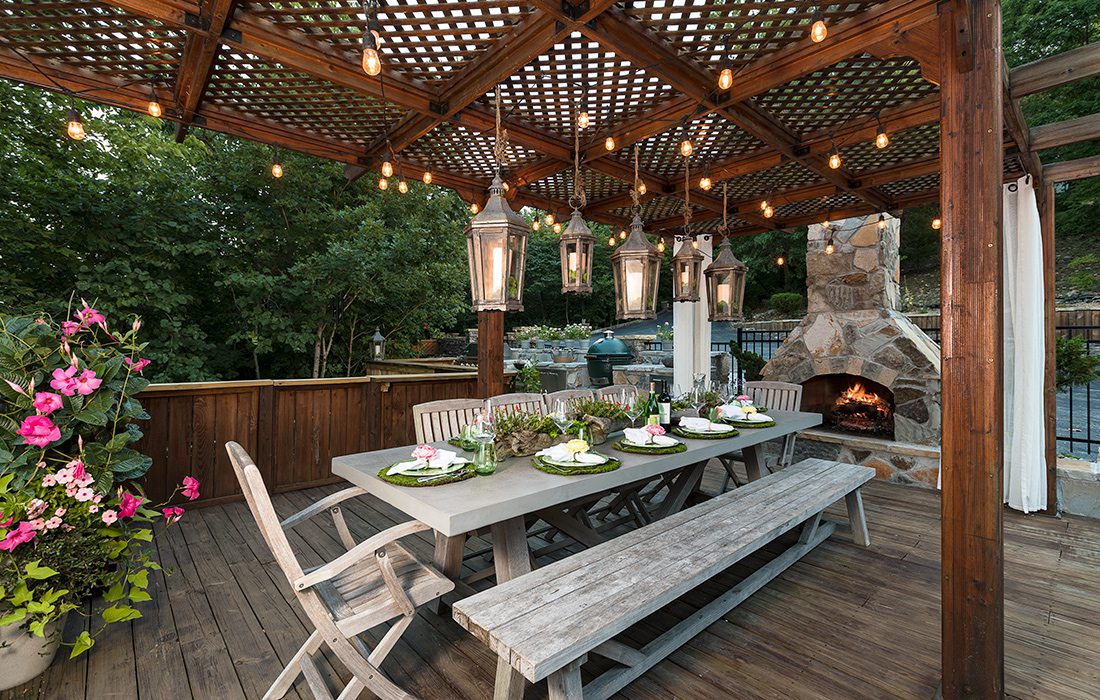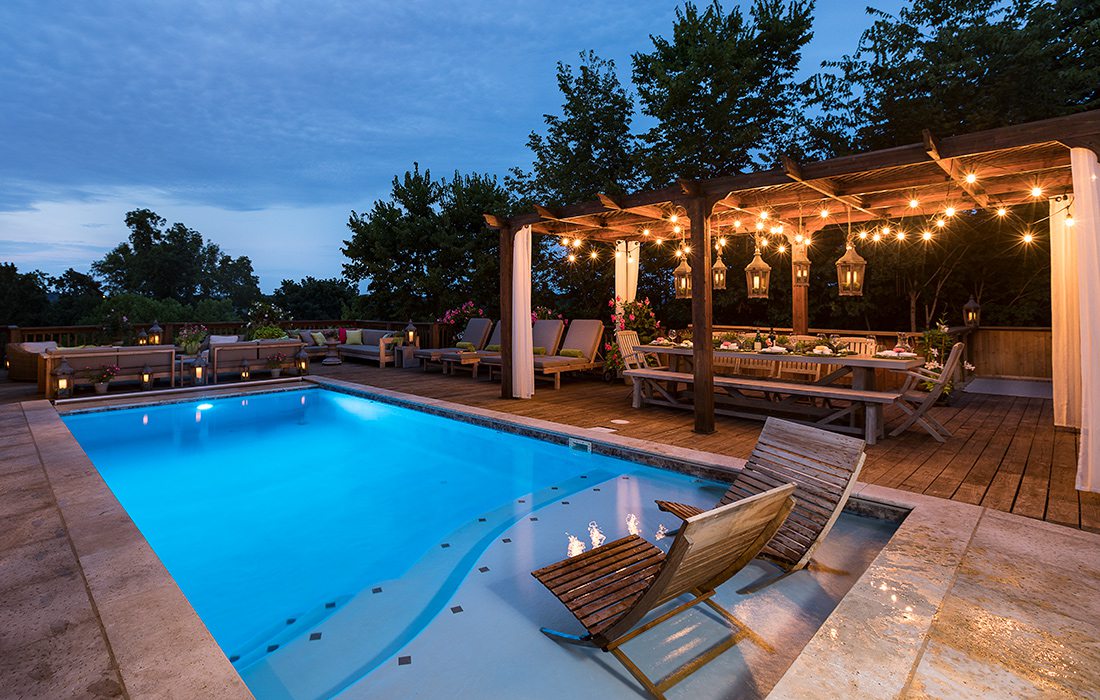 Pool Priorities
Whether you're building a new home with a pool or already have a pool and want to upgrade, these features are trending according to local experts.
Stainless Steel
Popular due to their high strength and long lifespan, stainless steel pools are making a comeback. "Stainless has come down in price, and the contemporary movement is influencing the market again," says Phil Stengel, owner of Doug's Pool & Spa.
Better Cleaning
If you want clearer, softer water that's less chemically saturated than a chlorine pool, Stengel recommends choosing a mineral water system. "They also don't have the corrosion issues that salt pools are experiencing," he says.
Maximizing the Investment
Compared to in-ground pools, swim spas are total aquatic centers, letting you swim against a continuous current. "They're great for water aerobics and stationary exercise and teaching the kids to swim," says Randy Renyer, owner of Outdoor Rooms by Design.
Sun Safety
Staying safe from the sun never goes out of style, so invest in a cantilever umbrella to shade you from the rays, Fishel says. "They easily adjust and are portable," he says. "Some people even have an umbrella stand built into the pool." 
Beach Entry
"By far, one of the most popular pool designs is beach entry with jets," says Craig Fishel, owner of Fishel Pools. Access to the water is easier without stairs and ladders, especially for pets and kids, and jet streams keep the entry clean. 
Going Small
Recently, Renyer has noticed homeowners' preferences shifting, making portable swim spas a more popular option. "They don't take up the whole backyard, and they go with you to the next home," Renyer says.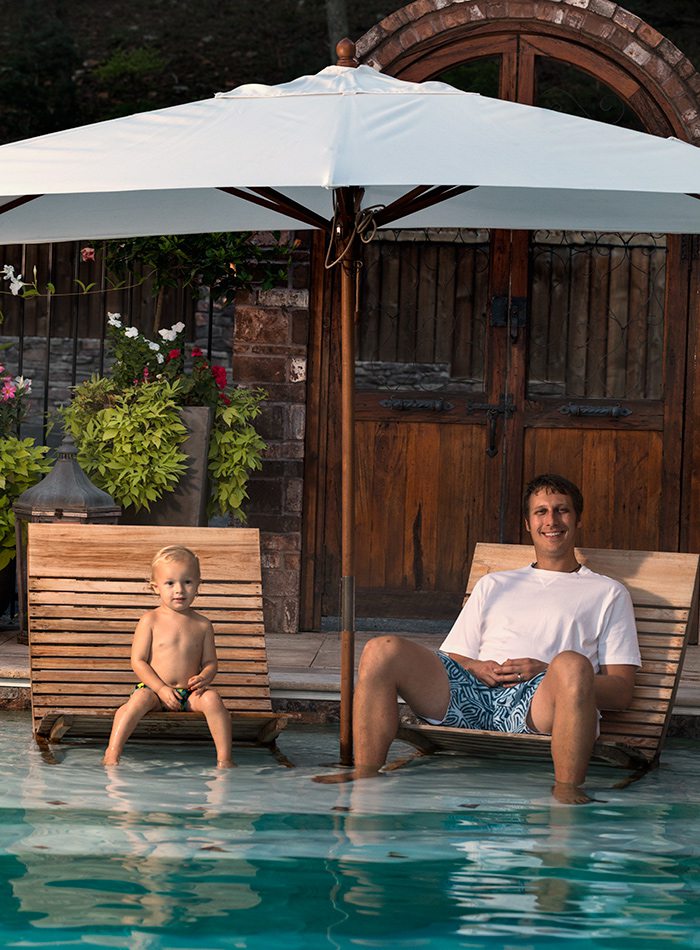 Photo by Brandon Alms
Sun Safety: Staying safe from the sun never goes out of style, so invest in a cantilever umbrella to shade you from the rays, Fishel says. "They easily adjust and are portable," he says. "Some people even have an umbrella stand built into the pool."
Purchase Photo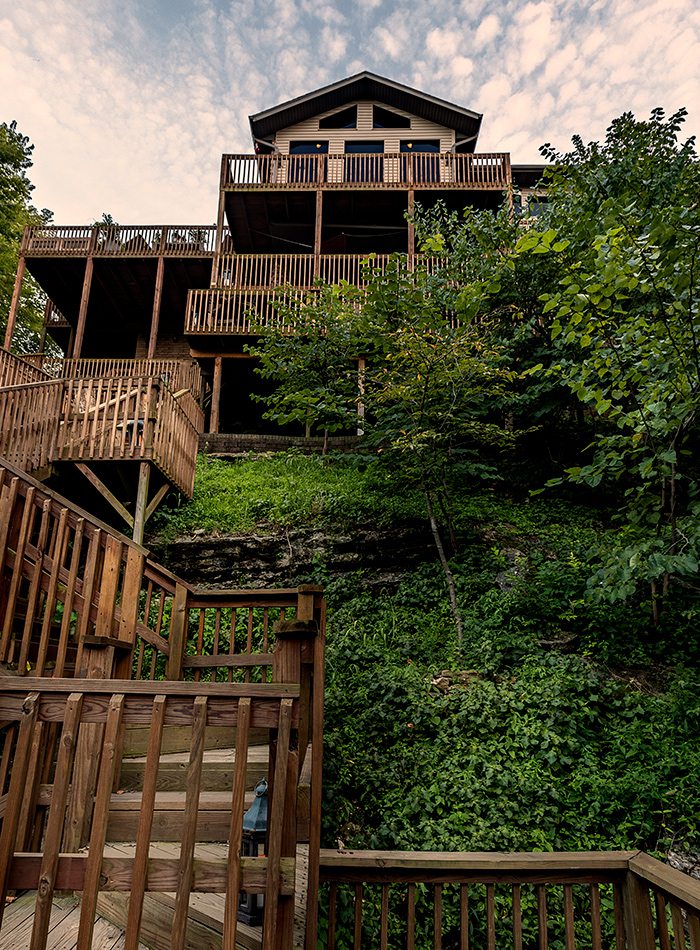 Photo by Brandon Alms
Views From Every Level: The back of the couple's home is equally stunning. From this vantage point halfway to the water's edge, the residence is thrust into the sky, accentuating a long descent from poolside to riverside. Two levels below the upper deck, which adjoins the family room, a hot tub provides relaxation. The homeowners were told installing a hot tub in that location would be impossible due to the structural challenges of building into a hill, but they fought for their vision, and now chilly swimmers or two parents in need of some alone time have a place to go.
Purchase Photo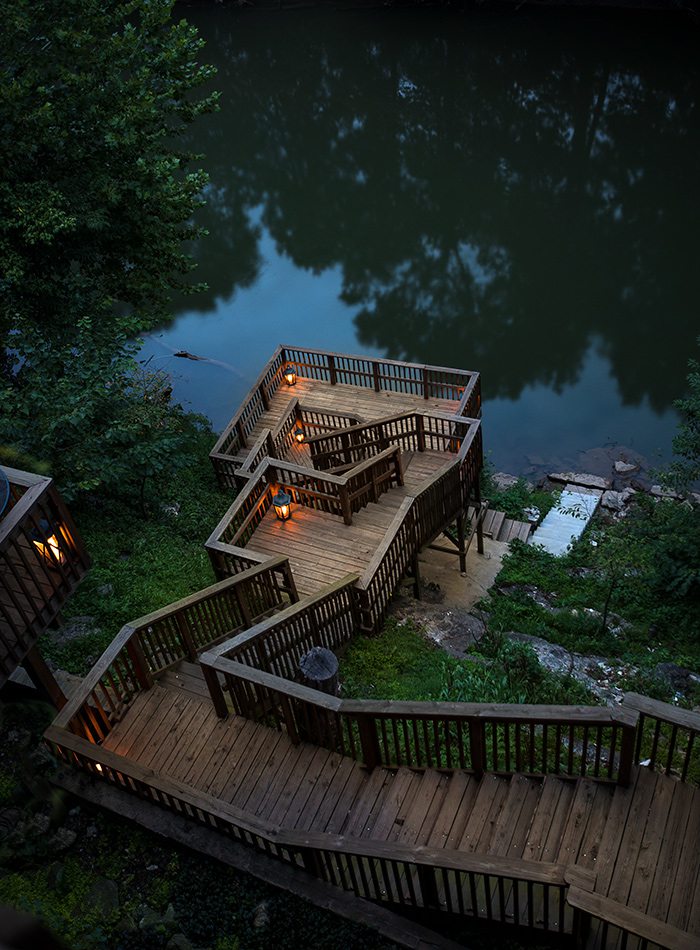 Photo by Brandon Alms
Stairway to Heaven: Heading down to the river is easy. Coming back up? That's a little tougher–101 steps tougher, to be exact. But the climb to the house pales in comparison to all that life on the water offers, especially when you love the outdoors as much as these homeowners do. "The water doesn't move very rapidly," Carver says. "Usually, you can get in a canoe or kayak and go upstream and downstream." The family also enjoys caving, birdwatching and fishing. And if they catch themselves out past dark, oversize lanterns from Restoration Hardware safely light their way along the ascent.
Purchase Photo
Resource Listing for Tree House on the River:
Builders
Headwaters Home Repair & Remodeling: 417-894-1078
Jody Christy: 417-840-2088
Landscape/Landscape Accessories
Greenworks Inc.: 417-880-0814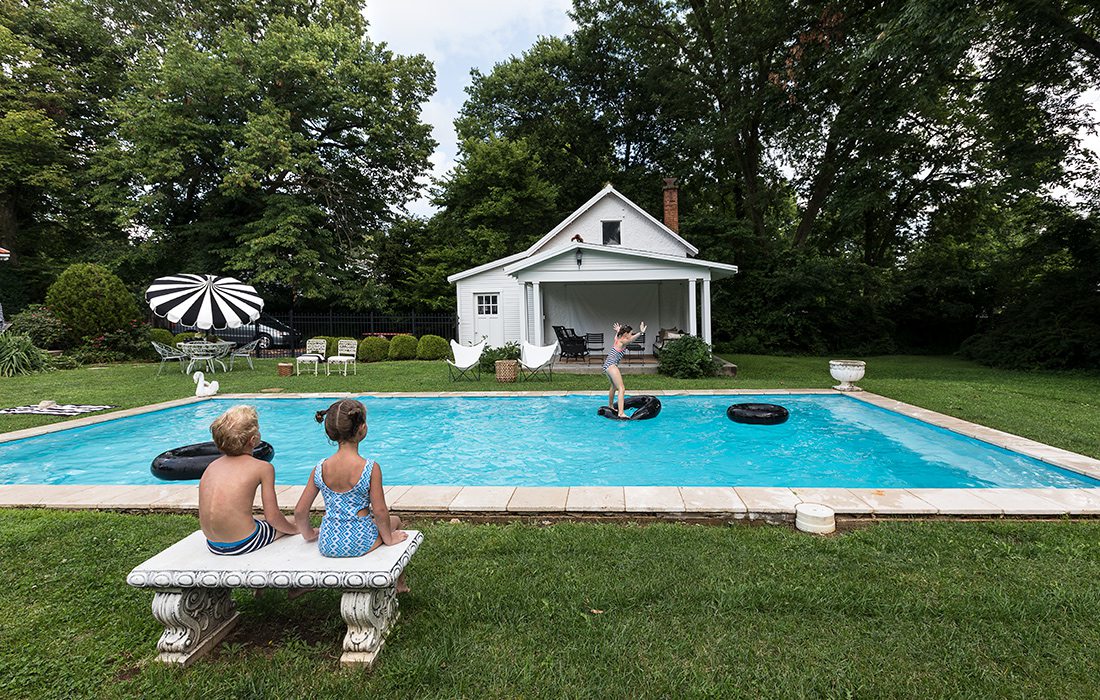 In the early 1900s, the City of Springfield's first photography business was developing from a darkroom in the basement of a home in what is now the Rountree Neighborhood. Eventually, the home became where the Ozark Mountain Daredevils lived and recorded during their most famous years, but the darkroom remained intact. Today, the property belongs to photographer Julie Blackmon, whose discovery of the darkroom launched her career, as well as turned her artistic eye toward transforming the backyard into a family-friendly common area that would summon memories of her childhood just down the block.
"As a little girl, I was always intrigued by the house," Blackmon says. "I had no idea that I'd eventually live there and raise my own kids there."
Initially, Blackmon didn't have plans for the backyard, but as she scoured photos in old Architectural Digest magazines, she became inspired to recreate the minimalist outdoor living areas she saw. Her sister, designer Sharon Taylor, helped her pull together a look that incorporates a rectangular pool, abundant lawn, vintage furniture and concrete adornments—all reminiscent of iconic, midcentury America and the ultimate throwback to simpler times. Now, pool parties are on-trend again.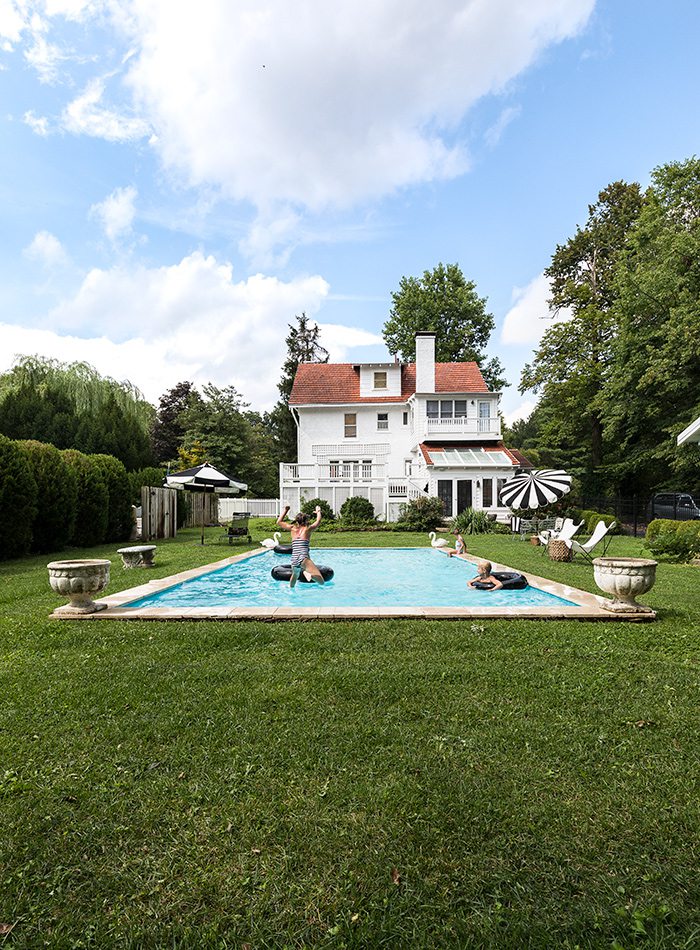 Photo by Brandon Alms
Picture Perfect: An understated color palette becomes a striking design choice when looking across the pool to the back of the house. The use of concrete is abundant, from bench seating to decorative urns picked up at a local flea market. The perimeter of the pool is also concrete and topped with travertine tile for a touch of elegance. The whole picture exudes old Hollywood glamour, a nod to fellow photographer Slim Aarons, who was famous for shooting pool parties during the 1960s and 1970s in Palm Springs. His most famous image, Poolside Gossip, was one of the inspirations for the pool's design and for the images of Blackmon's friends and family that she would eventually shoot in that setting.
Purchase Photo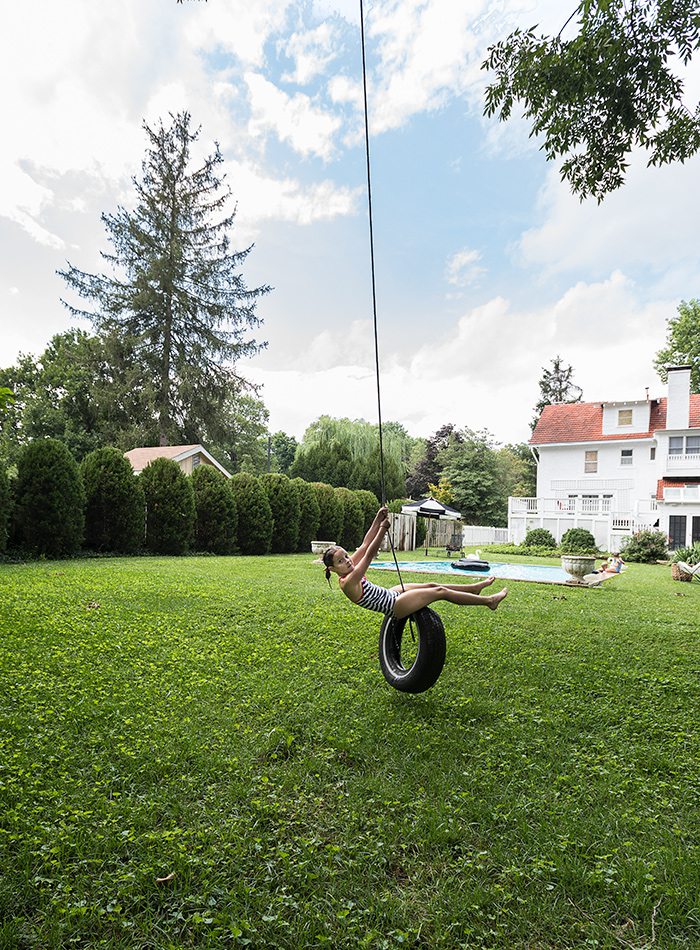 Photo by Brandon Alms
Swing Life Away: A neighbor across the street helped Blackmon tie a tire swing to the limb of an old tree allowed to survive when the backyard orchard was bulldozed. While not quite close enough to the pool to leap and make a splash, the picture-perfect storybook element still entices kids to stop a while. In the background, spearmint junipers planted early have grown to become a focal point of the landscape while also serving as a natural privacy shield.
Purchase Photo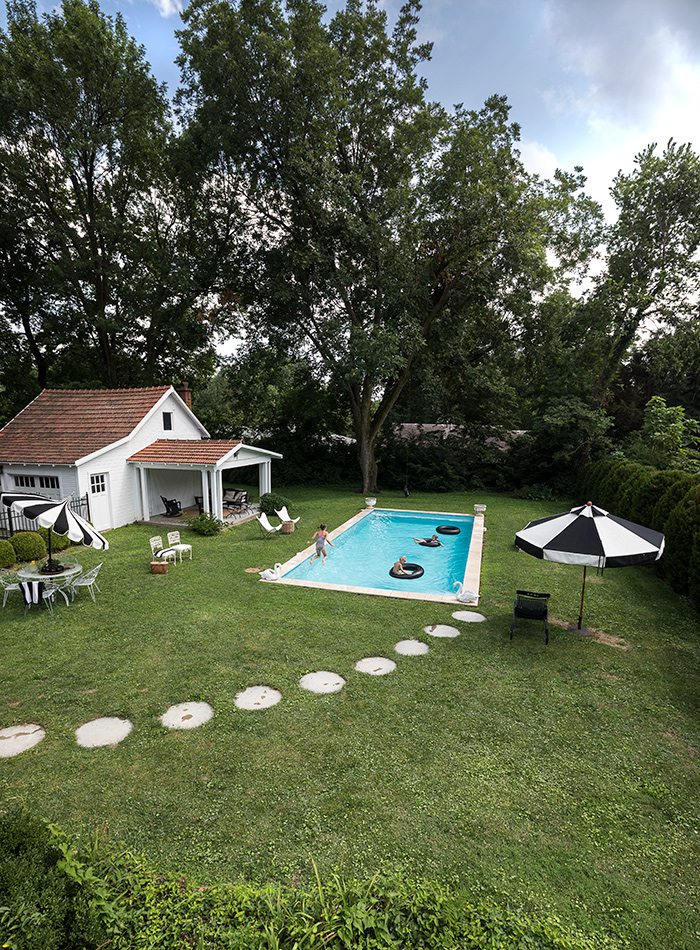 Photo by Brandon Alms
Pathway to Paradise : Much like the frenzied composition of Blackmon's prints, the backyard was a tangled jungle of trees. From above, the clearing is apparent, and now lush grass surrounds a fiberglass pool. Stone pavers were dropped to provide a path to the pool without compromising green space. This view from the back deck also highlights Blackmon's early memories. "I remember my dad driving us by this house after church, and we'd see the big [Ozark Mountain Daredevil] tour bus out there under the portico," she says.
Purchase Photo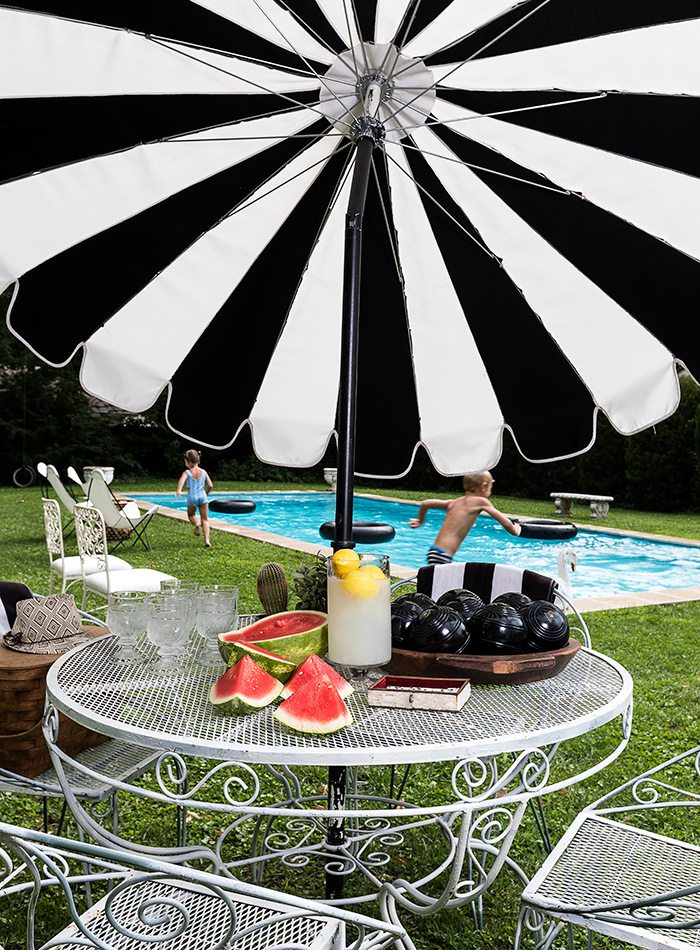 Photo by Brandon Alms
Keeping it Neutral: From black-and-white umbrellas to monochromatic movies, classic simplicity was the theme of this project. "I don't think you have to add a lot of bells and whistles to make it spectacular," Blackmon says. This summer display is the perfect example of how just one table is all the furniture needed to kick back and transport yourself to quieter times.
Purchase Photo
Resource Listing for Old-School Oasis:
Builder
Scranton Construction LLC:
 417-831-0246
Landscape
Wickman's Garden Village:
 417-862-3707,
wickmans.com
Pool
Clark & Sons Pools Inc: 417-840-0562
Concrete/Tile
Clark & Sons Pools Inc: 417-840-0562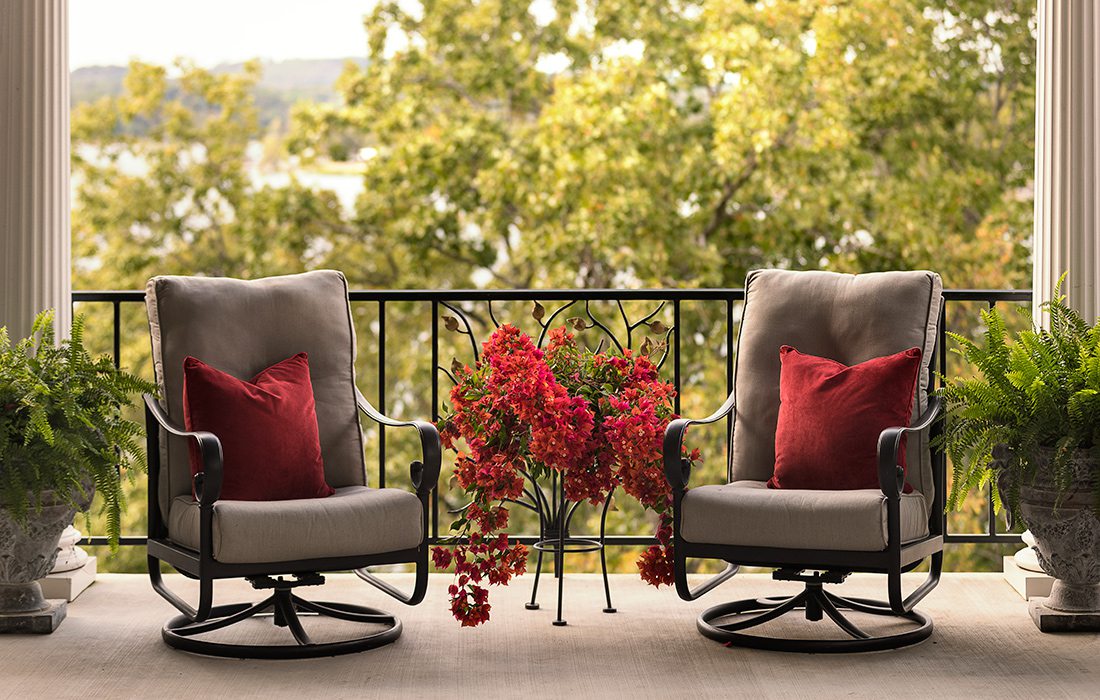 The Ozarks called to Jack and Diane King. They loved the beautiful terrain, and their personal connection to the area was strong—the result of many summers spent driving their kids to Kanakuk Kamps and regularly vacationing to Branson. In 2000, ready to retire, the couple built a sprawling mansion on the shores of Table Rock Lake, unaware one particular design flaw would lead to an impressive addition to their outdoor space that would make others take notice."The whole focus of the house is outdoors, which is why we put a lot of deck on the lake side," says Jack. "But we also found out that because of the summertime sun, a lot of the deck wasn't usable." Kingsgate Manor, the original complex situated on 550 acres, consisted of two primary structures, a main house and a guest house, connected by a covered breezeway. To remedy the shortcoming, an octagon-shaped gazebo was attached to the breezeway. Equipped with an old brick fireplace, drop-down television and state-of-the-art kitchen, it's now the homeowners' go-to spot for relaxing, viewing the lake and making memories with their children and grandchildren."I love the house," Diane says. "It becomes even more special the longer we live here."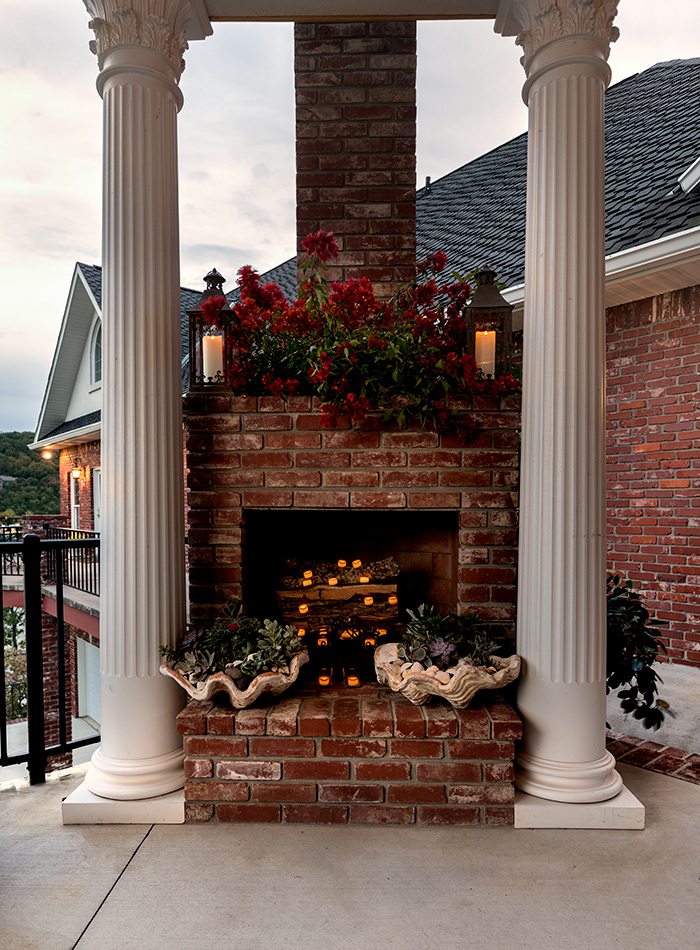 Photo by Brandon Alms
A Snug Fit: To eliminate unused space, a custom-fit fireplace was made to nestle between two of the eight columns supporting the gazebo's cupola. The 125-year-old brick is from a former textile mill near Rome, Georgia, rescued before the building was demolished.
Purchase Photo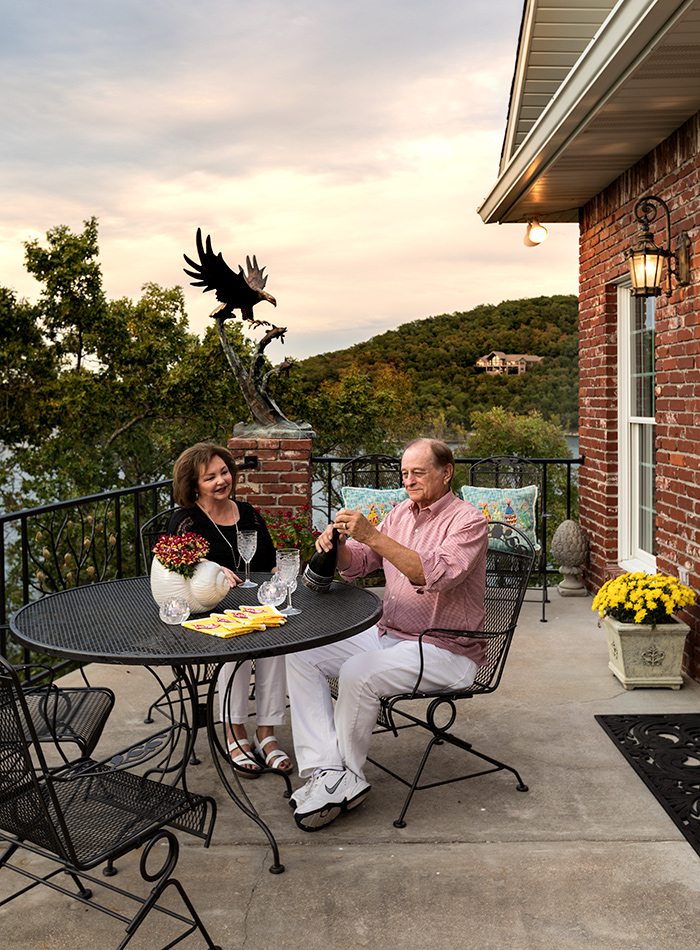 Photo by Brandon Alms
A Secret Spot: Relishing the slowness of retired life means the Kings can pull out a bottle of wine in the afternoon and sip until dusk, when colorful sunsets over the lake remind them why they chose this property. Compared to more highly trafficked and decorated parts of the upper deck, this semi-secluded location off the carriage house remains unadorned except for a bronze eagle sculpture—one of many in the homeowners' collection.
Purchase Photo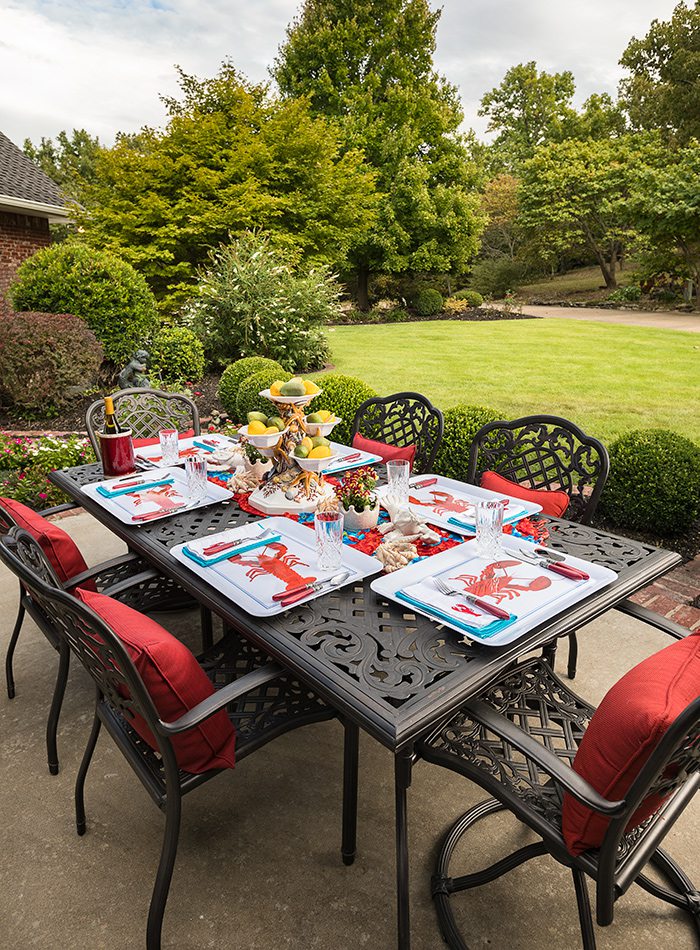 Photo by Brandon Alms
Stable Table: Facing the front lawn, this rust-resistant metal table gets more use than any other outdoor dining furniture. "We probably use it eight months out of the year," Diane says. Uncovered on the north side of the house, it's perfect for late-afternoon activities in the shade or holding piles of crawfish—hence the tablescape, which Diane changes on a seasonal basis.
Purchase Photo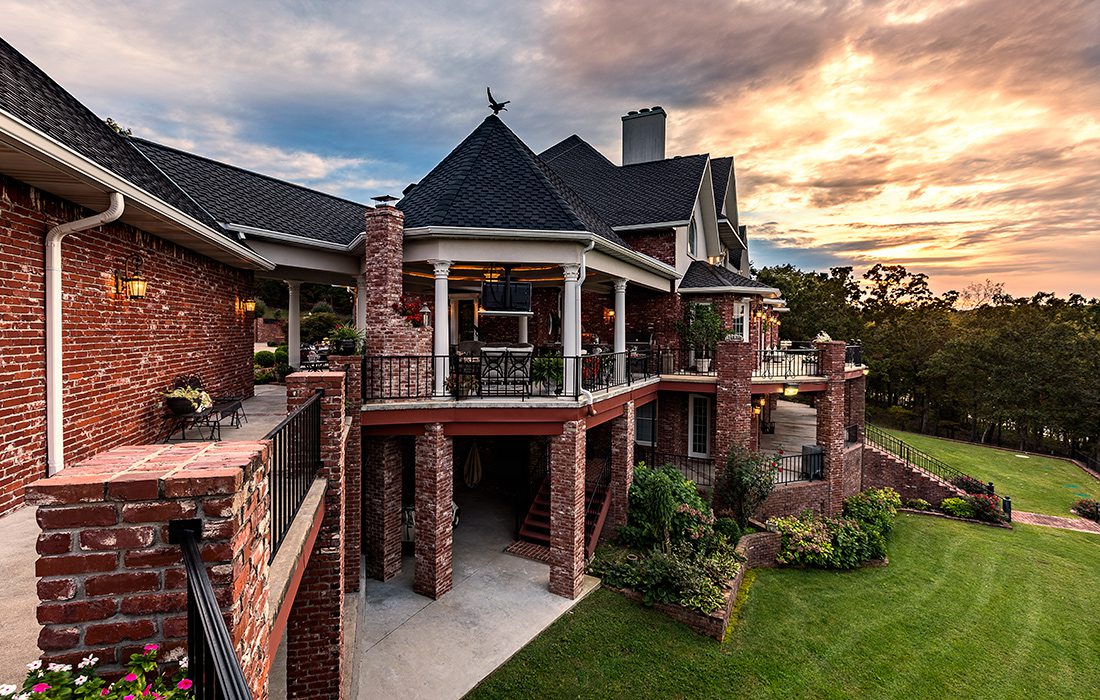 Fancy Foliage
Looking for an easy way to spruce up your garden without spending money on shipping? Choose a beyond-the-basic pot, plant stand or statuary accent from these local retailers.
Ozark Nursery
5361 N. Main St., Joplin
417-623-0224
Sourced from Mexico, the terra cotta pots available at Ozark Nursery have a raised scalloped design that elevates the look of a standard clay pot to one with striking sophistication.
Flora & Fern
1717 E. Cherokee St., Springfield
417-883-3376, floraandfern.net
For the midcentury or vintage lover, woven baskets with hairpin legs from Flora & Fern are perfect for adding textural interest and height to your plants.
Wickman's Garden Village
1345 S. Fort Ave., Springfield
417-862-3707, wickmans.com
Available in a range of prices, Wickman's Garden Village offers freeze-proof pots made of very dense clay to eliminate some of the maintenance required to protect your plants during the cold season.
Willow Green Gardens
302 Johnstown Drive, Rogersville
417-753-8733, willowgreengardens.com
Made of fiber clay and plastic, the Dynasty line of gardening containers manufactured by Waldo & Associates Inc. comes in various high-end faux finishes.
Garden Adventures Nursery
1900 W. Mount Vernon St., Nixa
417-725-3223, gardenadventuresnixa.com
If you're looking to add a statement piece to your garden, invest in Massarelli's fine stone statuary, available in a variety of shapes and sizes.
Wheeler Gardens
601 N. Fourth St., Ozark
417-581-1867
1925 S. Bedford Ave., Springfield
417-890-5733, wheelergardens.com
Shop Wheeler Gardens for stone fountains by Massarelli's, designed and handcrafted to reflect uncompromised quality and timeless style.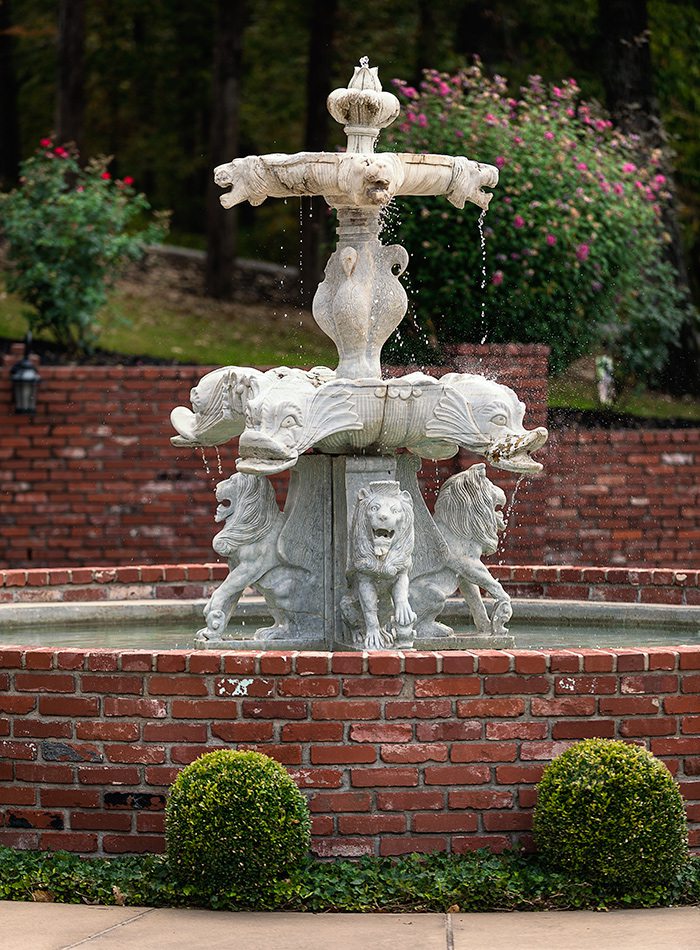 Photo by Brandon Alms
Serenity Now: This 18-foot-diameter marble lion head fountain is a bull's-eye in the center of the home's circle drive, alluding to the opulence that awaits visitors on the other side. Originally from an estate in Philadelphia, the two-tiered behemoth was purchased from an Atlanta auction house and reassembled on site with the help of trusted friend John Schwyhart. "When that fountain is turned on in the summertime, the sound carries into the gazebo and decks back there," Jack says. The fountain is one of many relics the couple brought with them when they moved from the Peach State.
Purchase Photo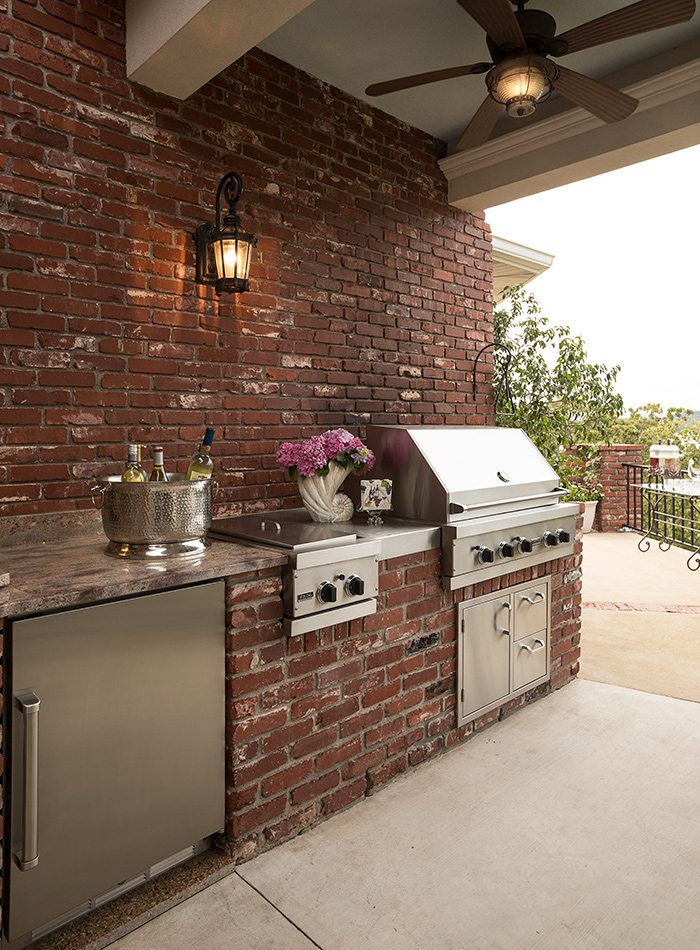 Photo by Brandon Alms
Scenic Eating: Off the home's indoor kitchen is an outdoor version suitable for cooking everything from waffles for family brunch to a romantic steak dinner for two. Laying red-hued granite countertops next to aged masonry blends the color palette to ensure stainless steel appliances pop against dark undertones.
Purchase Photo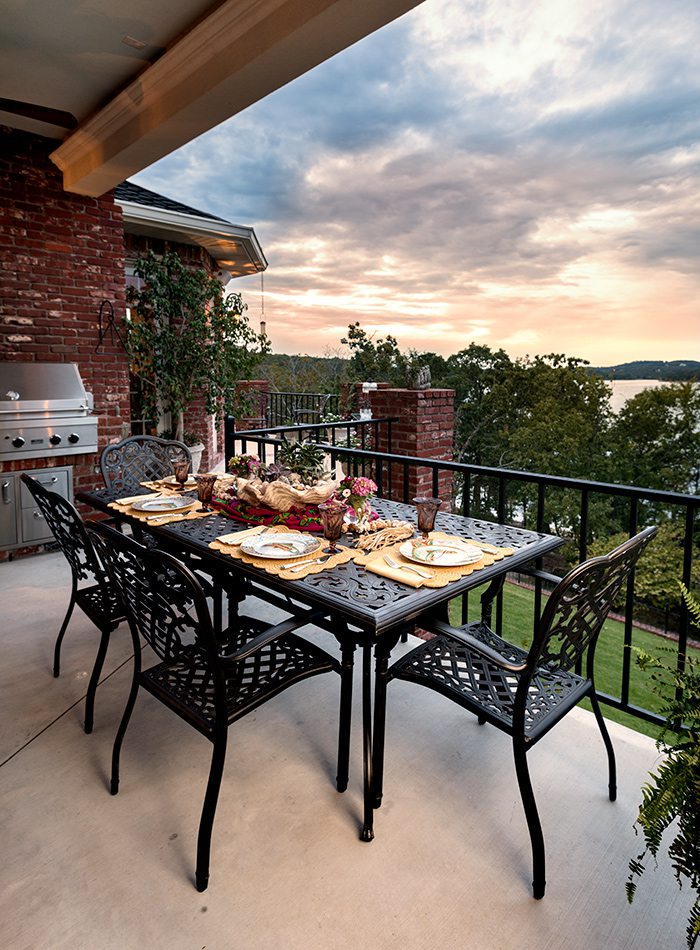 Photo by Brandon Alms
Sit a Spell: This durable wrought-iron table is ideal for food prep and grabbing a quick seat between burger flips. A drop-down television in the attic of the gazebo provides a secondary entertainment option when there are no jet skis or fishing boats to watch on the lake below, one of the couple's favorite pastimes.
Purchase Photo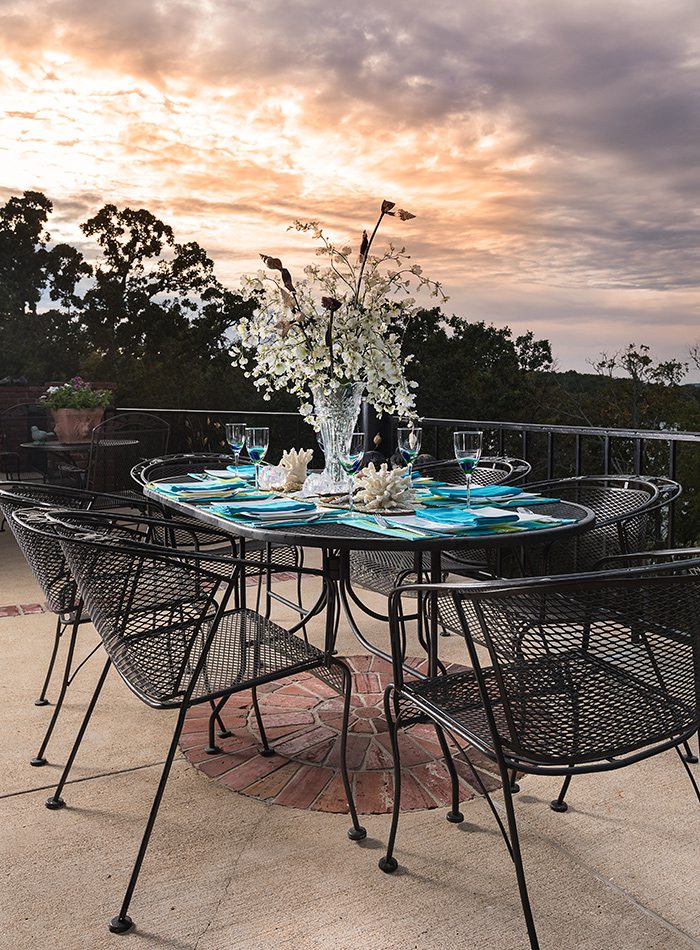 Photo by Brandon Alms
Purposeful Design: When your home is always full of company, everyone needs a place to sit. Plus, there's no sweeter garnish on a meal than a summer sunset, and this patio set adjacent to the main living area may be the most popular spot to view one. "The back was designed to optimize the view of the lake from all points around the house," Jack says.
Purchase Photo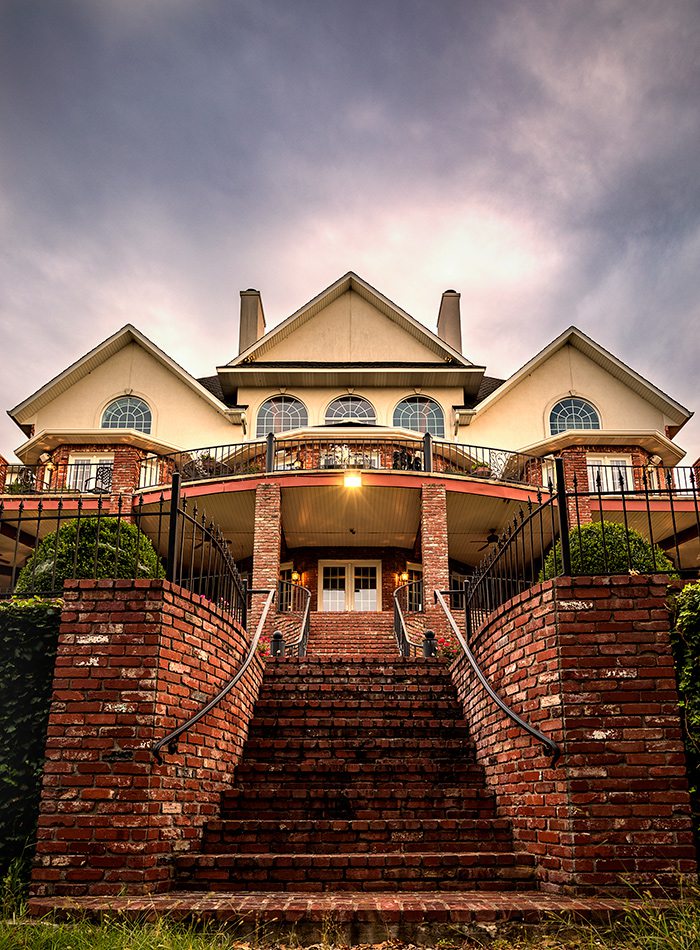 Photo by Brandon Alms
A Grand Entrance: This ground-level perspective shows the Kings' home in all its majesty. No other angle better alludes to the influence of Georgian architecture, especially with regard to symmetry. Nearly 1,000 feet of wrought-iron railing enclose the decks, like a royal tightens his robe, while the architecture's verticality brings attention to five stately arched windows in the gables. But this is one of only a few places where traditional windows were used. Elsewhere, the homeowners traded windows for door panels. "You get glass all the way to the floor that way, and I wanted it to be open with glass as much as it could," Diane says.
Purchase Photo
Resource Listing: To Branson and Beyond
Concrete/Masonry/Granite
Charlie Stills:
 417-239-4614
Duwayne Blevins Masonry Inc:
 417-272-8530
Ozarks Mountain Granite and Tile:
 417-581-4600