A Green Dream
Paul and Hannah Catlett's modern farmhouse is the perfect combination of new style and sustainability.
By Kaitlyn McConnell Photos by Kevin O'Riley
Jun 2012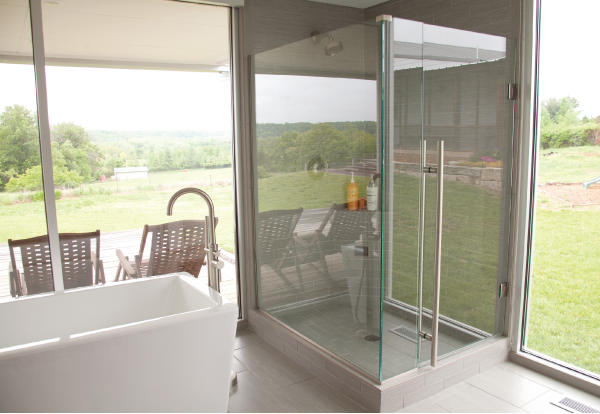 Farmhouses aren't what they used to be. Paul and Hannah Catlett know that firsthand. The Catletts, owners of Studio 417 Salon, worked with Kenson Goff of Kenson Goff Homes to build their modern-day farmhouse in 2009. To say that the home is environmentally friendly is a vast understatement. The front is flanked by a modern landscape, complete with blue stem and natural prairie grass that requires virtually no irrigation. The home is adorned with concrete siding, commercial-grade windows and doors, a stainless-steel roof and Brazilian-hardwood porch—and all of the items are slated to last nearly 100 years. That, however, is just the beginning.


Lighting
The Catletts stick to natural light during daylight hours—the home was designed with large windows to allow more than ample light inside, even on the cloudiest of days. But that doesn't mean that the Catletts shun all light bulbs. Cove lighting, lit with T5 bulbs and fluorescents, can be found throughout the home. "It's about putting the proper light bulbs in places you use frequently," says Paul.

Windows and Doors
Solarban 60 windows and smart glass can be found throughout the home, and these windows are smarter than you think. "When the sun hits [the glass], it can tell what temperature it is," says Paul, who points out that the glass regulates how much heat to allow inside. Outside, louvered doors help control the temperature inside the house. Even when pulled shut to keep out the heat, they still allow light to penetrate inside.

Geothermal Heating
Instead of burning a fossil fuel, heat is moved to and from the home through a geothermal heating system. "We're not creating energy, we're pulling the heat out of the earth," says Rory Krueger, owner of Krueger Mechanical, who installed the Catlett's system. But the reduction of fossil fuel usage isn't the only benefit of such a system. Krueger says installing a geothermal system will cut the utility bill by 50 to 70 percent.

Reclaimed Wood
The Catletts hired an Amish crew to dismantle the previous structure on the property, making it a win-win situation for everyone. The Amish walked away with nearly three semi trailers of wood, and there was only one small dumpster of items to be thrown away. The Catletts are all for using reclaimed wood in their home, even some that was previously used as fence posts. The rest of it is local: The oak was milled in Bolivar and the walnut came from Niangua.


Water Usage
All of the home's faucets are low-flow, the toilets are dual-flush and everything is Energy Star–compliant. Such features can make a world of difference for bills and sustainability. "Low-flow toilets can cut water usage by 50 to 75 percent,"  says Goff. Also, low-flow shower heads and faucets with aerators provide excellent water pressure while cutting waste and saving on hot water bills, says Goff.