Great Zucchini Recipe
Whether it's your first season planting vegetables or you're a seasoned gardener, zucchini is a must-have in your garden. Grow your own, then prepare it in a new way with the help of these tasty recipes.
By Harrison Keegan
Jun 2012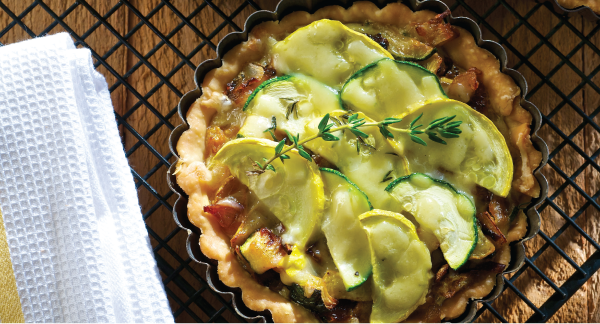 Want to try your hand at gardening but have no experience? Have no fear. Dawnnell Holmes, co-owner of Real Farm Foods (6156 Curtner Road, Norwood, 417-259-2456), says that zucchini is the perfect plant for beginning gardeners.
"There's usually one item that grows incredibly well no matter the weather, and a lot of times it's zucchini," Holmes says. "I don't know that you can ruin it, really."

Holmes says to plant your zucchini seeds in full sunlight, and to water them every day. Zucchini is ready to be picked when it is about 6 to 8 inches long. But if you can't get to it in time, overripe zucchini is still good for pickling.
She says that in addition to insects, zucchini's other enemy is powdery mildew, which forms on the leaves causing them to wilt and die. To avoid powdery mildew, water zucchini plants at their base and don't let too many droplets accumulate on the leaves.

After you're done growing this delicious green veggie, it's time to enjoy it. We talked to Judy Sipe, culinary director at foodchannel.com, a Springfield-based international website filled with recipes, articles and more tasty goodness. The following zucchini-packed recipes were developed in the Food Channel Test Kitchens with Sipe's direction.
Mediterranean Stuffed Zucchini
Serves 12

Ingredients:
6 medium zucchini, halved length-
wise
â…" cup olive oil, divided
1 medium onion, coarsely chopped
½ teaspoon kosher salt
¼ teaspoon black pepper
1 medium yellow squash, coarsely
chopped
8 ounces feta cheese, crumbled
2 cups grape tomatoes, halved
¼ cup fresh parsley, finely chopped

To Prepare:
Scoop out flesh of the zucchini, leaving ¼-inch border. Chop zucchini flesh, and reserve. Brush zucchini lightly with oil. Place hollowed side down on a baking sheet. Bake for 15 minutes at 475°F. Remove from oven, and let cool. Heat ¼ cup oil in a sauté pan at medium heat. Sauté onion with salt and pepper until slightly browned, about three to five minutes. Add reserved zucchini and yellow squash. Sauté until liquid has evaporated, about 10 minutes. Remove mixture from heat and let cool slightly. Fold in feta cheese, tomatoes and parsley. Arrange zucchinis cut-side up in two 9-by-13 baking dishes. Fill the zucchinis with squash-feta mixture. Bake at 475°F until top is slightly browned, about 20 minutes. Serve.
Zucchini Tart
Serves 6

Ingredients:
2 prepared, 9-inch refrigerated pie crusts
2 tablespoons extra virgin olive oil
2 large onions, diced in ½-inch pieces
1 medium green zucchini, diced in ½-inch
pieces
1 medium yellow squash, diced in ½-inch
pieces
½ teaspoon salt
¼ teaspoon coarse ground pepper
½ cup grated Gruyère cheese, plus â…› cup for
topping
1 large whole egg, plus 1 large egg yolk
2 sprigs thyme leaves, chopped
¼ cup heavy cream
1 medium green zucchini, cut into  â…›-inch
slices
1 medium yellow squash, cut into  â…›-inch
slices

To Prepare:
Roll out dough into six four-inch rounds on a lightly floured surface. Fit dough into four-inch tart pans with removable bottoms (or bottomless tart form) set on parchment-lined rimmed baking sheet. Trim excess dough flush with rim. Pierce bottom of shells all over with a fork. Refrigerate or Freeze until firm, about 30 minutes. Line shells with parchment. Fill with pie weights or dried beans. Bake at 375°F until crust is just beginning to brown, about 10 minutes. Remove weights and parchment. Bake until golden brown, about 10 minutes. Cool completely on wire racks. Heat olive oil in a large skillet over medium heat. Cook zucchini, squash and onions with salt and pepper until golden brown, about eight to 10 minutes. Cool vegetables slightly. Spread an even layer of vegetables into each pie crust. Sprinkle ½-cup cheese evenly on top. Whisk together whole egg, egg yolk and cream in a bowl. Add 2 tablespoons egg mixture to each tart. Place squash and zucchini slices in a pattern on top of the filling, alternating colors. Garnish with â…›-cup cheese. Bake 30-35 minutes. Cool on rack before unmolding and serving.
Zucchini Bread and Butter Pickles
Serves 64
Ingredients:
4 quarts small zucchini, cut into 1/8-inch slices
2 pounds medium onions, peeled and thinly sliced
2 cups ice cubes
1/4 cup salt
1 quart white vinegar
1 cup sugar
1 tablespoon celery seed
1 tablespoon dill seed
2 teaspoons mustard seeds
To Prepare:
Combine zucchini, onions, ice cubes and salt in a large bowl. Toss ingredients and let stand for three hours. Drain, rinse well and drain again. Combine vinegar, sugar, celery seed, dill seed, mustard seeds in a medium saucepan. Bring to a boil. Add zucchini mixture and return to a boil. Stir occasionally. Ladle zucchini into clean jars. Let stand until cool. Cover and store refrigerated for up to a month.