DIY
Wood You Furniture
A local expert wood refinisher shares how to transform old wood furniture into a dazzling piece of décor.
By Tanja Kern Photos by Kevin O'Riley and Garrett DeRossett
Jun 2012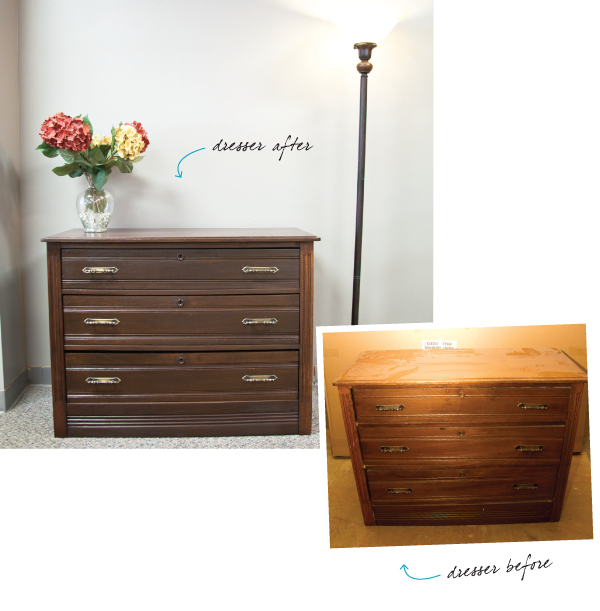 Stain it, paint it, make it yours. The easiest way to transform plain wood furniture into a show-stopper is to customize it with a stain or paint. Wood You (642 E. Battlefield, Springfield, 417-882-2299, woodyouofspringfield.com) is all about the customization of real wood furniture. Owner Gary Rostic has been selling high-quality wood furniture for more than 10 years, and he says he can customize the finish and color of any piece to make it yours. From a simple wood stain or varnish to an elaborate paint job or distressed wood look, Wood You can do it. Gary's team can also color match so that your new piece looks just like existing furniture—all within just one week. If you have a plain piece of furniture—or a shabby piece that's screaming for a makeover—Gary offers the following advice for how to do it yourself.
Supplies:
• Chemical stripper
• Scraper
• Steel wool
• #120, #180 or #220 grit sandpaper
• #320 or #400 grit sandpaper or superfine sanding sponges
• Oil-free tack cloths or compressed air
• Sanding sealer
• Wood stain
• Sealer
• Lint-free rags or good-quality paper towels
• Foam brushes or latex paint pad applicators
• Bristle brush
• Tarp
Directions:

1. Set up your furniture finishing location. Choose a clean, well-ventilated area to do your furniture refinishing. You'll need the piece to be able to sit undisturbed while it dries between steps, so pick a spot that has little foot traffic. Lay down a tarp and set your furniture piece on it.

2. Start Stripping. Using a chemical stripper can help speed up the refinishing process. Choose one that will wash away with water. Opt for a thicker, gel-like stripper that will cling to vertical surfaces better. You'll want to use the manufacturer's directions, but you will strip in small, manageable areas. Wearing gloves, apply a thick coat and let the stripper penetrate according to the manufacturer's directions. Once the old finish begins to lift, you can remove as much of the paint or varnish with a scraper by working with the grain. Once you have removed as much as you can with a scraper, follow up with medium grade steel wool. Soak the wool in stripper to help work the stubborn spots. It may take several stripper applications to remove layers of paint or varnish.

3. Clean up. Once you've taken off all the old finish, clean off the stripper according to the manufacturer's directions—either with water or paint remover. Let your furniture dry thoroughly.  

4. Sand. After your furniture has had plenty of time to dry, you are ready to sand the wood. Sanding is a very important step, because it preps the wood for the final finish. Take your time with this part, because how good a job you do will determine how smooth your final surface finish will be. Sand raw wood in the direction of the grain starting with a coarser-grit sandpaper such as #120 sandpaper, and finish the final sanding with a fine-grit sandpaper such as #180 or #220. On soft wood, such as pine, aspen or alder, sand first with #120 and finish with #220. On hardwoods, such as oak, maple, birch or parawood, sand first with #120 and finish no finer than #180.

5. Fill in the grain. Depending on the type of wood you are refinishing, you may need to use a grain filler to achieve a smooth finish. It's also a good product to use if your piece has minor nicks or scratches. If you're going to stain your piece, choose a filler that will closely match the final color of your piece. Once the filler has dried, follow up with 220-grit sandpaper.

6. Clean off the dust. Before starting the finishing process, you'll have to clean up all the dust you've created from sanding. You can use compressed air and blow it off, and follow up with a tack cloth. Lightly wipe it along the grain of the wood to pick up any stray bits of sanding dust.

7. Apply a sanding sealer. To get a consistent stain on soft woods such as aspen, use natural stain, use a pre-stain conditioner or sanding sealer. Like a makeup primer does for your face, sanding sealer helps smooth out the surface and help your stain absorb into the wood more evenly. Apply a coat, and let it soak into the wood for a few minutes. Wipe up the excess with a clean rag, and let your piece dry.

8. Stain. Choose the stain for your finished piece. Always test the color on the underside of the project before you begin. Before starting, stir the contents of the stain well to help distribute pigments that may have settled to the bottom of the can. Apply a wet, liberal amount of stain with a foam brush or a latex paint pad applicator. Divide your project into manageable sections (top, side, drawer, door). Stain a complete section, and wipe off the excess evenly with the grain using paper towels or a clean cloth. Check for missed spots and lap marks before moving to the next section. Immediately correct lap marks by rewetting the entire working area with stain and wiping the excess off. If you want to make the piece darker, add additional coats while allowing the piece to dry in between. Once the piece is your desired color, let the furniture piece dry completely.

9. Apply the top coat. Finishing your piece helps protect the wood's surface. Polyurethane finishes are very durable and come in a range of sheens. To apply, use a brush following the grain in long strokes. Apply several thin coats. You'll want to allow each coat to dry and sand with your finest sand paper or superfine sanding sponge before moving on to the next coat.
Trust the Pros 
Not up to refinishing your own dresser? Contact these local experts, who can do the work for you.

Wood You
642 E. Battlefield, Springfield
417-882-2299, woodyouofspringfield.com

Ed Pace Furniture Refinishing
2816 E. Division St., Springfield
417-865-2322

Good Stuff Antiques & Refinishing
626 W. Chase, Springfield
417-863-0800, goodstuffrestore.com

ABH Refinishing & Repair
Springfield
417-861-5503

Bill Wolter's Furniture Repair
2636 E. Locust St., Springfield
417-865-9862