Berry Bliss
It's summer, and you know what that means-fresh blueberries! Whether you want to grown your own or pick them at a local farm, we've got you covered with helpful tips and delicious recipes.
Jun 2013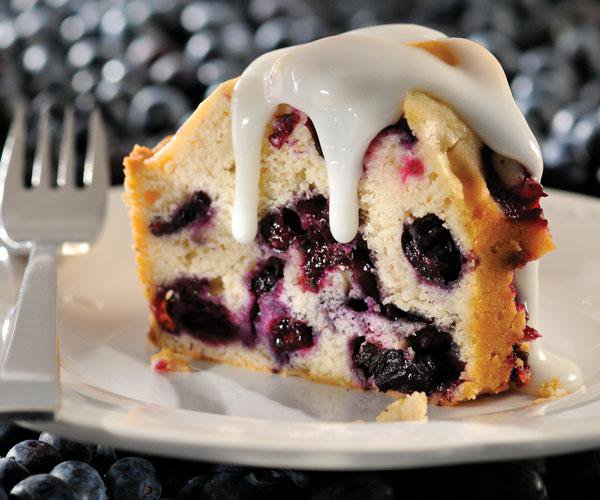 Ah, summer in 417-land: hot sun, long days and fresh blueberries. Lucky for us, there are farms scattered throughout southwest Missouri where you can pick your own blueberries. Or, if you dare, you can even grow your own. If you decide on the latter, be warned: Blueberries are not for the short-sighted. After putting the plant in the ground, it takes two or three years before you can start harvesting the berries. Th e payoff, however, is plants can produce berries for up to 20 years. Earnie Bohner, owner of Persimmon Hill Farm (367 Persimmon Hill Ln., Lampe, 1-800- 333-4159, persimmonhill.com) says it is best to strip off the blossoms the fi rst two years, so the blueberry plant expends its energy on growing, not berry-making. "When they do bear, blossoms will come on in the spring and drop, and they will leave that green berry that eventually turns bright blue," Bohner says.
Bohner says it is best to start with small plants, 12 to 18 inches tall, planting them 4 feet apart. Th e plants do best in full sun and require daily soakings. Blueberry plants call for more acidic soil than most plants (pH of 4.8 to 5.2), and Bohner suggests getting the soil tested and planting blueberries off to the side in your garden. Bohner says it is also important to cover the plant base with four to six inches of mulch and to put western cedar bark or wet peat moss in the hole when planting to provide more organic matter.
After you harvest your own berries (or just pick some to take home at local berry farms like Persimmon Hill Farm), put them to good use in the kitchen with these delicious recipes. They were developed under the direction of culinary director Judy Sipe at the test kitchens of foodchannel.com, a Springfi eld-based international website fi lled with recipes, articles and more.
Blueberry Lemonade with fresh mint recipe:

Ingredients:
4 12-ounce cans frozen lemonade concentrate, thawed
4 lemons, juiced
¾ cup granulated sugar
2 large bunches of mint, woody stems removed
3 cups water
1 pint fresh blueberries
4 lemons, halved
3 cups ice cubes

To Prepare:
Combine the lemonade concentrate,< lemon juice, sugar and mint in a large bowl. Muddle the mint. Pour into a large, clear pitcher (at least 1 gallon). Add water. Let rest in the refrigerator for at least 3 hours (or overnight). Add blueberries, lemon halves and ice cubes to the pitcher before serving. Stir to combine.
Amazingly Moist Blueberry Cake
Ingredients:
For the cake:
â…" cup unsalted butter
1 cup granulated sugar
1 egg
2½ cups fl our, plus
extra for blueberries
½ teaspoon salt
4 teaspoons baking
powder
â…› teaspoon cinnamon
â…› teaspoon nutmeg
â…› teaspoon ground
cloves
1 cup whole milk
2 cups blueberries

For the fi rst glaze:
½ cup granulated sugar
½ cup lemon juice

For the fi nal glaze:
2 cups confectioner's
sugar
3½ tablespoons lemon
juice

To prepare:
Preheat oven to 375°F. Beat butter and sugar until creamy. Mix in the egg. In a separate bowl, combine fl our, salt, baking powder and spices; add to the butter mixture alternately with the milk, beating well. Coat dry blueberries in 1/4 cup fl our, carefully stir into batter. Pour the batter into a greased and fl oured angel food cake pan or a bundt pan. Note: The batter will only fi ll the standard pans about half way, which is fi ne—do not double this recipe. Bake for 45 minutes. Cool for 5 minutes, then carefully invert. For the fi rst glaze, combine the granulated sugar and lemon juice in a saucepan; cook over medium heat until dissolved. Poke holes in the cake, and brush glaze over the cake as it cools. For the fi - nal glaze, whisk the confectioner's sugar and lemon juice together. Pour the glaze over the cake before serving and allow it to drizzle down the side.  
Baby Lettuce Greens
with Blueberry Vinaigrette and Hazelnut Goat Cheese
Serves 12
Prep time: 20 minutes

Ingredients:
¼ cup hazelnuts, toasted, minced
2½ teaspoons fresh fl at-leaf parsley, minced and
divided
1½ teaspoon fresh thyme, minced and divided
½ teaspoon kosher salt
½ teaspoon black pepper
1 log (4 ounces) fresh goat cheese
½ cup tarragon vinegar
¼ cup blueberry preserves
¼ cup fresh shallots, minced
½ cup olive oil
¾ cup fresh blueberries, divided
12 cups mesclun mix (baby salad greens), loosely
packed and trimmed
½ cup red onion, slivered
To prepare salad:

Combine hazelnuts, 2 teaspoons parsley, 1 teaspoon thyme, kosher salt and black pepper in shallow bowl. Stir to blend. Roll goat cheese log in nut mixture to evenly coat. Let sit for 15 minutes at room temperature to soften. Slice log into ½-inch thick coins.
To prepare vinaigrette:
Combine vinegar, preserves, shallots and ½ teaspoon each parsley and thyme in bowl. Whisk in olive oil slowly. Add ¼ cup blueberries. Reserve.
To plate:
Arrange baby greens evenly on plates. Top each evenly with red onions, blueberries and hazelnut goat cheese coins. Spoon vinaigrette, as needed, over each salad.
Spiced blueberry sauce
Serves 2
Prep time: 10 minutes
Cook time: 5 minutes
Ingredients:
2 cups of blueberries, fresh or frozen dry
1/2 cup sugar
1 tablespoon water
1 tablespoon lemon juice
1 stick cinnamon tied in a bag with 4 whole cloves
2 tablespoons sherry
To prepare:
Combine all ingredients in a saucepan. Bring to a boil. Boil for 3 to 4 minutes. Remove the spice in the bag. Thicken, only if necessary, with 1/2 teaspoon cornstarch dissolved in a little cold water.
Photos by David Nehmer, courtesy of the Food Channel, foodchannel.com