Perfect All Around
With its central location, historic appeal,lush landscaping and focus on socialization, Rountree neighborhood is the perfect fit for the Kromrey family.
By Dayle Duggins | Photo by Kevin O'Riley
Jun 2013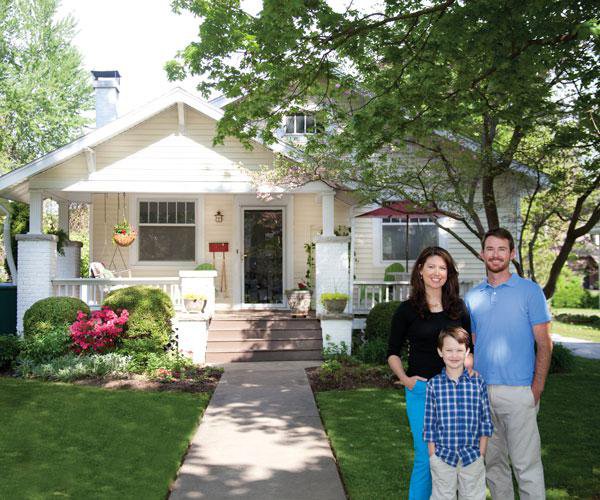 Home Sweet Home: Moving into their second home in the Rountree neighborhood, Mary and Mike Kromrey and their son, Eli are happy to call this carming place home.
Smack dab in center-city Springfield is a historical neighborhood known for its homey atmosphere, consciousness of sustainable living and charming homes. Starting a family of their own, Mary and Mike Kromrey decided to call Rountree neighborhood home and moved into a quaint house on Kickapoo Avenue in 2003. Three years later, the couple added to the family with the birth of their son, Eli, and decided to move down the street to the 1100 block of Weller Avenue. "It's the same vibe—we know our neighbors, and homes are constantly being renovated—but it's become richer for us because we're at a different stage in our lives," Mary says. Young boys ranging from 3 to 10 years old can be found running around the neighborhood, climbing trees, jumping fences and simply doing what boys do. Between a variety of social gatherings, a Halloween parade and a Fourth of July parade, a close bond between the adults has resulted, too, Mary says. "Our neighbors have become a stand-in family," she says. "We all look out for each other's kids and each other's homes." Along with an established sense of trust, the neighborhood offers access to many of the essentials. "It's like we've got a little community we can access without a car," Mary says, noting nearby restaurants, shops and the Rountree Elementary School. The close-knit Rountree neighborhood offers a great place to raise a family and has a variety of architectural styles for families big and small, plus a diverse group of friendly neighbors.