Sweet, Sweet Baby
Social Graces transformed the Murdaugh home into the ultimate sweet and girly venue for the Bade's baby shower.
Jun 2013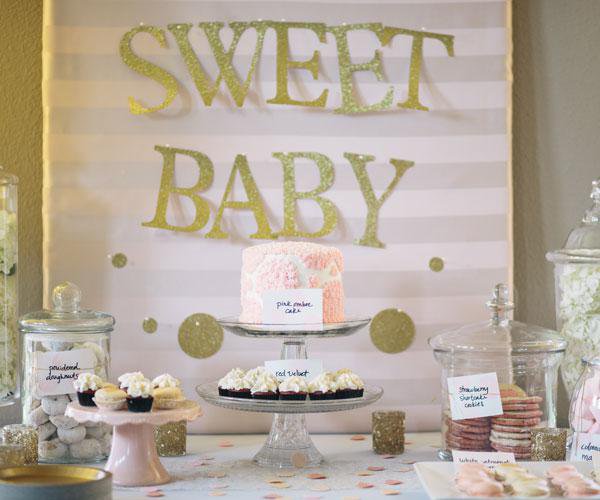 Earlier this spring, Megan White and Becca Murdaugh of Social Graces hosted a baby shower for Melissa and Josh Bade, who are expecting their fi rst baby—a girl—in June. "Becca and Melissa's husbands are cousins, and all three of us couples, the Whites, the Murdaughs and the Bades, are very good friends," White says. "Melissa is extremely supportive of Social Graces, so we thought it was fi tting to throw her a beautiful and girly shower."
Choosing a theme of Sweet, Sweet Baby, the Social Graces team created a menu that featured a variety of sweets, including a cake with ombre layers inside, white chocolate dipped cookies, mini red velvet cupcakes and white-almond and rose macarons. Social Graces transformed the Murdaugh residence into a whimsical wonderland with felt confetti, handmade fringe garland, doilies, mason jars and fresh white and pink fl owers, and they tied in subtle stripes and polka dots to add another layer of dimension. From the striped straws to the sweet and delicate desserts, the party helped the 25 guests prepare the Bades for their first little one.
The Décor:
Social Graces created a festive and feminine atmosphere, decorating the space in various shades of pink and metallic gold. A collection of gold balloons, felt confetti, handmade fringe garland, mason jars and white and pink flowers all helped pull off the event's light and airy look.
Venue: Murdaugh Residence The Guest List: Friends and Family Event Planner: Social Graces Desserts: Cynthia Matrone; Elle's Patisserie
The Menu:
Based around a sweets theme, the food included cake, strawberry shortcake cookies dipped in white chocolate, dipped marshmallows and mini red velvet cupcakes by
Cynthia Matrone (opposite), plus white-almond and rose macarons from Elle's Patisserie (below) and strawberry lemonade.
Showers of Advice
Do you know someone who's expecting? Throw them a picture-perfect baby shower with the help of these tips from Megan White of Social Graces.
1. Pick a theme and stick to it.
"We had an idea of what we wanted to go with, but fi nding our invitation secured the deal for us," says White. "We were lucky to come across fabric and polka dots that helped us incorporate the theme throughout. We also kept our color scheme at the forefront of our mind."
2. Get organized.
"We have multiple events in the works at any given time, so it's important for us to keep them all on track so we don't get behind," White says. "We used a secret Pinterest board to develop our theme for the shower, then mapped out who was going to do what and started working. We were able to do the majority of the planning ahead of time, which allowed for us to concentrate on the creative element when we were setting up."
3. Use what you have.
"We, of course, purchased and made new things for the shower. However, it's always good to think back to previous showers or parties and see if you might have anything that would work," White says. "For example, the gold votives were previously used in Becca's wedding."
4. Don't get too Pinterest crazy.
While Pinterest is an incredible tool, sometimes it provides too many options. Try a few Pinterest trends that work together, but leave the rest for your next party.
By Savannah Waszczuk | Photos by Megan Matrone White