Barbecue Recipes
by Savannah Waszczuk | Photos by Kevin O'Riley
Jun 2014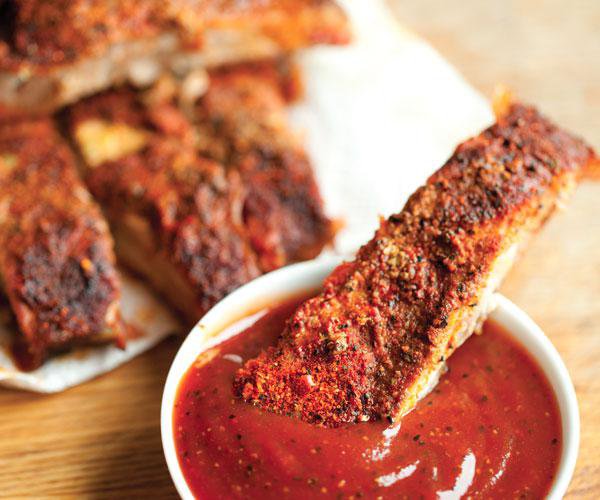 Just in time for grilling season, we asked 417-land's top barbecue experts to share their most meaty and delicious recipes, so you can try them at home. Next time you play host, forget the burgers and brats, and treat your guests to these finger-licking-good eats.
Dry-Rubbed Smoked Barbecue Ribs
Family-owned Enoch's BBQ & Southern Classics (307 S. National Ave., Springfield, 417-865-2888, enochsbbq.com) features a variety of meaty favorites on its menu, including ribs with homemade barbecue sauce. Give Enoch's ribs a try at the restaurant, or make them yourself with the recipe for dry-rubbed smoked ribs with homemade southern barbecue sauce. If you love the meat but aren't up for the work, contact Enoch's about catering services.
Dry-Rubbed Smoked Barbecue Ribs with Homemade Southern Barbecue Sauce from Enoch's BBQ & Southern Classics
Memphis dry rub ingredients:
2 cups paprika
½ cup brown sugar
½ cup lemon pepper
1 tablespoon black pepper
1 tablespoon seasoned salt
2 teaspoons garlic powder
2 teaspoons onion powder
1 teaspoon cayenne pepper
Southern barbecue sauce ingredients:
3 cups ketchup
1 cup brown sugar
½ cup water
½ cup apple cider vinegar
¼ cup Worcestershire sauce
2 tablespoons lemon juice
¼ cup black pepper
2 tablespoons dry rub
Ribs ingredients:
2 racks St. Louis-cut pork ribs
½ cup yellow mustard
1 bag wood chips of your choice
1 dry rub recipe, prepared
To prepare Memphis dry rub:
Place all ingredients in a large bowl, and mix to combine. 
To prepare sauce: 
Mix all ingredients in a pot on the stove. Cook on medium low heat for 30 minutes.  
To prepare ribs:
Pre-soak five to six large handfuls of hardwood chips (hickory chips or any of the fruit woods, like cherry, peach or apple, are all great options). When you're ready to cook the ribs, rub mustard into the ribs, then shake rub liberally to coat each rack on both sides. Start your fire on one side of your grill, and set an aluminum pan of water on the other side. When your coals are hot, place the two racks of ribs on a rack above the pan of water on the side opposite of the coals, making sure the top (the meatiest side) of the ribs are facing up. Place a handful of the water-soaked wood chips over your coals. During the next two hours, keep your grill between 200°F and 250°F and smoke-cook the ribs, adding a handful of the water-soaked wood chips to the coals three or four more times. (You might need to add charcoal as well.) This creates the smoke needed for a great flavor. Cook until the ribs reach an internal temperature of 195°F. (Depending on the size of your racks, smoke-cooking the ribs should take approximately 4 to 6 hours.) 
If you prefer more tender ribs, remove ribs from the grill once they reach 175°F, douse them with barbecue sauce, wrap them in foil and place them back on the grill to continue to cook and steam.  
Honey-Teriyaki Smoked Salmon
Buckingham Smokehouse & Bar (multiple 417-land locations, buckinghambbq.com) offers a delicious smoked salmon on its restaurant and catering menus. Cameron Roy, owner of the Nixa, Ozark and North Springfield restaurant locations, created an adaptation of the recipe for readers to try at home. See the recipe below, or if you're not up for making your own, contact 417-831-7427 or visit buckinghambbq.com for catering services.
Honey-Teriyaki Smoked Salmon from Buckingham Smokehouse & Bar
Ingredients:
2 cedar planks
6 tablespoons honey
2 tablespoons Kikkoman teriyaki sauce
Olive oil (for coating)
4 8-ounce salmon filets
1 teaspoon cracked pepper
Lemon slices for garnish
Horseradish sauce for dipping
To prepare:  
Soak wood planks according to package directions. Mix honey and teriyaki sauce together, and heat in microwave for 10 seconds. Mix completely until the mixture is smooth. Cover the cooking side of the cedar plank with olive oil, and place two pieces of salmon on each plank. Glaze each piece of your salmon with the honey-teriyaki glaze until completely covered. Heat grill to a high heat of approximately 500°F. Place salmon-topped wood planks on the grill, and immediately reduce grill temperature to low. As the salmon cooks, continue to glaze until glaze is gone or salmon is cooked to taste. Overall cooking time should be approximately 10 minutes. Finish with a sprinkle of cracked pepper to taste. Use a spatula or large flat surface to gently remove salmon from planks, and serve garnished with lemon slices and with horseradish sauce for dipping.
Hickory-Smoked Brisket
Kay and Boots Wilson of Wilson's Chuckwagon (1820 W. Kearney, Springfield, 417-862-1101, wilsonschuckwagon.com) have been perfecting hickory-smoked brisket and a variety of other smoked meats since 1992. Visit Wilson's Chuckwagon to sample the fare, or create this brisket in your home smoker with the recipe on p. 57. Wilson's Chuckwagon also offers catering. 
Hickory-Smoked Brisket from Wilson's Chuckwagon 
Basic dry rub ingredients:
¼ cup salt
1 tablespoon pepper
¼ cup brown sugar
2 tablespoons garlic powder
2 tablespoons onion powder
2 tablespoons paprika
2 teaspoons cayenne pepper
Brisket ingredients:
3-pound beef brisket flat
½ cup yellow mustard
1 basic dry rub recipe, prepared
1 bag hickory wood chips
To prepare basic dry rub:
Place all ingredients in a large bowl, and mix to combine. 
To prepare the brisket:
The night before you plan to smoke your brisket, coat brisket in the basic dry rub, and place the coated meat in the refrigerator. If desired, you can rub the meat in yellow mustard to help the rub stick and form a better bark. Before smoking, place wrapped brisket on the counter to come to room temperature. (Be careful to not let it sit out longer than one hour.) Pre-heat smoker, and add water to the bottom of the smoker. Place the brisket in the smoker fat-side up. Smoke-cook the meat slowly until desired temperature. (Cooking times vary depending on your smoker.) Allow the brisket to reach 190°F before removing from the smoker. After removing, let the brisket rest 20 minutes. Slice brisket against the grain, and serve.