DIY
DIY Kitchen Remodel
Remodel Your Kitchen Without Losing Your Mind
By Jessica Nunley | Photos by Jeremy Mason McGraw, Courtesy Gina McMurtrey Interiors
Jun 2014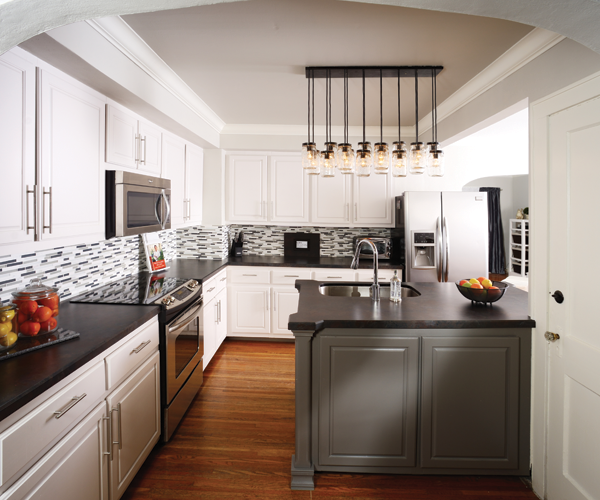 Redesign Time: Beverly Moore of Interiors by Design remodeled this kitchen using simple-yet-eye-catching design elements. 
Many people dream of remodeling their kitchens, but few have the courage to tackle the big project themselves. In search of a few kitchen remodeling tips, we turned to local design expert Gina McMurtrey of Gina McMurtrey Interiors, who has worked on many kitchen remodels and even  remodeled her own kitchen this year, and Beverly Moore of Interiors by Design, who designed the winning kitchen remodel featured in the 2013 417 Home Design Awards. For more information on the topic, check out McMurtrey's full remodeling recap on her blog at ginamcmurtreyinteriors.com or see photos of Moore's design work on her Interiors by Design Facebook page.
Tip 1: Plan Ahead
When McMurtrey remodeled her kitchen earlier this year, she approached the project the same way she prepares for every project, by doing thorough research about what hardware and appliances the new space will have, then ordering and collecting every piece of the puzzle before ever lifting a hammer. She says that without this preparation, the time of contractors and subcontractors is wasted waiting around for materials to arrive.
Tip 2: Define Your Vision
Whether you hire a professional interior designer or enlist the help of your family, Moore says to find photo examples of what you want to do. This helps with material purchasing decisions and overall vision clarity. When clients ask Moore to help them create a modern space, she says "modern" could mean clean lines and stainless steel, or it could mean updated appliances with traditional details. Be clear in your vision using photos.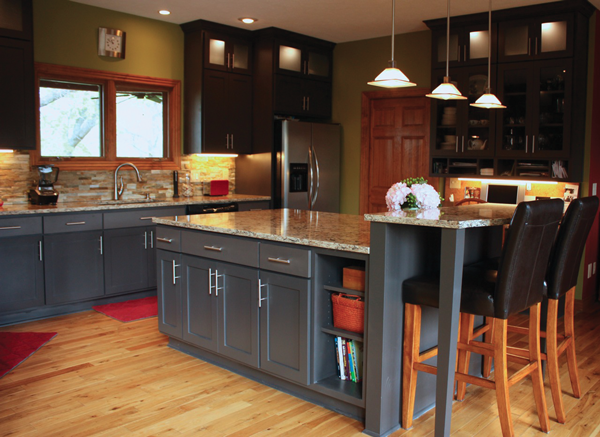 Functionally Beautiful: Keep functionality in mind when remodeling. The hidden storage and extended bar seating in Gina McMurtrey's kitchen, designed by McMurtrey herself, make the new space functional and welcoming. 
Tip 3: Make a Timeline
As both designers know from personal experience, remodels are time-consuming and impose altered living conditions on the family during the project. That's why it's important to make a timeline for the job to keep both the contractors and family motivated for the final result. Don't wear your family out by letting the renovation drag on; set a start and end date, assign duties and keep organized.
Tip 4: Be Flexible
Unexpected delays are common, even for professional designers and contractors. McMurtrey says to recognize ahead of time that a remodel disrupts normal home life, and unplanned weather conditions can even influence the end date of the project. Lack of reasonable flexibility can lead to extra stress. One of her contractors became sick during the renovation of her own kitchen and caused delays in the timeline, but the remodel was finally complete after two months.
Tip 5: Create a Functional Space
As Moore prepared to remodel her daughter's kitchen and dining room last year, she noticed that several walls blocked off valuable space and prevented a better-functioning kitchen. With the help of her family, the walls came down, one new wall was put up in a different place, an island was added, and the kitchen was brightened up with breathing room. Before purchasing materials and hiring help, decide what the floor plan will be in your new space.
Tip 6: Recruit the Right Help
When Moore and her family renovated her daughter's house, they had experience under their belts with carpentry, painting and installation. For those thinking of remodeling on their own without such skill, McMurtrey says to know when it's time to call a pro. A family member might think they know how to lay tile or install drywall, but sometimes a professional has the skills to do a better, longer-lasting job in a shorter amount of time.