Home Profiles
Highland's Million-Dollar View
Dwayne Holden and Beth Yarbrough's Highland Springs home features a massive veranda, perfect for taking in many great views of the country club.
By Jessica Nunley
Jun 2014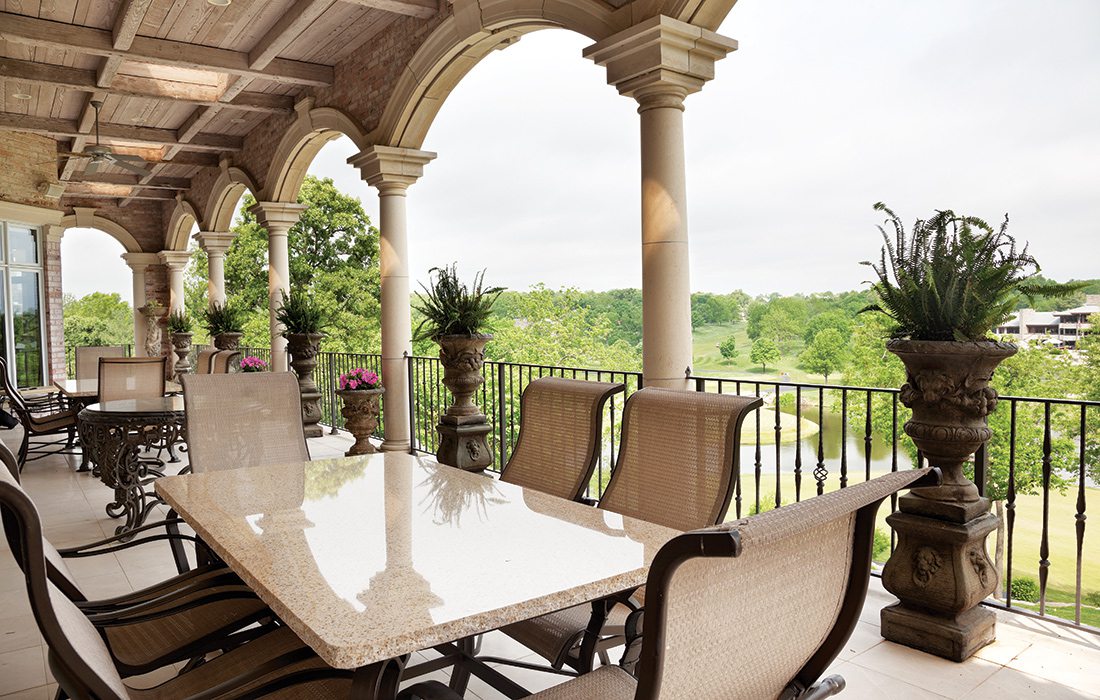 Dwayne Holden and Beth Yarbrough's veranda is the perfect spot for entertaining guests. Running along the entire back side of the couple's home in Highland Springs, the veranda is filled with the couple's friends throughout the year, including each August when friends and family gather to watch the Price Cutter Charity Championship. Built in 1996, the massive brick double-lot house features an expansive veranda visible from the vaulted windows that make up the whole back wall. The two spacious upper and lower patios hold several tables, chairs and benches and can comfortably accommodate as many as 50 guests during a party. Giant ferns decorate the balconies, and kitchens on both floors supply food for every get-together. Past the Tuscan-style arches and columns, a huge yard slopes down to meet the edge of the Highland Springs golf course, where a lake sits near the ninth hole. With few trees blocking the view, the clubhouse and 18th hole are clearly visible. Since Holden and Yarbrough are active members of the country club, they often ride their golf cart down the hill to the golf cart path to attend club events and challenge themselves to a round or two of golf. Without a doubt, the couple says their beloved veranda is their favorite room in the house.
Editor's note: Since the initial publication of this article, we regret that Dwayne Holden has passed away.