The Keeter Center Afternoon Tea
The Keeter Center at College of the Ozarks treated guests to an elegant afternoon complete with live harp music and an assortment of teas, hors d'oeuvres and desserts.
By Savannah Waszczuk | Photos by Jessica Kennon Spencer
Jun 2014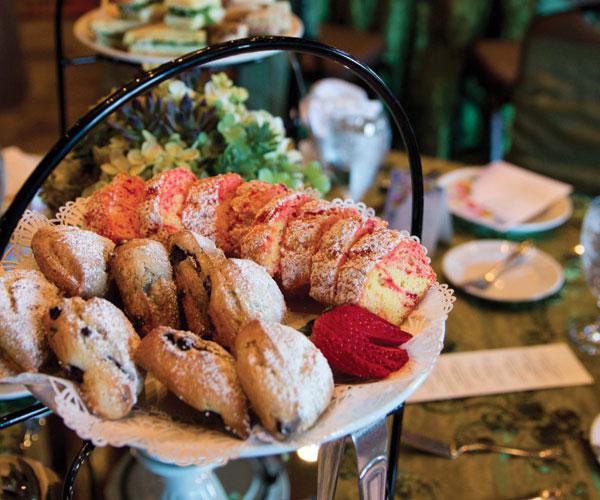 On Saturday, May 3, a group of 40 guests gathered for Afternoon Tea at The Keeter Center at College of the Ozarks. Harpist Savannah Faught, a College of the Ozarks student, welcomed guests with live entertainment. As guests gathered near the Keeter Center's fireplace and sipped on their choice of tea, they learned how the tradition of afternoon tea started and munched on an assortment of tea sandwiches served on house-made bread. David Ray, the director of the landscape department at College of the Ozarks, was a guest speaker at the event, and he shared how the college is now growing a lot of its greens hydroponically. Adding a sweet finish to the gathering, student servers offered guests the traditional afternoon tea dessert of scones topped with lemon curd and Devonshire cream. The Keeter Center hosts Afternoon Tea events approximately six times a year, with each event planned around a different theme and offering an assortment of teas, food and pastries. Raspberry-swirl pound cake, miniature chocolate cream puffs, red velvet petit fours, key lime tartlettes and chocolate-dipped strawberries completed the assortment of desserts.
The Menu
Tea sandwiches featuring tomato with butter and lettuce, ham with mustard butter, cucumber with arugula and egg salad were served on homemade bread. For dessert, trays were overflowing with blueberry scones, white-chocolate raspberry scones and pound cake. There were also miniature chocolate cream puffs, red velvet petit fours, key lime tartlettes and chocolate-dipped strawberries (below left), and of course, an assortment of teasfor guests to enjoy.
The Décor
The Keeter Center at College of the Ozarks acted as a beautiful venue for this first-class event. Tables  were dressed with green satin linens and fresh white hydrangea centerpieces, and each guest had a place card. To complete the scene, table settings were accented with vintage china, and Savannah Faught, a student at College of the Ozarks, softly strummed the harp.
UPCOMING AFTERNOON TEAS
July 26: Beverly Hillbillies Tea at The Museum
August 23: Celebrating Ice Cream Tea
December 6: Chocolate Lover's Tea and Ornament Exchange
RSVP: For more information, visit keetercenter.edu or email Shelly Miller at smiller@cofo.edu.
Host an Afternoon Tea
Culinary experts at The Keeter Center at College of the Ozarks shares tips on hosting a traditional afternoon tea in your home.  
Make it Close and Personal
If you want to host your own afternoon tea at home, think small. Invite six to eight close friends. A smaller group makes it easier to serve and entertain.
Think Miniature
Traditionally, afternoon tea was started to provide a snack between lunch and dinner, so don't plan a heavy meal. Instead, consider serving an assortment of light hors d'oeuvres, tea sandwiches and miniature desserts.
Go Cold
We are about to hit the thick of a hot 417-land summer, but that doesn't mean you have to wait for temps to drop before you have your best gal pals over for a cup of warm afternoon tea. Change things up by serving homemade iced spearmint tea, iced sassafras tea or even lemonade. 
Take it Outside
Make the most of summer's sunny days by hosting your afternoon tea on oversized quilts on your lawn. In the fall, decorate your outdoor tea scene with burnt-orange mums and sunflowers. During the cold weather, invite the ladies over to sip hot tea inside.
Talk Tradition
Nothing makes an afternoon tea more meaningful than talking about the tradition itself. Visit an Afternoon Tea at The Keeter Center to learn the story, or do some online research before inviting your guests.